"The stats pretty well speak for themselves," said the newly crowned 2016 IHRA Pro Mod Champion, Billy Harper. "The engines have just done phenomenal."
Harper utilized his Sonny's Racing Engines powerplant to reset the national record multiple times this season and easily walk away the 2016 championship. Sonny's Racing Engines have been a factor in a myriad of IHRA championships throughout the years. Perhaps none speak more highly than the three back-to-back Pro Stock championships secured in '14, '15 and now '16 by Cary Goforth.
"All of our championships have been with Sonny's," remarked Goforth, whose championship total is now up to seven. He and his father Dean teamed up with Sonny's in 2004 and it's been an incredible ride ever since. "I remember when we first started racing, Sonny's such a legend, I was starstruck. Here's Sonny Leonard and I was getting to interact with him. He's a true legend of the sport. In ways, I'm still starstruck by him. I still get people at our local track that'll come up to me and ask, 'Do you know Sonny? He's a wonderful man.'
"He's consistent and reliable, always pushing to go faster," continued Goforth. "There were times in the last 12 years where he was getting it handed to him. I remember other engine builders getting ahead of him a little bit and two guys made an incredible pass. I asked him if he had anything [to answer] for that and he said, 'Right now I don't, but I'm working on it.' And that's when Sonny's designed the next generation of the semi-hemi cylinder heads. We've had the power to be at the top ever since. He's never stopped working. He wakes with a passion for this stuff every day. That's where the consistency and reliability comes to play."
Harper continually pushed his powerplant and his 2000 Corvette to new heights this season. And while engine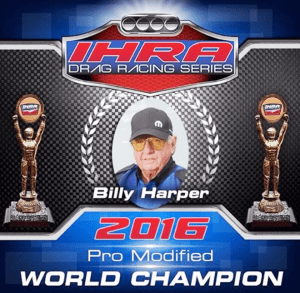 damage is something almost expected in Pro Mod, Harper has had to deal with very little this season. "Other than our one failure, through the year we've not had tire shake, rocker arms come loose, or any of these things people have a lot of problems with," he noted. "I've really convinced myself that Sonny puts these little secrets in motors, and crew chiefs find them. They keep making it run better and better. That's amazing. And it's not hurting itself. We turned that 5.80 and the motor wasn't hurt and that was in bad air. There's no telling how fast that motor's going to run."
Harper's 5.80 run was, once again, the quickest Pro Mod run in IHRA history. He wasn't quite able to back it up for the record this time, but if history foretells the future, Harper will be ready to do it again in 2017.
Over the past 12 years, the Goforth Racing partnership with Sonny's Racing Engines has produced seven championships and a host of wins across multiple organizations. But for Cary, one of the best things that has come out of the partnership is a friendship between Sonny and Dean.
"Sonny's a sweet man. He's always cheerful. Everybody just gravitates to him," Cary said of the veteran engine builder, who has been a pioneer in drag racing for decades now. "When you go to the track and see Dad and Sonny interact with each other, that sums up [what Sonny means to us]. They talk almost daily. They really have a brotherly bond. It's really neat to see. They love each other like brothers, but they argue and fight like brothers, too."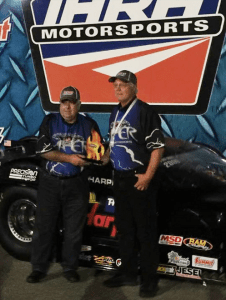 The 2016 Pro Mod Championship isn't the only thing Harper and crew have to celebrate this year. Harper's Crew Chief, Dennis Radford, was named Pro Crew Chief of the Year. "He deserves a lot of recognition," emphasized Harper. "Our whole crew has just done a phenomenal job of maintenance. They keep us in good shape. It was a team effort, by far. My wife is constantly there fixing meals, which is a big deal in itself. And Dennis' wife is a big help. Sonny's always great to work with, with his great attitude. Obviously the whole team at his shop is producing great equipment.
"My job is very easy," Harper said, humbly. "I just pull to the starting line, close my eyes, and hang on. Sonny's and my crew are the ones that deserve the credit. They're the ones who have made it all happen."