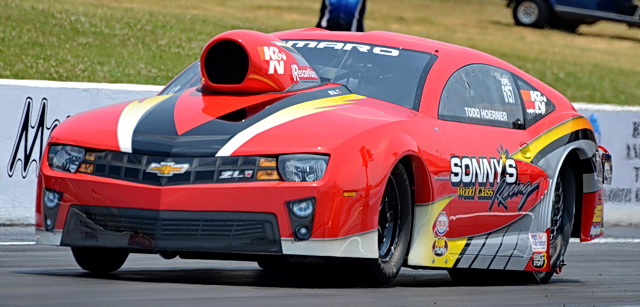 Officials from the American Drag Racing League (ADRL) announced Feb. 15, that longtime sponsor Sonny's Racing Engines will join BigStuff3 in sponsoring the inaugural Bert Jackson Memorial Shootout for Extreme Pro Stock (XPS) competitors in 2013. The Sonny's Racing Engines Bert Jackson Memorial Shootout presented by BigStuff3 will take place Oct. 19, during qualifying at the ADRL World Finals IX at Royal Purple Raceway in Baytown, Texas.
ADRL also announced that the two companies will be posting more than $50,000 in contingency to ADRL competitors in 2013. As a result, the ADRL Technical Services Department has approved electronic fuel injection (EFI) for use in its Extreme Pro Stock class for 2013 and beyond.
"First and foremost I want to thank Sonny Leonard and the owners of BigStuff3 for stepping up to honor Bert as well as support the continued growth and evolution of the ADRL's Extreme Pro Stock class," said ADRL President Kenny Nowling.
"Our position regarding the use of EFI in Extreme Pro Stock has created a lot of discussion within the racing community; however as we have stated previously, we would only allow it if it was in the best interest of the entire class. By Sonny's and BigStuff3 creating this Shootout the entire Extreme Pro Stock class can now benefit. They have both made a sizeable financial commitment and 100 percent of their sponsorship will go into the Shootout purse to be paid back to the Extreme Pro Stock racers. Factor in the honoring Bert's memory and his contribution to the class and it is a win-win for everyone."
More details including payout and qualifying structure will be announced soon.
"This is a great day for everyone involved in Extreme Pro Stock," said Sonny Leonard. "We have been a huge supporter of the ADRL for several years and are excited to continue that support. We really appreciate their willingness to work with us in creating this shootout to honor Bert and help all of the great people who make up the Extreme Pro Stock class."
At this time, BigStuff3's EFI controller is the only one currently approved for competition in the ADRL's Extreme Pro Stock class.
"We are thrilled to have the opportunity to partner with two great companies like Sonny's and the ADRL," said BigStuff3 Co-Owner John Meaney. "We have great relationships several customers in the ADRL and are looking forward building several new ones in the future."