Some of the Professional Drag Racers Association's biggest stars came out on the top of the qualifying orders after Friday's three qualifying sessions were completed at the 3rd annual PDRA Summer Drags at US 131 Motorsports Park. Elapsed time national record holder Brandon Snider (pictured above) is number one in NAS Racing Pro Extreme, joined by low qualifiers Steve Jackson in Switzer Dynamics Pro Nitrous, Kevin Rivenbark in GALOT Motorsports Park Pro Boost, and Eric McKinney in Drag 965 Pro Extreme Motorcycle.
In the PDRA sportsman classes, past Pro Extreme world champion Mick Snyder set the bar high in Ronnie Davis Top Sportsman presented by MagnaFuel with his 3.939 elapsed time. Bryan Keller's 3.688 is the low elapsed time in Lucas Oil Top Dragster heading into Saturday's final qualifying session. Mia Schultz leads three other young ladies on the Talbert Pro Junior Dragster qualifying order, while a .009 reaction time gave Connor Glaser the top spot in MegaCorp Top Junior Dragster.
In addition to the usual four professional classes, two sportsman classes and two Junior Dragster categories, the PDRA welcomed DiSomma Racing Engines Outlaw 10.5 and Extreme Pro Stock racers to the tour for the first and second time this year, respectively. Johnny Pluchino's Mustang grabbed the top spot in Extreme Pro Stock with a 4.106 at 174.83 mph. In Outlaw 10.5, Canadian Frank Pompilio earned the provisional number one spot thanks to his 4.124 at 195.74.
PRO EXTREME
For the second time this season, Atmore, Alabama's Brandon Snider led the NAS Racing Pro Extreme qualifying order going into Saturday. His Q80 Racing '69 Camaro tripped the finish line beams with a screaming 3.540 at 215.72 during the opening qualifying session. He skipped the steamy second qualifying session, then ran low et of the third session, a 3.555.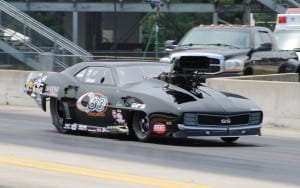 "On the first qualifier the air was a whole lot better. The water grains got worse, the altitude went up. That's why we sat out second round – the track got hotter. Third round, I figured everybody would advance a few numbers. That's why we went ahead and ran. We were close. We were shooting for another 3.54 and went the 3.55.
"We're happy where we're at. We qualified number one at Tulsa, so if we make it through tomorrow this will be our second number one and we're thrilled about that. It's hard to beat that red car down there," Snider said, pointing at the pit area of Jason Scruggs, currently the number two qualifier. Scruggs is leading the points in Pro Extreme after winning the PDRA Texas Nationals in Dallas last month.
Snider, who receives support from MBE Cylinder Heads, Diamond Pistons, and Trend Pushrods, conservatively expects to hold on to the top spot during Saturday's final qualifying session.
"If the air is about the same, Jason (Scruggs) would probably be the only one who could better our fifty-four. Not saying any of the others can't, but he's next in line. It's going to be hard to top that fifty-four."
Following Snider and Scruggs (3.583) in the Pro Extreme top five are Texans Frankie "Mad Man" Taylor (3.589) and Randell Reid (3.601) and Floridian Tommy D'Aprile (3.630).
PRO NITROUS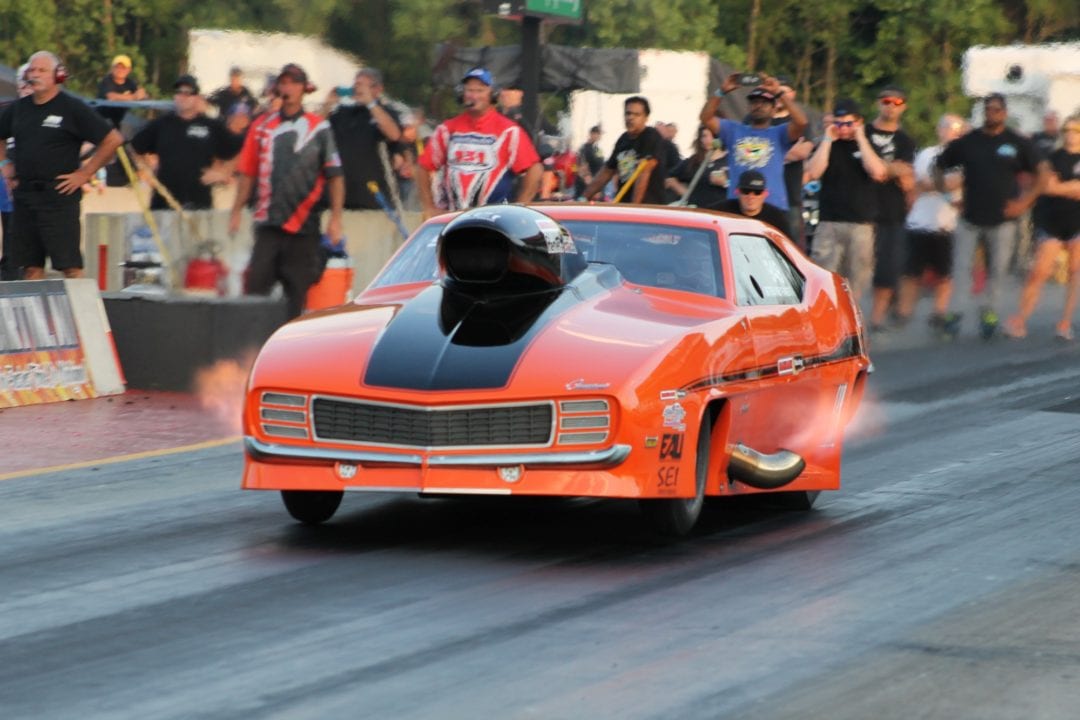 Switzer Dynamics Pro Nitrous low qualifier "Stevie Fast" Jackson is off to a great start with his new long-term sponsor, Bahrain 1 Racing. The South Carolina driver recorded a 3.763 at 199.82 mph in his 1969 Chevy Camaro during the first qualifying session.
"It's always good to have a new partnership, new funding. Not just that, but the people around you that it brings. It's good to come on board with Jeff Sitton and SEI Oilfield Services and now adding Sheikh Abdullah (Bin Hamad Al Khalifa) and Bahrain 1 Racing. It's a good deal, it's a good fit and I'm excited about it. I'm excited about the long-term deal. Me and my guys are working harder than we have and we have our hot rod back," Jackson said.
Jackson and the Bahrain 1 team made five runs during Thursday's open test session. None of the attempts resulted in strong numbers, but Jackson clearly found his groove overnight.
"I didn't think seventy-six would be low. The biggest thing for us is we made it down the track all three runs of qualifying. I think we ran second-low et on the second run and third-low in the third (qualifying session), then low et in the first round (of qualifying). We got a hot rod, I'm on the tree and if they want to outrun us this weekend, they're gonna' have to come get it."
Known for his no-fear driving style, "Stevie Fast" used his years of small-tire racing experience to ride out a wheelie past the 330-foot cones to run 3.789 at 200.09 mph in the third session.
"I never really drove a wheelie bar car until I started driving these Pro Mods, so I've spent more time on the back tires than I have on all four tires. Obviously we don't want it to get that high. As it comes up and I can't see the track anymore, I've gotta' make the split-second decision to hang with it or not, but man, it was haulin' so I legged it out and it set down pretty smooth. It looks way more spectacular on the outside than it does to me on the inside. I've just done it a lot. I've wheelied 4,000-horsepower screw blower cars out there like that, so this thing ain't too bad."
Chasing down Jackson and his Reher-Morrison-powered Camaro during Saturday's qualifying session will be several drivers who ran in the 3.7s on Friday. Tommy Franklin (3.772), Lizzy Musi (3.775), John Camp (3.779), and Jim Laurita (3.780) round out the Switzer Dynamics Pro Nitrous presented by MoTec top five qualifiers.
PRO BOOST
GALOT Motorsports driver Kevin Rivenbark must be growing accustomed to qualifying number one in GALOT
Motorsports Park Pro Boost. The North Carolina driver leads the class at the PDRA Summer Drags with his 3.842 at 195.48 performance. He qualified number one at the first two races of the year, then teammate John Strickland earned the honor at the most recent race in Dallas.
Strickland was the second-quickest driver on Friday, running a 3.86 at 194.55. Ric Fleck and his wild 1941 Willys are sitting third at 3.861, Melanie Salemi is fourth at 3.866, and Jeremy Ray is fifth with his 1963 Corvette at 3.869.
Gary White and the Bahrain-based EKanoo Racing Toyota GT86, entered in Pro Boost for the first time, are eighth in the 16-car field with a 3.919 at 195.14. White reset the quarter-mile U.S. elapsed time record for an Import during Thursday's test session, lighting up the scoreboard with a 5.891 at 241 mph.
PRO EXTREME MOTORCYCLE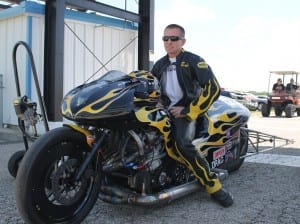 Defending world champion Eric McKinney continued his reign of the Drag 965 Pro Extreme Motorcycle class when he went 4.072 at 172.81 on his first attempt at the track on Friday morning. He later recorded a 173.68 mph lap, good for top speed of the event so far.
Kuwait native Mashal al-Saber sits number two with a 4.106. Points leader Chris Garner-Jones is third at 4.116, followed by al-Saber's Q80 Racing teammate, Brad McCoy, and his 4.121 performance. Dairy farmer Terry Schweigert is fifth with a 4.135.
The PDRA Summer Drags at US 131 Motorsports Park will continue with one final round of qualifying for all classes beginning at 10 a.m. Pre-race ceremonies are scheduled to kick off at 2:30 p.m. followed by the first round of eliminations at 3 p.m.