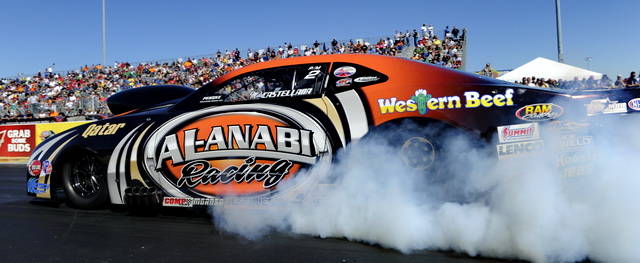 Veteran racer Rickie Smith took advantage of several early exits by most of his series challengers and captured the NHRA Pro Mod Drag Racing Series world championship title Sunday at the AAA Insurance NHRA Midwest Nationals at Gateway Motorsports Park, near St. Louis.
Smith claimed his first season championship title in the NHRA Pro Mod Drag Racing Series when he took the semifinal victory over event top qualifier Jim Laurita. He was ultimately denied the race victory in the final round as Mike Castellana (above) pulled away for the win.
Smith, who says he will retire from the cockpit after this season, was emotional in the media center after being declared the champion with one race remaining on the Pro Mod season schedule. Smith leads second-place Castellana by 142 points and a maximum of 138 points is available to a single racer at each event.
"It's been a long time since we won a championship; we won seven titles [IHRA Pro Stock and Super Modified] but the last one was in 1989," said the 59-year-old Smith from King, N.C.
"I've been doing this for 40 solid years. I drive my own truck and put my own awning up and it's time to back off, be a crew chief and let these young guys do it. I am tickled to death to pull this deal off. I want to thank IDG for giving me this time to finish my career out. I want to walk away from this thing a champion."
New York native Castellana outran newly-crowned series champion Smith in the final round to take his first victory of the season and fourth of his career. He powered his Al-Anabi Racing '68 Camaro to a winning performance of 6.084 seconds at 194.72 mph to finish in front of Smith's late model IDG Chevy Camaro, which slowed near mid-track.
Castellana advanced to the final round by scoring early round wins over Ron Muenks, Dan Stevenson and Robert Patrick.
Smith's road to the series crown was opened when title challengers Mike Janis, Von Smith, Kenny Lang and Danny Rowe all lost in the first round and defending world champ Troy Coughlin lost to Laurita in the second round.
The NHRA Pro Mod Drag Racing Series season concludes with the NHRA Toyota Nationals, Oct. 24-27 at The Strip at Las Vegas Motor Speedway.
(Photos courtesy NHRA/National Dragster; Click to enlarge)
PRO MODIFIED
MADISON, Ill. — Final round-by-round results from the 2nd annual AAA Insurance NHRA Midwest Nationals at Gateway Motorsports Park, the ninth of 10 events in the NHRA Pro Mod Drag Racing Series:
ROUND ONE — Troy Coughlin, Chevy Corvette, 7.246, 143.38 def. Mike Janis, Chevy Camaro, 11.096, 79.76; Kevin Fiscus, Ford Mustang, 5.949, 246.62 def. Chip King, Dodge Daytona, 5.979, 247.84; Dan Stevenson, Camaro, 5.904, 245.36 def. Von Smith, Camaro, broke; Rickie Smith, Camaro, 5.896, 243.02 def. Clint Satterfield, Pontiac Firebird, broke; Harold Martin, Corvette, 6.007, 235.35 def. Danny Rowe, Camaro, 5.938, 245.00; Mike Castellana, Camaro, 5.893, 243.59 def. Ron Muenks, Camaro, 8.532, 109.50; Robert Patrick Jr., Mustang, 5.934, 240.72 def. Kenny Lang, Corvette, 5.986, 244.56; Jim Laurita, Camaro, 5.820, 245.90 def. Steve Matusek, Mustang, broke; QUARTERFINALS — Patrick Jr., 5.921, 242.45 def. Fiscus, 7.659, 115.76; R. Smith, 5.894, 242.84 def. Martin, 6.227, 197.74; Laurita, 5.862, 244.43 def. Coughlin, 9.052, 99.12; Castellana, 5.855, 245.36 def. Stevenson, 6.285, 220.84; SEMIFINALS — R. Smith, 5.877, 244.87 def. Laurita, 9.396, 92.73; Castellana, 6.254, 171.23 def. Patrick Jr., broke; FINAL — Castellana, 6.084, 194.72 def. R. Smith, 7.060, 144.81.