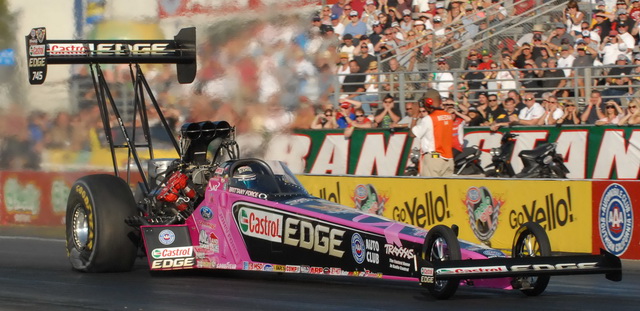 Veteran Top Fuel and Funny Car tuner Todd Smith has joined John Force Racing it was announced today.
Smith, of Cooper City, Florida, will take over the lead tuning duties of the Castrol EDGE Top Fuel Dragster. The veteran tuner was released by Don Schumacher Racing at the end of October.
"We come from a Funny Car background and Todd has a long background in Top Fuel. He had success in Funny Car leading (Jack) Beckman to the championship in 2012 but I am excited to have another Top Fuel guy join the team. Jimmy Prock has a Top Fuel background and our brain-trust can continue to work together for success in both classes. Todd will have the lead on the Castrol EDGE dragster working day to day with Dean Antonelli," said JFR team owner John Force.
Smith moves to JFR after a two year stint with Don Schumacher Racing where he was the crew chief for Funny Car driver Jack Beckman. The team won three titles, set NHRA national records for elapsed time (3.986 seconds) and speed (320.58 mph) at the Maple Grove Raceway event en route to earning the 2012 NHRA Funny Car world championship. Smith will be returning to his roots as a Top Fuel tuner when he joins John Force Racing.
"I am absolutely thrilled to be joining John Force Racing. I am excited because I have experience with both types of cars, Funny Cars and Top Fuel, in the modern era. I am more excited to be getting back to the Top Fuel dragster in such a good organization. To have all the equipment and resources to run a top shelf team will be exciting," said Smith. "I have known all the JFR crew chiefs for years but have never worked with them. I am looking forward to starting to work together."
Smith will be leading the team piloted by 2013 Auto Club Road to the Future Awards winner Brittany Force. The tuner has experience with young drivers going back to his tenure as co-crew chief Spencer Massey's Top Fuel dragster for legendary driver and team owner Don Prudhomme.
"It is great to get back with a young driver again. I was tuning for Spencer when he came into Top Fuel. It is really satisfying to work with the young people that are coming into the Nitro ranks, and see things through their eyes. It is a new and fresh to them so I am thrilled to be working with Brittany," added Smith.
Smith, son of two-time NHRA Comp Eliminator world champion Charlie Smith, began his career racing motorcycles. He moved to the NHRA circuit in the 1980s, working his way up the crewmember ranks. He has worked with several professional drivers and tuners, including Kenny Bernstein Racing, driver Cory McClenathan and Kalitta Motorsports' founder and legend Connie Kalitta, as well as Don Prudhomme.
(Photos courtesy JFR; NHRA/National Dragster; Click to enlarge)