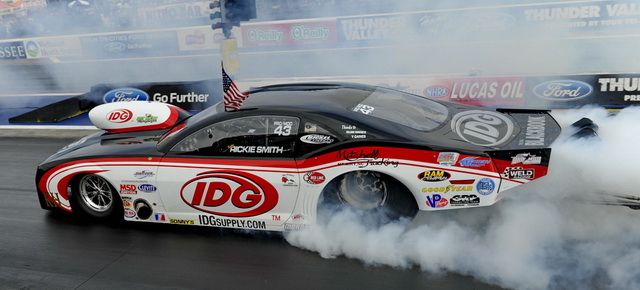 Rickie Smith made it back-to-back wins at Bristol Dragway, beating Troy Coughlin with a holeshot June 16, in the final round of the NHRA Pro Mod Drag Racing Series at the 13th annual Ford NHRA Thunder Valley Nationals presented by Tri-Cities Area Ford Dealers.
The race was the fifth of 10 events in 2013 for NHRA's popular 250-mph doorslammer touring series.
"This has been a good track to us over the years and it's a great deal to win here," said Smith, whose name is listed on the Legends of Thunder Valley at the track. "We've been blessed here and to go out and win every now and then, it's just a major accomplishment for us.
"We had a rough weekend and we were just trying to save the engine each round, but we're glad and just so happy to get this win."
After winning at legendary Thunder Valley in 2012, the King, NC, native held off 2012 NHRA Pro Mod Series World Champion Coughlin with a 5.991 at 240.47 mph in his IDG Chevy Camaro to claim his second straight victory in Bristol. Coughlin ran a quicker 5.984 at 246.26 in his JEGS.com Corvette, but Smith's better .061 reaction time sent him to the win, his first in the 2013 season.
"You always hate to lose, but we've got to consider the big picture, too," Coughlin said. "(Crew chief) Steve (Petty) and the guys have the car running great, and we got to another final round. We've been really consistent in this latest stretch, and that's a testament to how good this car is running.
"That's always a tough race against Rickie. He got the better of us this time, but we'll be fired up to get him next time we face off. It was a close one, but we just came up a few inches short," he added.
After winning his first-round matchup against Chris Juliano on Saturday, Smith, who qualified second, started Sunday with a second round victory against Pete Farber, going 5.994 at 240.38. In the semifinals, Smith faced off against Robert Patrick and his Ford Mustang, powering to a 6.418 at 169.23 to advance to the finals.
With the victory, Smith also jumped to second in the points standings at the halfway mark of the season. By advancing to the finals, Coughlin, who knocked off Mike Janis and No. 1 qualifier Danny Rowe to reach the championship round, took over the points lead from the Summit Racing Equipment team of Kenny Lang. Lang dropped to third with a second-round exit.
The next NHRA Pro Mod Series race takes place on July 4-7 at the Summit Racing Equipment NHRA Nationals at Summit Motorsports Park in Norwalk, Ohio.
(Photos courtesy NHRA/National Dragster; JEGS)
BRISTOL, Tenn. — Final round-by-round results from the 13th annual Ford NHRA Thunder Valley Nationals presented by Tri-Cities Area Ford Dealers at Bristol Dragway, the race is the fifth of 10 events in the NHRA Pro Mod Drag Racing Series.
PRO MODIFIED
ROUND ONE — Eric Dillard, Ford Mustang, 6.103, 246.26 def. Mike Castellana, Chevy Camaro, 7.719, 127.73; Robert Patrick Jr., Mustang, 6.030, 235.35 def. Steve Matusek, Mustang, 12.311, 68.88; Troy Coughlin, Chevy Corvette, 6.020, 246.08 def. Mike Knowles, Camaro, 6.118, 239.53; Pete Farber, Dodge Daytona, 6.017, 241.41 def. Von Smith, Camaro, 6.670, 155.08; Danny Rowe, Camaro, 6.004, 243.59 def. Clint Satterfield, Pontiac Firebird, 7.852, 183.67; Rickie Smith, Camaro, 6.230, 239.10 def. Chris Juliano, Mustang, DQ; Mike Janis, Camaro, 14.643, 68.29 def. Chip King, Daytona, broke; Kenny Lang, Corvette, 7.102, 220.94 def. Doug Winters, Chevy Bel Air, 7.270, 208.52; QUARTERFINALS — Patrick Jr., broke def. Lang, broke; Coughlin, 6.001, 245.54 def. Janis, 6.687, 157.67; R. Smith, 5.994, 240.38 def. Farber, 6.096, 240.04; Rowe, 6.029, 243.02 def. Dillard, 7.930, 149.22; SEMIFINALS — Coughlin, 6.001, 246.53 def. Rowe, 6.028, 241.80; R. Smith, 6.418, 163.29 def. Patrick Jr., broke; FINAL — R. Smith, 5.991, 240.47 def. Coughlin, 5.984, 246.26.