North Carolina's own "Tricky Rickie" Smith won a PDRA Pro Nitrous race for the second time this year at Rockingham Dragway, repeating his spring victory with the Professional Drag Racers Association (PDRA) Dragstock XII title. Also scoring pro class wins Sept. 12, at the eighth of nine scheduled events for the all-eighth-mile series, were points leader Jason Scruggs in Pro Extreme, Melanie Salemi with her breakthrough victory in Pro Boost, Chuck Wilburn with his first Pro Extreme Motorcycle victory and Jody Stroud for the second time in Pro Open Outlaw.
In the PDRA sportsman ranks, Dane Wood prevailed for the first time in Top Sportsman, Matt Cooke won his first Top Dragster final, Carson Brown won from the top qualifying position in Pro Jr. Dragster and Alexis Tanner picked up the win in Top Jr. Dragster.
PRO NITROUS
Smith, the back-to-back reigning NHRA Pro Mod champion and current PDRA Switzer Dynamics Pro Nitrous points leader, placed 14th with a 3.90 pass in the opening round of qualifying and was 17th after round two despite improving to 3.83 seconds. That left Friday night's third session when he vaulted up to ninth with a 3.79 at 198.67 mph before ultimately qualifying his IDG-backed '69 Camaro eighth with a 3.78 at 198.67 mph.
"I came here with just one motor because I didn't want to bring my NHRA stuff, but I didn't mean to be as soft on the tune-up as I was the first two runs when it was hot," Smith admitted. "Luckily it cooled down, the track stayed tight, and we were able to step it up."
After opening eliminations with a 3.78 win over Steve Jackson, Smith faced one of his biggest rounds of the year in the quarter finals against number-one qualifier Tommy Franklin, who trailed him by less than one round's worth of points heading into Dragstock XII. Whoever won the round was guaranteed to leave with the points lead and an opportunity to extend it substantially. Smith took full advantage, leaving first with a .031 reaction time, then posting another 3.78 pass at 199.17 mph while Franklin slowed to 3.83 at 175.64 when his own '69 Camaro coughed fire from its scoop for the second-straight run as it crossed the finish line.
"That was a huge round," Smith agreed. "We got a little lucky since he was running so fast but it looked like he hurt the motor a run or two before we raced. But sometimes you have to be lucky to win."
In the semi-finals, Smith got it done on the starting line, leaving with a .040 light against the .068 by Jay Cox, which allowed his 3.79 at 198.73 to beat a quicker 3.77 at 198.61 by four-thousandths of a second. Waiting for him was Chris Rini, who started his ATI Performance Products '69 Camaro third after running a career-best 3.75 at 198.23 mph in qualifying. Rini beat Tim Savell, John Hall and John Camp to reach Smith in the final round.
Once there, it looked like Smith was living up to his "Tricky Rickie" reputation as he turned on both the pre-staged and staged bulbs before Rini had even pre-staged.
"I really didn't intend for that to happen," Smith insisted. "I noticed the last two runs the brakes were feeling different and I was just waiting for him to go in when I saw my staged light come on. I didn't even realize the car was creeping forward but when it did I just pressed the transbrake button and got ready to go."
After Rini staged he took a .011 lead off the start, but Smith quickly recovered and made his best run of the weekend with a 3.77 at 198.96 against a 3.82 at 191.46 mph.
"It was that Musi motor and the Bickel chassis, always Bickel, that got it done," Smith said. "That, and Rickie Smith don't ever give up. I've been doing this a long time and that's one thing you can be sure of, I don't ever give up."
PRO EXTREME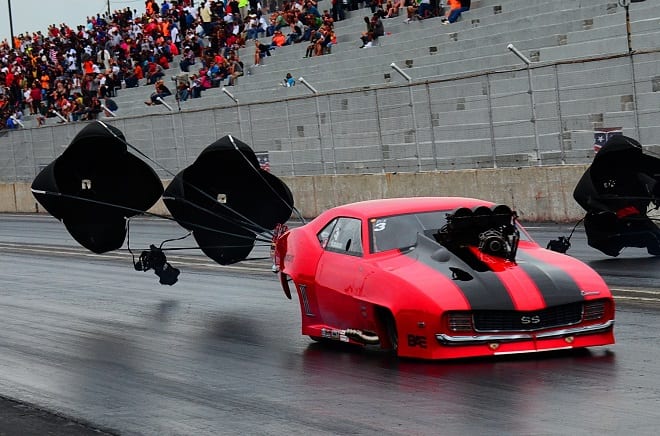 With just 11 entries, the NAS Racing Pro Extreme class did not meet the threshold (13) for a 16-car field, so Randell Reid led an eight-car field into eliminations with a 3.54 at 213.00-mph qualifying pass.
Points leader Jason Scruggs ran 3.56 at 216.27 to start his ScruggsFarm.com '69 Camaro from the number-five position, then beat Mustafa Buhamaid with a 3.55 at 216.93 in round one of racing before making a 3.54 solo run at 217.84 mph in the semis when Reid's car broke on the starting line.
That set up a final-round match against Todd Tutterow, who won the PDRA Spring Nationals in April. Tutterow, from Lewisville, NC, steered his GALOT Racing '69 Camaro to a 3.59 at 213-mph win over Dubai's Badir Ahli in round one and won with a holeshot against Brandon Snider in the semi-finals.
In the final, Scruggs left with a .015 advantage, then posted another 3.54-seconds pass at 218.19 mph while Tutterow faced traction issues and slowed to 4.39 at just 120.52 mph. It was Scruggs' fifth win of the year and almost clinched his position at the top of the points list with just the PDRA World Finals left to run in October at Richmond, VA.
"We went out looking to run a high-.53 or low-.54 and that's exactly what we run so that makes us pretty happy. I felt like we got lucky to win our last race (last month in Memphis) when we didn't make a good run in the final, so it feels good to win one this way," Scruggs said. "I also want to thank everyone that helps us, everyone at ScruggsFarm.com, Hoosier Tires, the guys at MVM wheelie bars, Flatout Gaskets, Snyder Lencodrive, just everybody that helps us."
PRO BOOST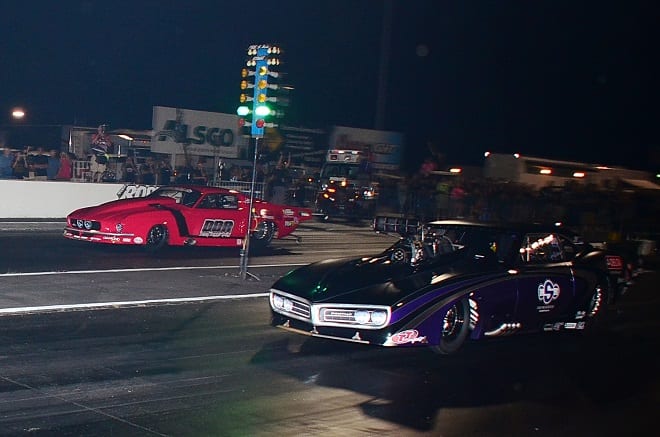 In just her second outing with a new, supercharged MSR '68 Firebird, Melanie Salemi (near lane) started from the third position in Precision Turbo Pro Boost with a 3.86 pass at 192.11 mph, then ran like a bracket racer with runs of 3.86, 3.92, 3.86 and 3.86 respectively through Joe Baker, Larry Higgenbotham, Ric Fleck and finally Anthony Disomma to earn her first professional win.
"I'm completely overwhelmed. We've had this great vision of everything coming together and this is even better than what I imagined," the transplanted Canadian from Buffalo, NY, declared. "First and foremost I have to thank my husband Jon, my brother-in-law Jim Salemi and Mike Stawicki, as well as my father, Roger Simmons. He couldn't be here this week but we won it for him."
In the final round, Salemi left first with a .047 light while Disomma was dead late at .158 in his twin-turbocharged '67 Shelby Mustang. Regardless, Salemi also outran her opponent with a 3.86 at 192.63 as he put together a 3.87 at a slowing 123.84 mph.
"I knew I got out on him and I took a quick look over a couple of hundred feet out or so and still didn't see him, but I was so worried he was going to come flying by me at the finish line," Salemi described of her final run. "When I got there it just got quiet, but when I looked up and saw the 'W' on in my lane I just started celebrating in the car. I couldn't understand why I didn't hear from Jon for what seemed like an eternity, but he finally came on the radio and said he got mobbed on the starting line. It was pretty exciting."
PRO EXTREME MOTORCYCLE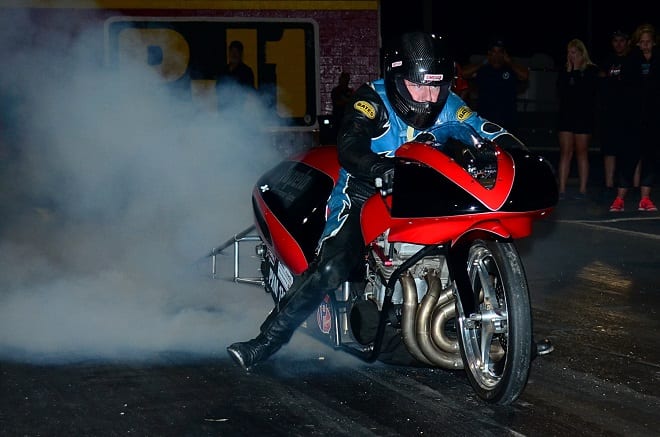 After racing in Drag 965 Pro Extreme Motorcycle since 2009, number-two qualifier Chuck Wilburn made it to his first final round at PDRA Dragstock XII, where he also scored his first event win.
"We didn't change anything from the semis, but I told my dad (Charlie) that I thought if I could shift it on time maybe it would run a .05–and it did, so I must've shifted on time," Wilburn said after running 4.05 at 174.17 to handily defeat the 4.15 at 153.95 by Burke Forster in the final round.
Wilburn, from Tupelo, MS, beat Curtis Grigg before making a solo pass in round two and narrowly defeating Ron Procopio with a 4.06 at exactly 175 mph in the semi-finals. On the opposite side of the ladder, seventh-place starter Forster beat Ronnie Smith, points leader and top qualifier Eric McKinney, and Chris Garner-Jones in the semis.
PRO OPEN OUTLAW
The Powershield Pro Open Outlaw class belonged to Jody Stroud at Dragstock XII, where the Chesterfield, SC-based driver picked up his second PDRA win of the year.
Stroud qualified his 2014 Ironman dragster at Rockingham in the top slot over the eight-car field with a 3.65 at 198.06 mph. He then opened eliminations with a lone 3.97 pass at 188.70 after opponent Latchman Hansraj broke and went 3.67 at 197.57 to defeat Matt Cooke before beating fellow finalist Robert Frigon with a 3.66 pass at 198.73 against Frigon's game 3.79 at 194.91 effort.
"I was a little worried about the track when I went up there (for the final), but my crew chief, Mike Kopchick, he told me he put a special set of tires on it and assured me if I stayed in it we would win the race," Stroud said. "And he was right."
TOP SPORTSMAN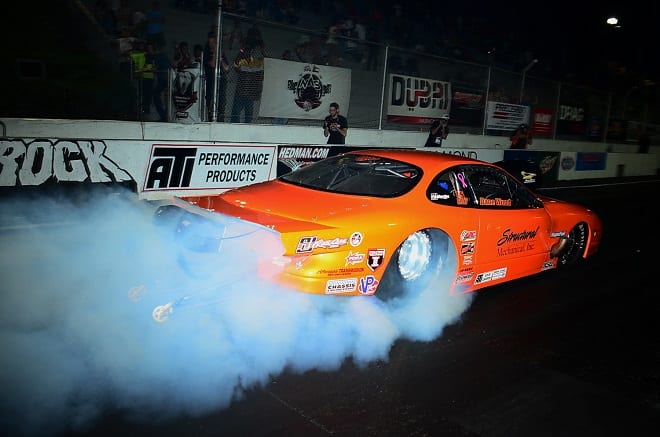 For the second straight PDRA event, former Pro Extreme champion Mick Snyder went to the MagnaFuel Top Sportsman final, but unlike the previous month in Memphis, at Dragstock XII it was his opponent who came out on top.
After qualifying his '06 Ford Escort 15th in the 16-car field, Chesapeake, VA's Dane Wood defeated points leader Ronnie Davis in round one, then took out Tony Wilson and Cam Clark before reaching his first PDRA final against Snyder.
Wood dialed in at 4.18 while Snyder put a 3.98 dial on his roots-blown, fuel injected '63 Corvette. Both drivers posted solid reaction times of .012 for Snyder and .016 for Wood, with his win light coming on 4.20 seconds at 171.71 later as Snyder ran 4.06 at 181.32 mph.
"I wasn't sure if I was going too fast or if I was okay and right about 500 feet is when I made the decision to lift and make sure I didn't break out. I don't really believe I would've anyway, but I wanted to play it safe and it paid off," Wood said.
TOP DRAGSTER
With a new Procharger-equipped 540 cubic incher by Stacy Hall at Fulton Competition Engines between the rails of car owner Andy Burnet's '09 Horton dragster, Matt Cooke raced to his first Dart Machinery Top Dragster win at PDRA Dragstock XII.
Cooke qualified fifth with a 4.00 at 180.79 mph for the 16-car field at Rockingham. He then ran a near-perfect 4.00 against a 4.00 dial in against Ryan Snell, who broke out by one thousandth in round one of racing. Round two saw Derrik Sholar, winner of the previous event in Memphis, also break out against Cooke, while a red-light start ended Junior Houston's hopes in the semis as Cooke ran 3.98 at 181.67 against a 3.98 dial.
That set up a final-round match against veteran Steve Furr, who dialed in at 4.47 and ran 4.48 at 153.74, but thanks to an outstanding .003 light to Furr's .029 start, Cooke took the win with a 4.01 pass at 163.06 against another 3.98 dial in.
"The car is really good and consistent and it made me look better than I am, at least today," Cooke said.
Winners also were crowned in the Huddleston Performance Jr. Dragster classes, with the Pro Jr. win going to number-one qualifier Carson Brown from Blountville, TN, and the Top Jr. Dragster title going to third-place qualifier Alexis Tanner.
The PDRA will return to action Oct. 22-24, with the PDRA World Finals at Virginia Motorsports Park, near Richmond.