In a move that we predict will become a growing trend, former grudge racer and current Radial vs. the World driver Jeff Sitton has unveiled a brand-new 2017 Chevrolet Camaro that will see action in a variety of classes. Sitton's new Roots-blown, Jerry Bickel-built Camaro will start life on drag radials before transitioning to big tires for PDRA Pro Boost and NHRA Pro Mod competition.
This new Camaro is a departure from tradition for Sitton, who's typically driven used, nitrous-assisted race cars on the eighth mile in grudge matches and Radial vs. the World competition. With racing partner Steve "Stevie Fast" Jackson making the tuning calls, Sitton ran the first three-second nitrous pass on drag radials in the "Hyde" fourth-gen Camaro in 2015. He then moved into Jackson's Pro Nitrous '69 Camaro on radials, which inspired Sitton to have the new '17 Camaro built.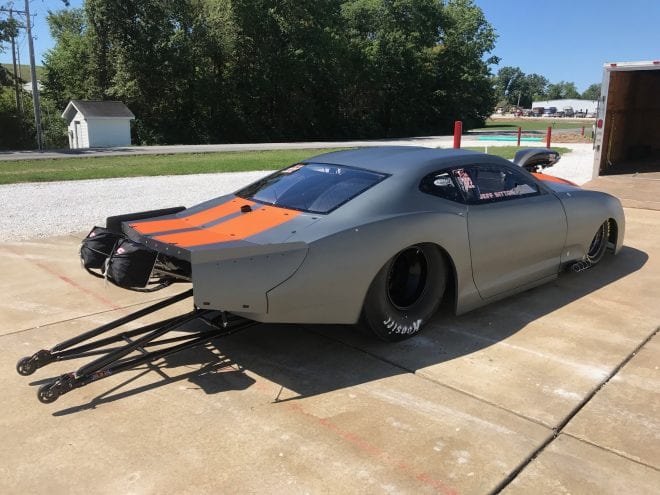 "All the cars I've raced in the past have been progressively stepping up the game," said the Texas oilfield businessman. "I drove the Pro Mod car Steve ran in PDRA Pro Nitrous and it really showed me how much a really good car changes everything, as far as driving it. It made a huge difference. I knew at that point, after driving the Pro Mod, that I would have a similar car built. Even to stay competitive, you have to step your cars up because it gets to a point where the car is critical. The horsepower is there, it's just having the car to make it all work. That became very clear to me after stepping out of the 'Hyde' car and into the Pro Mod. I saw such a great difference in how the car handled. Driving became much easier."
Working with Sitton in his transition to the new car has been the Killin' Time Racing crew – Jackson, versatile tuner Phil Shuler and crew member Jack Barbee. The group plans to eventually move into the ultra-competitive NHRA J&A Service Pro Mod Series with Sitton's Camaro as a team car to Jackson's Bahrain 1 Racing '17 Camaro.
"When we built the car, we wanted to have it where you could run it in PDRA, NHRA or drag radial. The car will basically fit in any class. We built it for drag radial and we could possibly make a move to NHRA with it to run as a two-car team with Steve. We're just going to get the car out, see how things go, see how many race are available, and that's really how we're going to approach the rest of the year."
Sitton's Camaro was recently picked up from Jerry Bickel Race Cars in Moscow Mills, Missouri, and is currently being prepared for track time at Jackson's shop in Georgia. Sitton expects to start testing during the second week of September with Jackson calling the shots. "I'd prefer Stevie tune it because I've always believe he's an underestimated tuner. I've seen him do great things. I honestly feel best behind the wheel if he's putting the tune-ups in it," Sitton admitted.
It's clear Jackson's involvement is important to Sitton, who worked with Jackson and Shuler to develop the game plan for the new Camaro. It bears striking similarities in both appearance and technical specs to Jackson's "Shadow 2.0" Radial vs. the World car and his NHRA Pro Mod entry.
"We were just looking down the road at being more than likely a two-car team," Sitton added. "That is the game plan for the future, for sure. When you're running two cars at an event, I think it increases your chances for success when you're running the same setups. It just takes away a lot of extra work; you can carry the same parts and have the same people working on it. Of course, Stevie's performed so well this year in NHRA Pro Mod. That made the decision very easy to go in that (supercharged) direction and leave the nitrous program. That's all I ever raced, but after Phil and Steve and I talked about it, we all came to the conclusion that a blown combination would allow us to have the success we all want and to do really well, which is important if we want to attract new sponsors. For the team as a whole, it was going to be the smart move for us."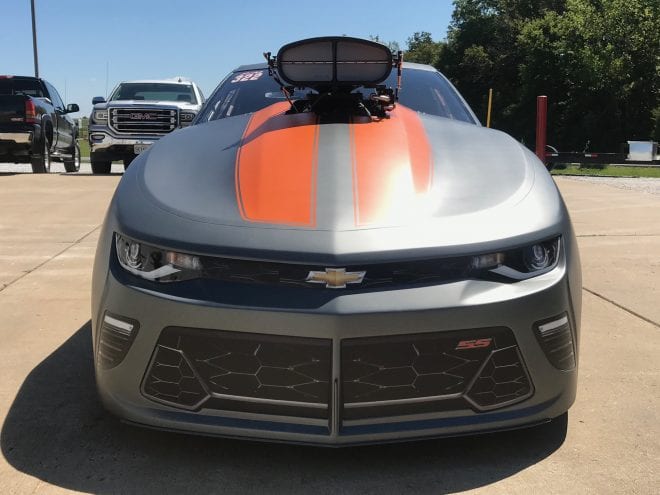 While Sitton hasn't locked down a definite schedule for the car, he confirmed a serious interest in participating in the NHRA Pro Mod program in 2018.
"I'm fairly certain I'm going to run some NHRA (races) with Steve next year. I've never ran quarter mile. I'm kind of like Steve was – I've always just been in the grudge racing scene and ran eighth-mile events, the drag radial events. I'm going to get the car out there, but ultimately (NHRA Pro Mod) is probably where we'll be at some point next year. It could be the first race, it could be the sixth race, but that's definitely going to be what we move toward," Sitton said.
Obviously a team player, Sitton acknowledged the key players at Killin' Time Racing that have played a part in his past success and current move to a supercharged Pro Mod.
"Phil (Shuler) is a big part of everything. Phil possesses so much knowledge. He's been a great help in all these moves as we all sat down and hashed everything out. One thing that's important about us all racing together is we have good chemistry. A lot of times in teams you have issues with different people, but we have such a good aura all running together. Once we do get solid direction on what we're doing, we're going to really come in and do very, very well because of that. The knowledge level is high with those guys. We all work well together. Jack (Barbee) has been a big part of the mechanical end for me in the events I've raced. He's a special guy – one of the hardest workers I've ever seen. One of the most important things for us having success and being able to make the moves we do is we have a great core team and guys who come out and help. Team is something that we all really focus on as much as anything."
Sitton and Killin' Time Racing receive support from SEI Oilfield Services, Bahrain 1 Racing, Strange Engineering, Lucas Oil, VP Racing Fuels, Diamond Pistons, Trend, Brad Anderson Enterprises, Jeremy Evrist, RSG, Mickey Thompson, Eastern Atlantic Underground, GALOT Motorsports, Neal Chance Racing Converters, Menscer Motorsports, and Precision Racing Suspension.