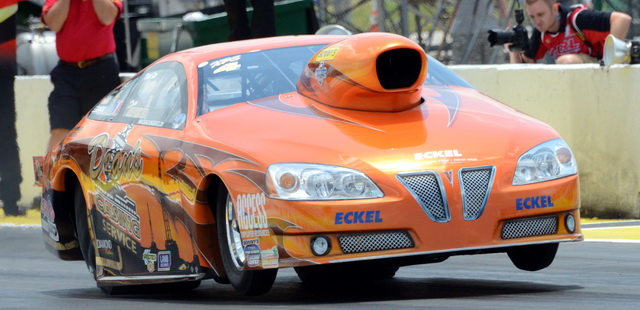 Extreme Pro Stock (XPS) driver Dean Goforth may have finished runner-up at the most recent ADRL event, but he didn't leave Virginia Motorsports Park feeling like he lost–he left feeling determined to succeed.
After taking out his son and defending XPS world champion Cary Goforth in the first round, David Schorr in the second round and Todd Hoerner in the semis, Goforth was ready for the final against Richie Stevens. Cutting a good light can make all the difference in an eighth-mile race, and though Goforth left the line first, he wasn't quite able to hold off Stevens at the top end.
"I might not be taking home the trophy, but I think I proved that even at almost 68-years old I'm here to win races, and I'm chasing the championship this year. And with only 185 points between the first three spots, I'm more determined than ever," Goforth declared.
"I believe in our team. We have been to two final rounds this year (winning one) and I'm third in points, so let this be a warning to all the other Extreme Pro Stock competitors: I am on a mission and I'm going to knock over anyone who gets in my way, and that includes my son Cary. I want the championship!"
But while Goforth obviously means what he says, he is not alone in the hunt for the 2012 series title. Standing between him and current points leader Stevens as they head into this weekend's (July 13-14) ADRL Summer Drags VIII at Martin, Michigan, is his son, who is 105 points in front of his father and just 80 points behind Stevens.
"I had to run against Dad in the first round at Virginia and the car shook in the middle slowing us down. Our goal this year is to meet in a final round, I know Dad is more determined than I have seen him in years past, so we have to be on our toes," Cary Goforth said.
"This year has been all about the family, Dad's off-season illness really showed us what is important; losing Bert Jackson last year also drove home the fact that we never know what will happen in the future, and Dad will be turning 68 this month. If he could pull off winning the championship, it would make John force look like a kid."
(Photos by Ian Tocher; Click to enlarge)