For the fourth time in 2015, Jason Scruggs visited victory lane at a Professional Drag Racers Association (PDRA) event, taking the NAS Racing Pro Extreme trophy home to Saltillo, Mississippi, from the 2nd annual PDRA Memphis Drags. Also scoring wins at Memphis International Raceway (MIR) were Tommy Franklin with his second Switzer Dynamics Pro Nitrous title of the year, Kevin Rivenbark (pictured above) with his second this year in Precision Turbo Pro Boost and Drag 965 Pro Extreme Motorcycle racer Terry Schweigert for the first time with the PDRA.
In the PDRA sportsman ranks, former Pro Extreme champion Mick Snyder prevailed his first time out in MagnaFuel Top Sportsman, Derrik Sholar won the Dart Machinery Top Dragster final, Mitchell Seymore won for the first time in Huddleston Performance Pro Jr. Dragster and Devan Lowe also won his first Huddleston Top Jr. Dragster trophy.
Rain on Saturday morning interrupted the all-eighth-mile event and washed away a scheduled fourth qualifying session for all classes. With fields set from Friday's three completed qualifying rounds, final eliminations began about 5 p.m. and concluded by 11:30 p.m., just as rain again began to fall.
PRO EXTREME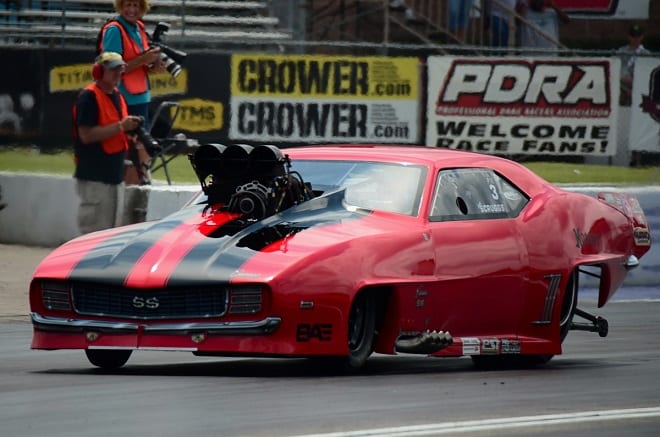 After earning the number-one start for the PDRA Memphis Drags with a track record 3.54 at 214.25 mph in his '71 Mustang, Terry Leggett charged through Pro Extreme eliminations, going 3.58 to beat a redlighting Neal Wantye in round one, 3.57 to easily handle Brandon Pesz in round two, and 3.61 against Wesley Jones, who also turned on the early-start light in the semi finals.
Meanwhile, number-two starter Jason Scruggs doused the return of Tim Tindle to drag racing after a nearly two-year absence with a 3.60 pass in the opening round of racing. He then ran 3.56 in his '69 Camaro to beat Mike Recchia and 3.55 in the semis against Dubai's Badir Ahli, who led the class points chase as the race began.
Choosing the right lane for the final, Scruggs left first with a stellar .004 reaction time to Leggett's still respectable .040 light, but the holeshot spelled the difference 660 feet later as Scruggs' 3.57 at 216.34 managed to beat a quicker 3.54 run at 215.07 mph put together by Leggett and crew chief Terry Coyle.
"Man, we had the car this weekend and I was bad when it really counted. We've never won one of these things before and I just feel real bad for my team; I let them down," a dejected Leggett said immediately after the run.
Scruggs said he knew he "killed it" on the start but lost some ET when he had to wrestle the car away from the centerline down track.
"We should've run a .54, too," he claimed. "I could see Terry the whole way down the track; I thought we had nicked him off the start, but I wasn't really sure until we crossed the finish line and I saw my win light come on. I'm just glad we did nail the tree so hard because it turned out we needed it. Terry had the car to beat all weekend."
Scruggs also recognized his semi-final win over Ahli was significant since it put them essentially even in points. Then, the win over Leggett–his fourth this year–moved the past back-to-back champion into sole possession of the points lead. "This is what we have to do," he stressed. "There's three races left (this season) and we have to go out there and make the most of them."
Finally, Scruggs dedicated his latest win to the memory of noted PDRA track and TV announcer Brian Olson, who passed away recently from complications related to a motorcycle accident. "Brian was such a big part of the PDRA and everyone here loved him and we're always going to miss him," said Scruggs, who with his father, Mitchell, and Pro Nitrous racer Tommy Franklin is a PDRA series owner.
PRO NITROUS
Five-thousandths of a second; that's all that separated winner Tommy Franklin from runner-up Steve Jackson in the Pro Nitrous final for the 2nd annual PDRA Memphis Drags.
"Man, I've lost by two thou, three thou and five thou myself at the last three races, so it's about time one of these went my way," Franklin said in victory lane. "It just shows how close and intense this class is out there. There really is no margin for error."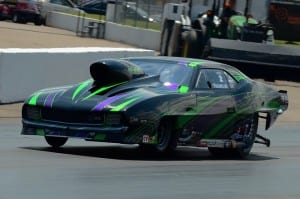 Franklin made no mistakes all weekend at Memphis International Raceway, where he qualified first with a 3.75-seconds pass at 201.58 mph, then raced through John Camp and defending race winner and reigning class champion Jason Harris before getting by Jim Sackuvich–by five thousandths–with a holeshot in the semis. On the opposite side of the ladder, Jackson started from the number-two slot after running just three thousandths behind Franklin in qualifying, then beating Tim Savell, David Janes and two-time defending NHRA Pro Mod champion Rickie Smith to reach the final round.
Once there, "Stevie Fast" left with a .028 advantage, but a 3.78 at 199.58 by Franklin was just enough to overcome the 3.81 at 200.92 laid down by Jackson. "It shook pretty hard. I didn't pedal it, just stayed with it, but it was enough to slow me down enough to let him by," Jackson explained. "It sucks, but we'll get 'em next time."
"You know, it's like it's in slow motion," Franklin said. "You're running 200 mile an hour in slow motion because both cars are doing it so you can see him inching ahead and then you picking up on him here and there. It's pretty exciting but also a little nerve wracking."
Franklin said it felt good to finally get back in the win column after taking the first race of the season back in March at Dallas, TX. "We've had some good races and some bad races since then, but I just feel like it's always an honor to race against these guys out here. I just feel blessed to be out here doing this," the electrical company owner from Fredericksburg, VA, said.
Like his PDRA ownership partner and Pro Extreme titlist Jason Scruggs at the Memphis Drags, Franklin dedicated his win to announcer Brian Olson's memory. " Each time I won a round I said, 'this one's for you, Brian.' You know, this is the first PDRA race without him on the mic and the first time Jason and I won together as PDRA owners so it's a pretty special race for us."
PRO BOOST
Kevin Rivenbark claimed he was starting to have second thoughts about the 2015 Corvette his GALOT Racing team had debuted two races earlier at Martin, Michigan in June. Not really, but he admitted to at least feeling anxious about going out in the first round at Martin and then again at the next event in Budds Creek, Maryland. So when he qualified the beautiful, new, roots-blown Bickel car fourth with a 3.88 at 191.67-mph pass for the PDRA Memphis Drags, the Wallace, NC-based driver said he felt ready to race.
He opened with a solid 3.90 win over James Linton Jr., then improved to 3.86 in round two while his opponent, Brian Hicks, did a masterful job of keeping his twin turbo'd '70 Duster off the walls at Memphis International Raceway after fluids from his engine got underneath the big rear slicks. In the semis, Rivenbark ran 3.87 to beat Tylor Miller, but lost lane choice for the final by six thousandths to third-place qualifier Kevin Fiscus, who previously defeated Todd Moyer, Alan Pittman and Scott Cristoffel.
Fiscus left first by .019 in his twin-turbocharged 2012 Mustang, but a 3.83 blast at 193.54 by Rivenbark led to an 11-thousandths margin of victory over the 3.86 at 204.01 put together by Fiscus.
"That's a big win for us, not only because it's the first one for the new car but because it puts us right back into the points with only three races left," Rivenbark pointed out. "We're ready for them now."
PRO EXTREME MOTORCYCLE
Terry Schweigert couldn't even remember the last time he'd won a Pro Extreme Motorcycle event in the States, but the Western Canadian racer won't soon forget his victory at the PDRA Memphis Drags.
After qualifying number one with a 4.06 run at 173.09 aboard his 2013 Suzuki, Schweigert ran through defending class champion Eric McKinney, three-time 2015 race winner Chris Garner-Jones and veteran rider Travis Davis to secure his first PDRA event title.
"You've got Eric, who's the top guy in the class, defending champion, winner of the first three races this year;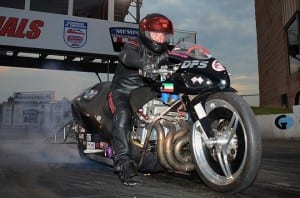 then Chris, who's been on a roll of his own lately and then Travis, who really is one of the best, so what more could I ask for," the 58-year-old Schweigert asked with a huge grin. "It's a great feeling, a really good feeling."
Davis went red by -.026 in the final, automatically handing the win to Schweigert, who ran 4.08 at 172.08 mph.
"I didn't see the red light, so I thought he had left on me and I wasn't going to catch him," Schweigert admitted. "Then I crossed the finish line and looked up (at the scoreboards) and saw my (win) light was on. That's when I realized I had won."
TOP SPORTSMAN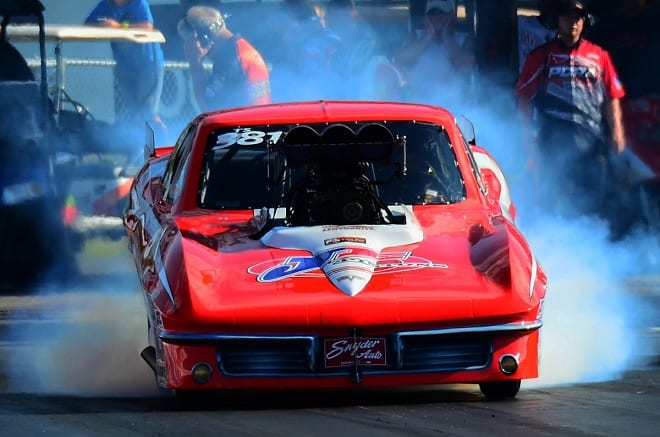 Mick Snyder said he always believes he's got a chance to win any race he enters, but even after picking up his first Top Sportsman trophy, the former Pro Extreme world champion admitted he really didn't think a win would come so soon. After all it came in only his third outing ever with a bold, new roots-supercharged, electronic fuel-injected engine management system aboard his formerly screw-blown Pro Extreme '63 Corvette.
"This ComSYNC package is a total engine management system," Snyder explained after beating Ronnie "The King" Davis in the final round for the PDRA Memphis Drags Top Sportsman title. "It manages your fuel, it manages the coil packs, it just does it all; EFI in this case stands for engine, fuel, ignition. It's way more consistent than a mechanical system ever could be."
Snyder qualified his Powersource Corvette fourth with a 4.02 at 181.35-mph pass. Buddy Perkinson's 3.905-second, 192.77-mph qualifying pass not only secured the number-one start for the Virginia-based driver's new 2015 Camaro, but set a new, official PDRA Top Sportsman ET record after Perkinson backed it up with a 3.916 at 189.02 win over defending class champion Dan Ferguson in the opening round of racing.
Perkinson fell to fifth-place qualifier Davis in round two, though, with Davis and his '63 Corvette going on to beat Cheyenne Stanley in the semis to reach Snyder. Once there, Davis suffered a rare red-light start, leaving -.003 too soon to negate a 4.08 run against a 4.07 dial in, while Snyder broke out with a 4.03 pass at 181.23 mph against a 4.05 dial.
"We're really happy with this," Snyder said. "A little surprised? Yeah, I think so, but I think we can do it again, so maybe not."
TOP DRAGSTER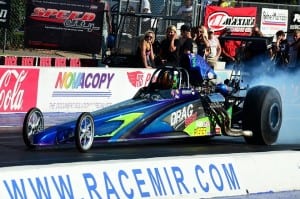 With his first PDRA Top Dragster win coming at Memphis, Derrik Sholar moved into the thick of the 2015 championship points fight. Sholar, from Holly Ridge, NC, started from the 10th qualifying position, then made steady progress through Wade Pennington, Zach Sackman and Bob Henry before taking down Cody Moore in a tight final round.
"The key to winning was my Race Tech car, Nesbitt motor and my crew chief Ross Willard, he's been phenomenal here making all the right calls," Sholar said in victory lane.
Sholar left with an outstanding .004 light in the final, then ran 4.129 at 166.68 mph against a 4.12 dial in to beat Oklahoma's Moore, who posted a .023 reaction time followed by a 4.202 run at 164.67 against a 4.19 dial in.
First-time winners also were crowned in the Jr. Dragster classes, with the Pro Jr. win going to number-15 qualifier Mitchell Seymore from Cullman, AL, and the Top Jr. Dragster title going to 13th-place qualifier Devan Lowe.
The PDRA will return to action Sept. 10-12, with PDRA Dragstock XII at North Carolina's historic Rockingham Dragway.