Jason Scruggs overcame his early-season struggles to earn the provisional number-one qualifier position in Pro Extreme at the Professional Drag Racers Association (PDRA) Southern Extreme Nationals. Also leading in the professional classes after two of three qualifying sessions at South Georgia Motorsports Park are Jay Cox in Switzer Dynamics Pro Nitrous presented by MoTeC, John Strickland in Andy McCoy Race Cars Pro Boost, Cary Goforth in Extreme Pro Stock, and Eric McKinney in Drag 965 Pro Extreme Motorcycle.
In the PDRA's sportsman classes, the current low qualifiers are Randy Perkinson in Magnafuel Top Sportsman and Jody Stroud in Lucas Oil Top Dragster. Mia Schultz tops the Campers Inn RV Pro Junior Dragster field, and Mallory Logan leads MegaCorp Top Junior Dragster.
PRO EXTREME
2015 world champion Jason Scruggs set the standard for the PDRA's quickest and fastest class with his 3.499-second, 221.52 mph blast during the second qualifying session Friday night. The pass was quick enough to propel the ScruggsFarm.com 1969 Camaro from the bump spot to the top spot, putting Scruggs in a good position as he moves into Saturday's final qualifying session and eliminations.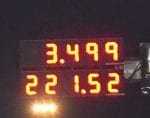 "For me it feels good [to qualify number one] because we've been struggling with a bunch of new parts on the car. It's a relief to get down the track tonight and not be behind the eight-ball going into tomorrow. Plus, Bubba Stanton has been running his mouth, so I don't have to listen to him talk smack all night," Scruggs joked, referencing the 2014 Pro Extreme champion who is back in competition after missing most of the 2016 season.
While his 3.49 offers some level of comfort, Scruggs also realizes he'll face a more challenging track surface on Saturday.
"We've been a little lost with trying to work in some new parts; just overpowering it," admitted the driver of the "Mississippi Missile". "But the track was great tonight, so we just went for it. We don't have many laps on the car with the new parts, so we're still going to be a little lost in the heat tomorrow. It's good to make a Hail Mary pass when the conditions are good, but you gotta get down the track when the sun is out too."
Stanton and Tommy D'Aprile follow Scruggs with their identical 3.557-second elapsed times, with Stanton's Roger Henson-owned '69 Camaro taking the second spot based on better speed. Frankie "Mad Man" Taylor is fourth with a 3.576 recorded during the first session. Jose Gonzales, who recorded the world's quickest quarter-mile doorslammer pass with a stunning 5.403 at 259.71 mph earlier in the day, is fifth with a eighth-mile time of 3.587.
PRO NITROUS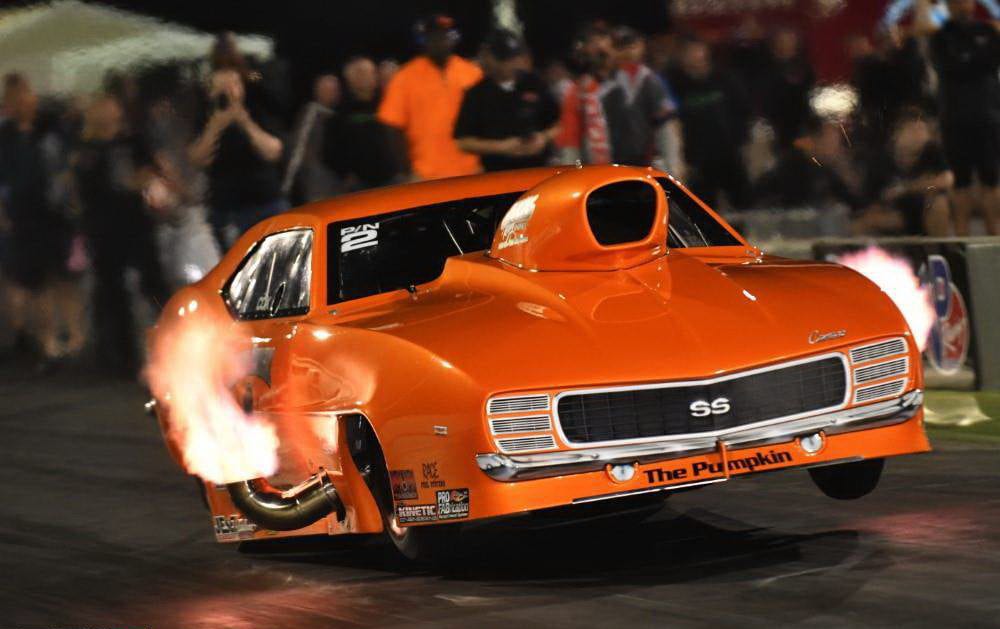 Smithfield, North Carolina's Jay Cox was unsure if he would even be able to compete this season after losing his primary sponsorship over the winter. However, the 2016 championship runner-up was able to secure backing from Clements Mechanical in time to prepare his Buck-powered "Pumpkin" '69 Camaro for the new season. He ended up recording a near-record 3.679 at 200.71 mph to claim the top spot in Pro Nitrous.
"It's been a rough road this winter, not knowing which direction we were gonna go, as much as I love drag racing," Cox said. "I prayed about it a lot and thought about it a lot, and it all worked out. It's going to be a good deal.
"This is a good feeling. This thing sat on the ProJacks for four months. Then we came down here and it's running as fast as it's ever run. I have a lot of good people in my corner – good crew, good family, and a good guy backing me, Luke Clements and Clements Mechanical. They're new to drag racing, and what better way to introduce them than with a performance like this."
Lizzy Musi, who raced extensively in the Middle East over the winter, is second in the 19-car Pro Nitrous qualifying order with a 3.707. Randy Weatherford (3.717), John Hall (3.735), and Danny Perry (3.737) round out the top five in Pro Nitrous.
PRO BOOST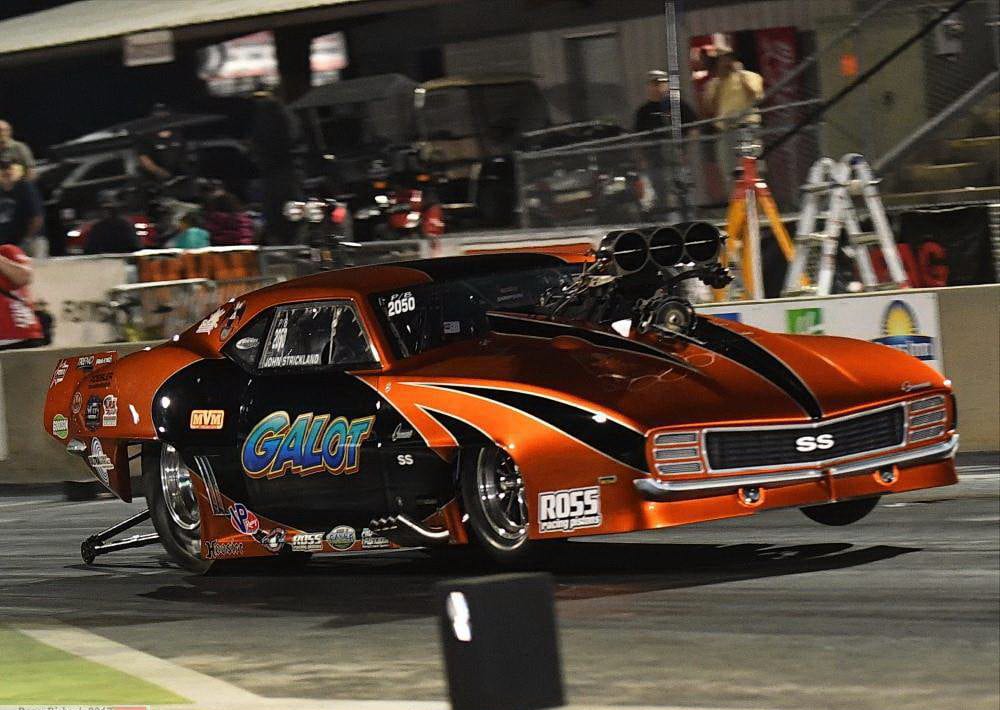 GALOT Motorsports driver John Strickland returned to the familiar position of Pro Boost number-one qualifier Friday night when he clicked off a 3.73 at 198.70 mph. The four-time event winner credited his team, led by Todd Tutterow and Jeff Bohr, for helping him secure the top spot in a field filled with performances that likely would have earned the top spot at most of the races last season.
"It feels great to start off the year right where we left off," Strickland said. "I was number-one qualifier at Virginia at the end of last season, and to start off the 2017 season back in that position says a lot about the team. They worked all winter long trying to improve. Obviously, every car out here is faster than they were last year. If our guys wouldn't have worked so hard over the winter, we wouldn't be the number-one qualifier right now."
In second place is Jose Gonzales in the Pro Line-powered Mustang with a 3.737 at a booming 213.16 mph. Young guns Tylor Miller and Ty Tutterow are third and fourth with a 3.747 and 3.756, respectively. South Carolina's Jeremy Ray follows closely with a 3.757 in fifth place.
EXTREME PRO STOCK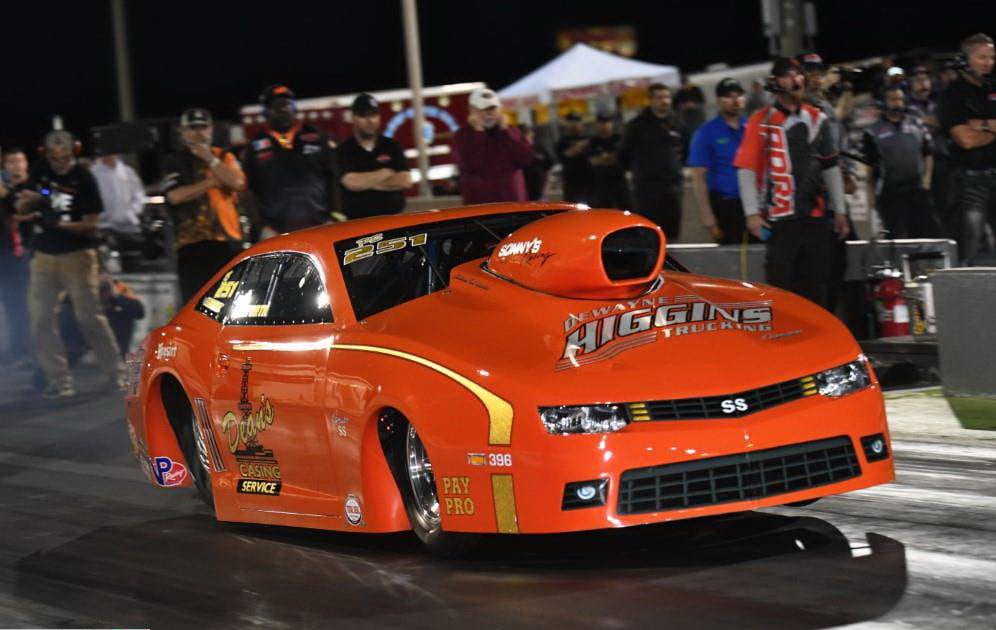 Back with the PDRA for the full 2017 season is Extreme Pro Stock, a class dedicated to naturally aspirated mountain-motored Pro Stock cars. Surprisingly, the provisional top spot went to a driver who was unable to attend any of the five Extreme Pro Stock stops on the PDRA tour last season. Cary Goforth drove his Dean's Casing Service/Dewayne Higgins Trucking 2014 Camaro to a 4.056 at 177.74 mph to lead the Southern Extreme Nationals field.
"We're making good runs, but they can be better," Goforth asserted. "We just underestimated the track tonight, so my hat's off to the PDRA staff for the great track prep."
Mountain Motor Pro Stock racers have found a new home with the PDRA after experiencing instability with various series over the last several years. Goforth is one of at least eleven Extreme Pro Stock racers who have committed to running the full PDRA schedule in 2017.
"In 2014 the PDRA said they would love to have us back if we needed somewhere to race, and they stayed true to their word. We would have a lot of cars and expensive parts just laying around the shop if it weren't for everyone with the PDRA. I cannot thank them enough for allowing us to come back and giving us a place to race," Goforth said.
New York's John Montecalvo sits second with a 4.091, while Elijah Morton's 4.135 is third. Defending world champion John Pluchino is on the outside of the eight-car field heading into Saturday's final qualifying session.
PRO EXTREME MOTORCYCLE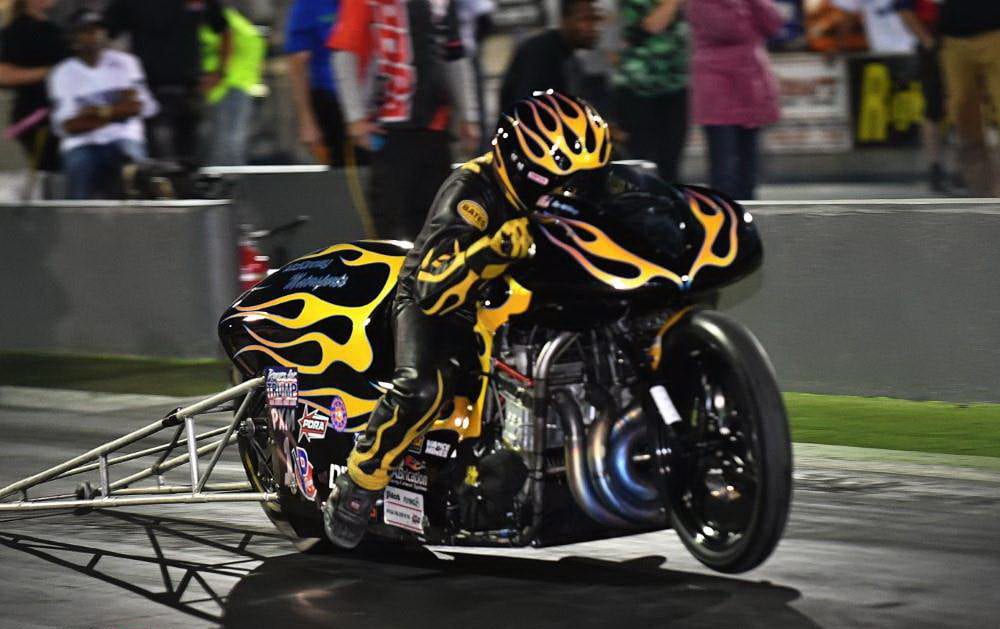 Defending world champion Eric McKinney maintained his spot at the top of Pro Extreme Motorcycle when he laid down a 4.014 at 177.72 in the second qualifying session. While clearly happy with that performance, McKinney was aiming for a three-second pass like those he was making at the PDRA World Finals last October.
"To start off this year where we left off in 2016 is amazing to me," McKinney admitted. "We ran a 4.05 off the trailer in testing, then a 4.02 to wrap up testing on Thursday night. This time last year we were struggling and we just missed our setup, so to pick up where we left off in 2016 is great. Now we can build on that instead of chasing it."
McKinney's tuner and teammate, Ashley Owens, is close on his tail with a 4.019 in second place. Canadian dairy farmer Terry Schweigert is closing in on the three-second zone as well, running 4.024 to take the third spot. Spencer Allen (4.079) and Tyron Lemon (4.08) currently hold the fourth and fifth spots.
SPORTSMAN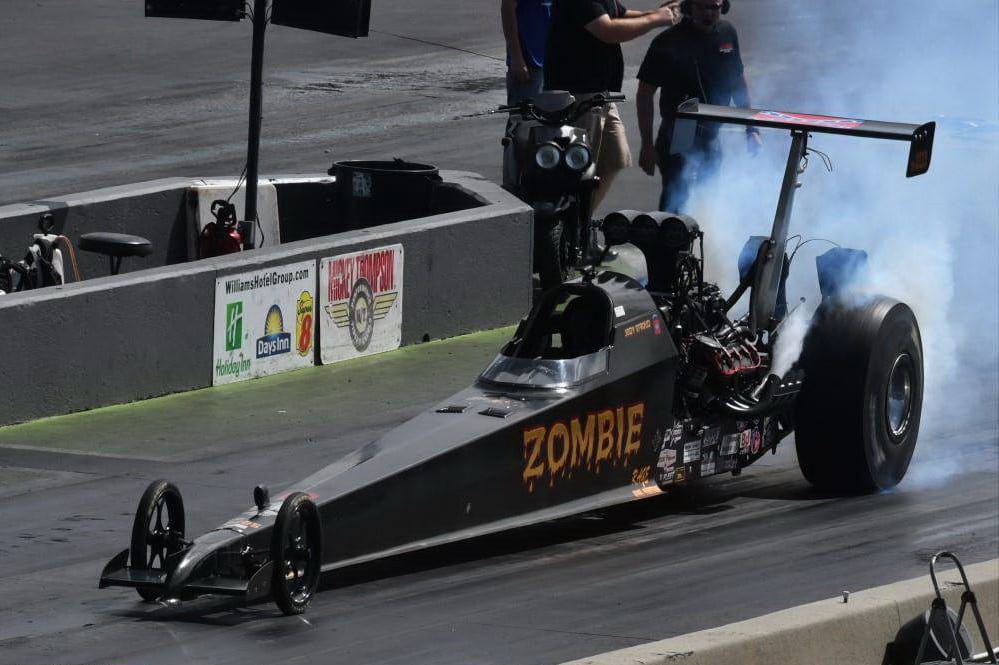 After three of four sportsman qualifying sessions, the top spot in Magnafuel Top Sportsman is held by Virginia's Randy Perkinson, who recorded a 3.856 at 190.78 mph in his nitrous-assisted 2016 Camaro. Engine builder Billy Albert drove his new 2017 Camaro to the second spot at 3.932. Lester Johnson's Procharged '55 Chevy Bel Air is third with a 3.994.
Lucas Oil Top Dragster's provisional low qualifier is Jody Stroud with a 3.656 at 198.09 mph in the supercharged "Zombie" Spitzer dragster. Behind Stroud in second is Andrew Johnson and his Procharged Spitzer car with a 3.763. Floridian Brian Bednar is third with a 3.841-second run in his supercharged Spitzer rail.
The 2017 PDRA Southern Extreme Nationals resume Saturday with Bracket Bash time trials at 10:30 a.m., followed by the fourth qualifying session for the professional classes at 11 a.m. Eliminations kick off with Pro Extreme at 3 p.m. Saturday afternoon.
Roger Richards photos