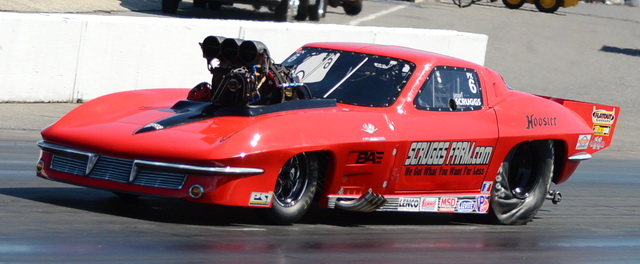 Jason Scruggs' (above) third win in the American Drag Racing League (ADRL) in 2012 ended up being his one of his favorite and also proved to be a historic one, as it pushed his career win total in the ADRL to nine, which also gives him the most wins in the history of the Pro Extreme class.
Other winners of the Memphis Drags III at Memphis International Raceway included Bob Rahaim (Pro Nitrous), Dennis Sugrue (Mickey Thompson Extreme 10.5), Eric McKinney (Pro Extreme Motorcycle), John Montecalvo (Extreme Pro Stock), Todd Tutterow (Aeromotive Fuel Systems Pro Modified) and Marco Abruzzi (Summit Racing Equipment Top Sportsman).
At his home ADRL track and with plenty of friends and family watching, Scruggs went 3.736 at 207.34 mph to beat Brandon Pesz in the Pro Extreme final.
"This is awesome. The folks at this track are so nice and the track is just great. I would rate this win here as one of the best I've ever had," Scruggs said. "We had the whole family here and a bunch of friends, including some who had never been to a drag race, so this is a cool feeling."
Scruggs provided one of the many highlights in the ADRL's return to Memphis, as track records were set across the board on a memorable day at MIR where track conditions were nearly flawless.
The two-time PX world champion traded blows with the heavy hitters in the class, but he had the final say, running a track record 3.616 at 209 mph in the second round and a 3.633 at 209 mph in the semifinals.
All of it came after the team frantically swapped motors after a mishap in qualifying.
"There was very good air out there today and we had some luck along the way," Scruggs said. "Changing the motor during the race adding some pressure, but it all worked out."
Rahaim's dream season continued in Pro Nitrous, as he picked up his second win of 2012 with a 3.83 holeshot win against Doug Riesterer in a final that featured the top two drivers in the points standings.
Riesterer went an incredible 3.772, but Rahaim and his Jerry Bickel Race Cars Camaro had a significant advantage on the line (.085 reaction time to Riesterer's .242) to hold off Riesterer in the race and in the points standings.
"This was a thrilling moment for our team. I'm the luckiest man in the world right now," Rahaim said.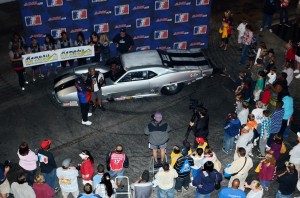 "I'm excited and it's just even better because we're coming to the end of the season and every point matters. We're just floored right now."
Rahaim qualified second with a 3.848 and put together his best pass of the weekend in the finals.
"It takes everybody to do this," Rahaim said. "Everyone is just doing a fantastic job out there."
Eric McKinney remains the hottest competitor in the ADRL after picking up his third straight win – and fifth overall – in Pro Extreme Motorcycle. McKinney, whose second career ADRL race was in Memphis, turned in a banner day in furthering his points lead, running a 4.052 at 175 mph to beat Paul Gast in the finals.
"This is just awesome. It's cool to come back here and get this win," McKinney said. "This is the best my career has been. This is top-notch racing right here and this is just incredible."
McKinney was ahead of the pack the entire weekend. He qualified No. 1 with a 4.079, went 4.048 at 175 mph in the quarterfinals and then topped himself with a career-best and track record 4.028 at 176 mph in the semifinals.
"It seemed like we were stuck on 4.07 and 4.06 and I didn't think a 4.02 was there," McKinney said. "That was so cool to see that. This win is just as big as the first one, especially running numbers like that."
After a season filled with frustration, John Montecalvo finally had something to smile about in his 2012 RJ Race Cars Camaro when he picked up in the win in Extreme Pro Stock after Pete Berner went red in the finals.
"This racing business is always a humbling experience. You never know when you're going to win another one. I'm just happy to be back in the winner's circle," Montecalvo said. "We've made some changes and I think we're moving in the right direction now."
Montecalvo, the 2010 world champ in the class, had never found his rhythm this season before putting it all together in Memphis. It came together late in eliminations, too, as Montecalvo qualified No. 12 and then went 4.089 with a .001 reaction time in the second round to beat Todd Hoerner, topping it with an event-best and new track record pass of 4.056 at 178 mph to beat points leader Cary Goforth in the semifinals.
"The car was fast and had plenty of horsepower," Montecalvo said. "Sonny's Racing Engines did a great job as usual and we were just happy to put some good runs together. It just took us a while to find where we needed to be."
Todd Tutterow had a weekend that couldn't have gone much better and the former Pro Extreme world champion capped it off by going 3.90 at 199 mph in the Aeromotive Fuel Systems Pro Modified final against first-time finalist Adam Flamholc.
"This feels really good. We've probably put a 100 laps on this car just testing and all that hard work paid off this weekend," Tutterow said.
Driving a turbo-powered '70 Duster that showed loads of potential this weekend in Memphis, Tutterow was the No. 1 qualifier with a 3.90, went more than 200 mph during eliminations and then wrapped it up with his first victory in the class.
"We knew the potential was here in these cars and I think this turbo thing can really catch on," Tutterow said.
It was a historic win for Marco Abruzzi in Summit Racing Equipment Top Sportsman, as he became the first driver in the history of the class to win two events after going 4.247 to beat first-time finalist Rick Corn.
It also marked a resounding turnaround for Abruzzi, who had struggled so much as of late that he lost his points lead. But after staying on point in the 4.20s again, Abruzzi is back on top in the highly-competitive class.
"This is a very gratifying win and took a lot of hard work," Abruzzi said. "This hasn't been a great last 3-4 events for me. We got off track and I had a friend work on it, and now everything is good again.
"We've done a lot of testing to get this car happy again. We've been working really hard and I was just able to get my head straight."
Dennis Sugrue was nearly overcome with emotion after running 4.029 at 192.93 to win an all-underdog final against Lamar Swindoll Jr. in Mickey Thompson Extreme 10.5. Swindoll knocked off Billy Glidden to reach the final, while Sugrue upset points leader Alan Pittman in the semifinals before getting his first ADRL win.
"This feels like we really accomplished something. I'm just blessed to I'm just really happy for our guys," Sugrue said. "This is the big leagues."
In Pro Junior Dragster, Tracy Armer won with a 7.871 over Jackson Core.
The ninth of 10 races on the 2012 ADRL Tour takes place on Sept. 28-29 with the Summit Racing Equipment Ohio Drags VI presented by Mickey Thompson at Summit Motorsports Park in Norwalk, Ohio.
(Photos by Ian Tocher; Click to enlarge)