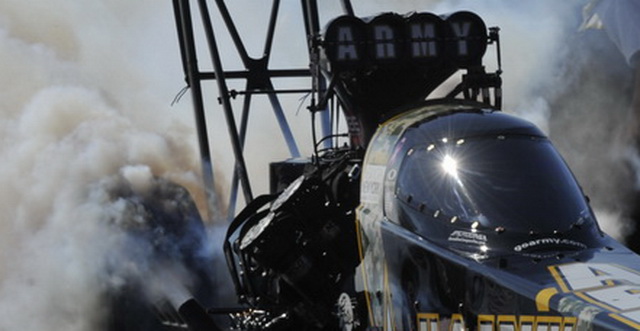 Once again Tony Schumacher is heading to Auto Club Raceway at Pomona with an opportunity to win a Top Fuel championship. The seven-time world champ has created some magical come-from-behind championship-winning performances over the years at the historic drag strip in Los Angeles' San Gabriel Valley.
Perhaps his most memorable, "The Run," took place in 2006, the final season before the Full Throttle Countdown to the Championship era began. Schumacher trailed leader Doug Kalitta by 45 points heading to the final race. As semifinal loser Kalitta looked on at the top end of the track late Sunday waiting to receive his first championship trophy, Schumacher defied the odds and stole the trophy away at the last instant with an amazing record-setting, race-winning performance in his U.S. Army dragster.
The following season Schumacher came to the season-ending race in Pomona in fourth place, 68 points behind leader Hot Rod Fuller. After Fuller's dragster lost traction and was eliminated in the first round, Schumacher put together a string of round wins under intense pressure and ultimately captured the race victory and the championship title.
Schumacher will try to draw on those two experiences as he enters the Auto Club NHRA Finals, Nov. 8-11 at Auto Club Raceway. In second place in the Top Fuel standings, he trails series leader Antron Brown by 65 points at the final race of the NHRA Full Throttle Countdown to the Championship, which will be televised on ESPN2HD.
"This is a pressure cooker," said Schumacher, the most prolific Top Fuel driver in NHRA history, who has raced to two victories in eight final rounds this season. "This is what it's all about."
The territory is nothing new for Schumacher, who has made a career out of rising to the occasion during big moments.
"I always wanted the ball in my hands for the last shot, and I always wanted to sit in a seat and have to win to be the champ, not hope someone else loses," Schumacher said. "And I think Antron is in a really good spot right now.  He's ahead of us, but he's not that kind of guy.  He does not want to have to watch someone lose, he wants to close the deal, just like we do.  At the award banquet we all want to be on that stage."
Hot on their trail is FRAM dragster driver Spencer Massey in third place, 70 points back of Brown. Al-Anabi Racing's Shawn Langdon, at 116 points back in fourth place, is also mathematically still in contention.
Given the incredible competition, Schumacher says this season has been one of the toughest ever.
"It is the best class of cars that has ever been put together," Schumacher said. "There are more great cars than we've ever seen, the great drivers, the teams. There's nine or ten cars that are extremely good. The guy that stands on the podium at the end is going to be well deserving of the Full Throttle championship.  That's it.  Because it has been as difficult as anything I've ever seen."
And that's saying something for the Los Angeles native who now calls Chicago home. In winning seven world championship titles, Schumacher has won in every way imaginable. In addition to the two dramatic comebacks, Schumacher has also dominated a season (2008), claimed a title by winning only one race (1999) and also took a title that he wasn't supposed to win after parting ways with noted crew chief Alan Johnson (2009).
"I have lived some great moments," Schumacher said. "At the end of my career I will be able to look back and think, there have been very few years that haven't been extremely gratifying.  This will be at the top of the list if we can pull this off."
(Photos courtesy NHRA/National Dragster; Click to enlarge)