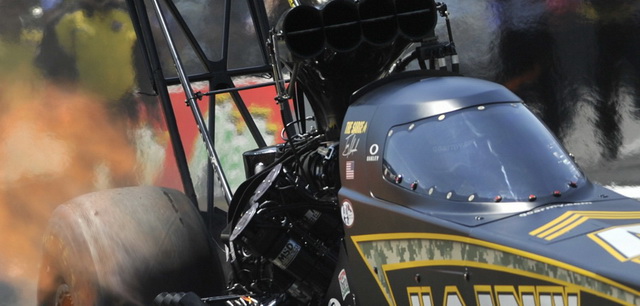 Tony Schumacher (above) raced to the Top Fuel victory in spectacular fashion Sunday as his U.S. Army dragster's 8,000-horsepower engine exploded in a huge fireball when he crossed the finish line in the final round of the O'Reilly Auto Parts Route 66 NHRA Nationals.
Matt Hagan (Funny Car), Jeg Coughlin (Pro Stock) and Michael Ray (Pro Stock Motorcycle) also were winners of the NHRA Mello Yello Drag Racing Series event.
Schumacher's fiery finish stopped the clocks in 3.930 seconds at 269.29 mph, but it was quick enough to hold off a determined Clay Millican, whose Parts Plus dragster trailed and the veteran driver remained winless in six career final round appearances.  It was the third win of the season and the 72nd overall for local favorite Schumacher, a longtime Chicagoland area resident.
Schumacher powered past David Grubnic, Khalid alBalooshi and defending world champ Antron Brown to advance to the final round. In the final, Millican was actually ahead of Schumacher near mid-track, but Schumacher's machine surged forward, the engine eventually expiring just as he crossed the finish line first.
"It's always great to have a hometown win here in Chicago," said Schumacher of his fourth victory at Route 66 Raceway, located just south of Chicago. "It was a great day for Don Schumacher Racing with another double-up [Matt Hagan's Funny Car win]. This is 37 times that we've done that, and it was personally gratifying with all the family and friends I had here this weekend."
Going into the final with Millican, he was very aware of his record against drivers who are seeking their first wins.
"When you look back in Top Fuel history, whenever anybody gets their first win, it's against me," said Schumacher, who regained the series lead with the victory. "Between Shawn Langdon, J.R. Todd, and everybody else, that is what has happened. But I told myself today that this is not going to be an ongoing trait. We're going to stop it right here and now. I don't care when or if Clay wins a race, but just not today. Not here at my home track where we have a chance to extend our points lead, which is going to be very valuable when we get down to Indy [the last race of the regular season]."
In Funny Car, Hagan extended his series lead with his third win of the season as he edged final round opponent John Force at the finish line. Hagan's Magneti Marelli/Rocky Boots Dodge Charger posted a 4.605 at 315.34, while Force's Castrol GTX Ford Mustang finished just behind in 4.113 at 304.80.
"It's so hard to get these wins, so I feel great to be here," said Hagan, who had to knock of championship title contender Johnny Gray, defending world champ Jack Beckman and Bob Tasca III in earlier rounds.
"I don't think you could put together a tougher line-up," Hagan continued. "We're doing good things right now and we want to keep it up, but I want to stay humble. This is such a humbling sport. Things can change fast, so we're just gonna keep doing what we've been doing."
It was Force's third consecutive final round appearance and the 15-time world champ has surged from 10th to third place in the last three races. Hagan said his adrenaline was overflowing for that final round with the NHRA icon.
"John [Force] is tough so we knew we had to run well and that 4.06 in the final was stout," said Hagan, who leads second place Cruz Pedregon by 106 points. "[Crew chief] Dickie [Venebles] and the crew have done a great job with this car. I just had to hang on and get it to the finish line."
In Pro Stock, Coughlin raced to his second win of the season and fifth at Route 66 Raceway when he drove his JEGS.com/Mopar Dodge Avenger away from final round opponent Greg Anderson. Coughlin covered the distance in 6.603 at 209.85 while Anderson's Summit Racing Equipment Chevy Camaro lost traction near mid-track and slowed.
"When I let out the clutch, the car didn't feel the best that it had all day, and by the time I got into second and third gear I was just cracking the whip on the thing as hard as I could," said Coughlin, who moved into second place in the standings with the win. "I didn't know that Greg was struggling next to me, but to see that win light come on in my lane and to have such a huge win here feels amazing."
Coughlin outran Bristol winner Rodger Brogdon, Jason Line and teammate and Epping winner Allen Johnson to get to the final. He says getting the victory here put a big yellow and black bow on an outstanding weekend for the entire JEGS operation.
"It certainly didn't hurt taking out one of the Summit cars [Anderson] in the final," said Coughlin of his 54th career victory. "But I think that the big exclamation point is that this was the weekend of the JEGS Allstars, which is a huge, huge deal for the Lucas Oil Drag Racing Series and all the Sportsman racers. We put a lot of effort into this weekend, and I think that's been a little bit of the ingredient that has contributed to our success at this track."
Ray earned his second win of the season and third of his career in Pro Stock Motorcycle by defeating former teammate Matt Smith in the final round. Ray used a near-perfect reaction time and powered his Soeverign-Star Racing Buell to a 6.986 at 191.29 to hold off Smith's charging Viper Motorcycle Company Buell, which finished in 6.992 at 190.22.
"Most people know that I rode for Matt last year and we do have a little bit of a rivalry," Ray said. "When I moved to Star I think it was the best decision I've ever made. I've won two races so far and it was especially nice to beat my old crew chief. This was definitely a bit of redemption."
Ray used a string of mid-6.9 second runs to defeat Epping winner John Hall, teammate Scotty Pollacheck and Hector Arana Sr. to advance to the final round.
"After I won in Englishtown we wanted to keep the momentum going," said Ray, who moved to second in the series standings with the victory. "Then we went to Epping and I got beat on a holeshot. I told myself coming in here that I'd either be red or perfect and I was solid on the tree all weekend."
The NHRA Mello Yello Drag Racing Series continues July 4-7 with the Summit Racing Equipment NHRA Nationals at Norwalk, Ohio.
 (Photos courtesy NHRA/National Dragster; Click to enlarge)
JOLIET, Ill. — Final round-by-round results from the 16th annual O'Reilly Auto Parts Route 66 NHRA Nationals presented by Super Start Batteries at Route 66 Raceway, the 12th of 24 events in the NHRA Mello Yello Drag Racing Series:
TOP FUEL
ROUND ONE — Khalid alBalooshi, 3.817, 322.88 def. Brandon Bernstein, 6.104, 107.90; Terry McMillen, 3.856, 322.11 def. Morgan Lucas, 4.139, 267.59; Clay Millican, 3.826, 316.52 def. Leah Pruett, 7.873, 78.58; Tony Schumacher, 3.896, 308.07 def. David Grubnic, 9.658, 67.26; Bob Vandergriff, 3.843, 304.46 def. Brittany Force, 3.846, 322.11; Doug Kalitta, 3.786, 323.89 def. Larry Dixon, 4.154, 214.69; Antron Brown, 3.789, 320.51 def. Spencer Massey, 3.816, 315.86; Steve Torrence, 4.264, 245.36 def. Shawn Langdon, 4.440, 229.00; QUARTERFINALS — McMillen, 5.442, 297.29 def. Torrence, 6.995, 119.28; Schumacher, 3.805, 322.19 def. alBalooshi, 4.218, 250.18; Brown, 4.189, 255.48 def. Vandergriff, 4.240, 249.81; Millican, 3.853, 318.62 def. Kalitta, 4.130, 244.03; SEMIFINALS — Millican, 3.858, 317.94 def. McMillen, 9.046, 81.95; Schumacher, 3.804, 324.28 def. Brown, 3.827, 304.80; FINAL — Schumacher, 3.930, 269.29 def. Millican, 4.094, 171.77.
FUNNY CAR
ROUND ONE — Matt Hagan, Dodge Charger, 4.080, 314.83 def. Johnny Gray, Charger, 10.474, 74.29; John Force, Ford Mustang, 4.075, 314.68 def. Tony Pedregon, Toyota Camry, 4.225, 279.27; Ron Capps, Charger, 4.086, 308.43 def. Bob Bode, Chevy Impala, 4.792, 172.76; Bob Tasca III, Mustang, 4.064, 313.95 def. Jeff Arend, Charger, 4.215, 256.60; Jack Beckman, Charger, 4.074, 313.51 def. Alexis DeJoria, Camry, 4.599, 188.73; Del Worsham, Camry, 4.190, 299.13 def. Cruz Pedregon, Camry, 4.344, 212.09; Tim Wilkerson, Mustang, 4.090, 307.93 def. Courtney Force, Mustang, 4.123, 312.06; Robert Hight, Mustang, 4.059, 313.58 def. Chad Head, Camry, 5.374, 120.81; QUARTERFINALS — J. Force, 4.095, 314.97 def. Worsham, 6.309, 125.06; Hagan, 4.105, 310.70 def. Beckman, 4.100, 307.72; Tasca III, 5.056, 241.28 def. Wilkerson, 6.713, 124.10; Capps, 4.073, 310.55 def. Hight, 4.096, 310.77; SEMIFINALS — Hagan, 4.104, 309.63 def. Tasca III, 4.193, 307.79; J. Force, 4.097, 314.46 def. Capps, 5.998, 125.09; FINAL — Hagan, 4.065, 315.34 def. J. Force, 4.113, 304.80.
PRO STOCK
ROUND ONE — Vincent Nobile, Dodge Avenger, 6.627, 208.49 def. Greg Stanfield, Chevy Camaro, 6.684, 207.85; Shane Gray, Camaro, 6.614, 209.39 def. Larry Morgan, Ford Mustang, 6.647, 207.15; Jason Line, Camaro, 6.590, 209.52 def. Mark Martino, Pontiac GXP, 6.722, 206.89; Erica Enders-Stevens, Camaro, 6.589, 209.39 def. Rickie Jones, Camaro, 6.641, 208.20; Greg Anderson, Camaro, 6.619, 208.94 def. V. Gaines, Avenger, 6.602, 208.94; Mike Edwards, Camaro, 6.560, 210.18 def. Steve Spiess, Chevy Cobalt, 12.177, 71.09; Allen Johnson, Avenger, 6.581, 209.43 def. Steve Kent, Camaro, 6.645, 208.01; Jeg Coughlin, Avenger, 6.573, 209.82 def. Rodger Brogdon, Camaro, 6.654, 208.49; QUARTERFINALS — Anderson, 6.662, 206.67 def. Enders-Stevens, 6.660, 207.43; Johnson, 6.601, 208.78 def. Gray, 6.613, 208.97; Coughlin, 6.595, 209.65 def. Line, 6.642, 208.14; Edwards, 6.606, 209.01 def. Nobile, 6.636, 208.30; SEMIFINALS — Anderson, 6.672, 208.33 def. Edwards, 6.640, 209.62; Coughlin, 6.584, 209.72 def. Johnson, 6.611, 209.95; FINAL — Coughlin, 6.603, 209.85 def. Anderson, 11.680, 74.15.
PRO STOCK MOTORCYCLE 
ROUND ONE — LE Tonglet, Suzuki, 7.056, 188.49 def. Jerry Savoie, Suzuki, DQ; Michael Ray, Buell, 6.945, 184.42 def. John Hall, Buell, 6.999, 188.86; Adam Arana, Buell, 6.980, 192.33 def. Mike Berry, Buell, 7.003, 190.78; Angie Smith, Buell, 11.107, 69.80 def. Shawn Gann, Buell, foul; Hector Arana Jr, Buell, 6.987, 190.46 def. Steve Johnson, Suzuki, 7.051, 188.65; Hector Arana, Buell, 7.008, 190.83 def. Joe DeSantis, Suzuki, 10.499, 77.09; Scotty Pollacheck, Buell, 6.935, 188.94 def. Andrew Hines, Harley-Davidson, foul; Matt Smith, Buell, 6.930, 192.33 def. Eddie Krawiec, Harley-Davidson, 7.000, 189.31; QUARTERFINALS — Arana Jr, 7.019, 189.44 def. A. Smith, 7.129, 170.88; H. Arana, 6.961, 189.44 def. A. Arana, 7.033, 189.95; Ray, 6.954, 192.22 def. Pollacheck, broke; M. Smith, 6.951, 191.32 def. Tonglet, foul; SEMIFINALS — Ray, 6.971, 192.25 def. H. Arana, 7.013, 190.48; M. Smith, 7.033, 189.92 def. Arana Jr, foul; FINAL — Ray, 6.986, 191.29 def. M. Smith, 6.992, 190.22.
JOLIET, Ill. — Sunday's final results from the 16th annual O'Reilly Auto Parts Route 66 NHRA Nationals presented by Super Start Batteries at Route 66 Raceway. The race is the 12th of 24 in the NHRA Mello Yello Drag Racing Series:
Top Alcohol Dragster — Chris Demke, 5.319, 271.35  def. Rishi Kanick, 5.441, 262.49.
Top Alcohol Funny Car — Annie Whiteley, Ford Mustang, 5.608, 257.33  def. Fred Hagen, Mustang, 5.968, 226.81.
Competition Eliminator — Mike DePalma, Pontiac Trans Am, 10.702, 89.42  def. John Frech, Dragster, foul.
Super Stock — Phil Unruh, Chevy Cobalt, 8.688, 153.30  def. Larry Hodge, Chevy Monte Carlo, 10.547, 116.89.
Stock Eliminator — Drew Skillman, Ford Mustang, 8.869, 152.16  def. Don Fezell, Mustang, foul.
Super Comp — Nick Folk, Dragster, 8.927, 163.83  def. Aaron Kinard, Dragster, 8.921, 160.84.
Super Gas — Ray Connolly, Chevy Corvette, 9.908, 156.95  def. Ray Sawyer, Chevy Camaro, 9.914, 171.62.
Super Street — Ricky Shipp, Chevy Nova, 10.913, 135.77  def. Mike Blodgett Jr., Chevy Vega, 10.899, 129.63.