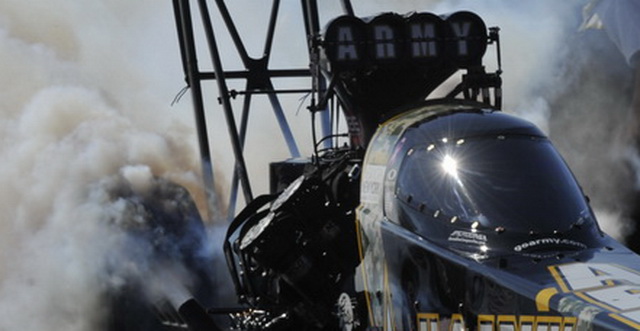 Seven-time NHRA Top Fuel world champion Tony Schumacher understands one event doesn't comprise a season. That's why the driver of Don Schumacher Racing's (DSR) U.S. Army dragster isn't looking for a panic button–let alone ready to push it.
Winner of an NHRA-record 72 event titles, Schumacher, along with crew chief Mike Green and assistant Neal Strausbaugh, was disappointed when their team qualified 10th at the opener two weeks ago at Pomona, Calif., and lost in the opening round of eliminations. So the team headed for Las Vegas Motor Speedway and tested two days later.
"I'm not worried," Schumacher insists. "This team thrives on adversity. Mike has a plan that I know will work, and you don't change their plan when there are 23 events left in the season."
It will help the U.S. Army team to be racing Feb. 21-23, near Phoenix at Wild Horse Pass Motorsports Park, formerly Firebird International Raceway, where Schumacher owns four race titles (including last year's), and has earned four number-one starts. He also holds the track speed record of 329.91 mph that he set a year ago.
This year, the facility just outside Chandler, Arizona, will host its 30th annual NHRA national event, but under new management for the first time. The track, which had been plagued with some bumps the past few years, has mostly been repaved, with about 600 feet of the drag strip removed and replaced with concrete.
"We set the speed record there last year and won the title even with the bumps," Schumacher recalls. "We've always done well there and expect our plan to take a big step forward this year."
Hampering the team most two weeks ago at Pomona was qualifying 10th, which cost Schumacher lane choice in the first round, when he lost to eventual event winner Khalid alBalooshi.
"Our qualifying will improve at Phoenix because it can't be the way it was at Pomona," he says. "We can't end up qualified that way and expect to win. We put ourselves in that spot. We need to go fast right off the get-go instead of catching up. Mike knows what he's doing. We have a great plan and we're getting there."
(Photos courtesy NHRA/National Dragster)