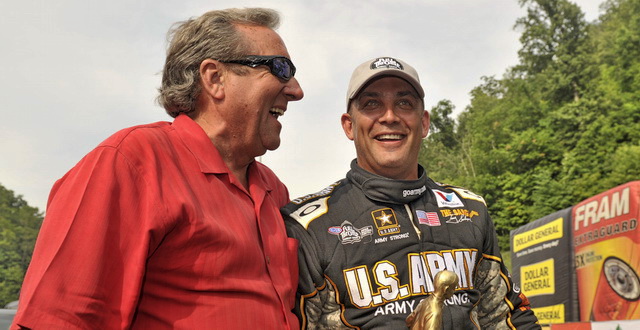 Seven-time Top Fuel world champ Tony Schumacher ended a 32-race winless streak with his win at the Ford NHRA Thunder Valley Nationals presented by Tri-Cities Area Ford Dealers Sunday at Bristol Dragway.
His DSR teammate Ron Capps (Funny Car) and Mike Edwards (Pro Stock) also claimed victories at the NHRA Full Throttle Drag Racing Series event.
Schumacher's U.S. Army dragster ran like a bracket car all during Sunday's eliminations, with his slowest pass coming in the final round against long-time on track rival, Doug Kalitta. Schumacher did his job on the starting line, as his reaction time was four-hundredths better than Kalitta's, leading to Schumacher's slower, but winning E.T., 3.819-second pass at 342.28 mph.
"That's one of those finals that you dream about," Schumacher said. "Nobody wants that single in the final, as much as I've been joking about it. You want to go out and run Doug, and you want to go out and run your team [car] and win on those very close ones. It makes the whole weekend worth it."
Schumacher earned his first win in almost two seasons the hard way, taking out Dom Lagana in round one, DSR teammate Spencer Massey in round two and local-favorite Clay Millican in the semifinal round to earn his fifth final round appearance of the season. Schumacher's win is his 68th career win and fifth at Bristol Dragway and it secures him the sixth spot in the Traxxas Shootout, the Top Fuel bonus race at the Mac Tools U.S. Nationals.
"I'll tell you what it was a long time, a long, long time," Schumacher said. "You get used to winning those races — you know, 15 races in a year — you know we're just not used to that. We had a great car, and more often than not, we got beat by some incredibly talented teams in very close races, so it was tough for us to deal with but at the same time, it is what we do. We had the point lead two times early in the season without winning a race. We keep our chin up, we don't fire people, we motivate and get through the adversity. We lead. That's what we do, we lead them. We make them believe in themselves. I said it all along, 'Have faith. We're going to go out and win these things.'
"I didn't want to be the second guy to win a championship without winning a race. That's not cool. It so much more fun to win and dominate. For a long time, we had a car that was a tenth of a second quicker than everybody, and it's not out there anymore. It's hard on any given day to have a car that outruns everyone four runs in a row. You've got to go out there and do your job. I'm just very thankful that Mike [Green, crew chief] and Neal [Strausbaugh, assistant crew chief] and all nine guys did a phenomenal job."
In Funny Car, Capps earned his second win of the season in his sixth final round appearance in a row since adding veteran turner Rahn Tobler to the team by outrunning rookie driver Alexis DeJoria in the first final round appearance of her career. Capps' 4.076 at 312.35 mph in his NAPA Auto Parts Dodge Charger was just too much for DeJoria, whose Tequila Patron Toyota Camry lost traction at half-track.
"There was a lot of pressure coming in because of the media and fans kept asking for six finals and, 'Are you going to get in a sixth final?' Every race that we've gone to, it's just getting stronger and stronger, the bond that I have with Rahn Tobler and this team," Capps said. "Don Schumacher does everything to give us everything that we need, and it's impressive that Rahn Tobler is able to do what he does with a car. He's such a perfectionist."
Capps had to beat two women during Sunday's eliminations, as he beat both top rookie contenders DeJoria and Courtney Force. Capps also took out Tony Pedregon and his DSR teammate Johnny Gray en route to his win at Bristol Dragway. With the win, Capps tied "Big Daddy" Don Garlits on the all-time wins list with 35 victories.
Veteran Pro Stock driver and former world champion Mike Edwards claimed his fourth victory in a row at Bristol Dragway with his holeshot win over local favorite Allen Johnson in the final round. Edwards used his better reaction time with his 6.674 second pass at 206.16 mph behind the wheel of his Penhall/Interstate Batteries Pontiac to beat Johnson's Team Mopar Dodge Avenger, which clocked a quicker but losing 6.661 second pass at 207.05 mph in an incredibly close final round.
"I don't even know how you can describe something like [the final] in words," Edwards said. "Four zeros for the margin of victory. I just can't believe it. Sometimes we struggle just a little bit, and then we come to this place [Bristol] and we do well.
"Sixteen straight round wins is unbelievable. I tell you, I wish we raced them all here. My guys did an awesome job this weekend. We weren't the fastest car, just the second fastest car, but we got the job done."
"Hats off to Allen Johnson," Edwards said. "They did an awesome job too, especially in front of their home crowd. It had to be hard for him to lose a race like that I can't explain it, but we just run exceptionally good here. I wanted to win this race four in a row so bad that I came here right after Englishtown and tested for two days, and I've never done that at a track where we have our next race. I wanted it bad, real bad."
Edwards raced to his second win of the season by beating Larry Morgan, four-time world champ Jeg Coughlin Jr. and the most successful female in Pro Stock, Erica Enders, before reaching his second final round of the season.
The next NHRA Full Throttle Drag Racing Series event is the O'Reilly Auto Parts Route 66 NHRA Nationals presented by Super Start Batteries, June 28-July 1 at Route 66 Raceway in Joliet, Ill.
(Photos courtesy NHRA/National Dragster; Click to enlarge)
BRISTOL, Tenn. — Final round-by-round results from the 12th annual Ford NHRA Thunder Valley Nationals presented by Tri-Cities Area Ford Dealers at Bristol Dragway, the 10th of 23 events in the NHRA Full Throttle Drag Racing Series:
TOP FUEL
ROUND ONE — Shawn Langdon, 3.796, 318.54 def. Bob Vandergriff, 3.801, 324.90; Clay Millican, 3.881, 312.78 def. Steve Torrence, 3.889, 317.79; Terry McMillen, 3.872, 316.08 def. Cory McClenathan, 4.443, 184.83; Tony Schumacher, 3.799, 322.96 def. Dom Lagana, 3.931, 312.13; Antron Brown, 3.939, 311.49 def. Scott Palmer, broke; Doug Kalitta, 3.797, 323.97 def. Khalid alBalooshi, 3.861, 313.44; Bruce Litton, 4.692, 164.05 def. Hillary Will, 5.326, 165.94; Spencer Massey, 3.824, 324.98 def. David Grubnic, 6.331, 96.46;
QUARTERFINALS — Schumacher, 3.818, 323.66 def. Massey, 3.821, 317.12; Kalitta, 3.838, 322.19 def. Litton, 3.917, 307.93; Brown, 3.825, 323.35 def. Langdon, 3.847, 320.43; Millican, 3.860, 316.52 def. McMillen, 4.589, 178.97;
SEMIFINALS — Kalitta, 3.831, 320.51 def. Brown, 3.842, 322.88; Schumacher, 3.817, 324.98 def. Millican, 3.867, 311.41;
FINAL — Schumacher, 3.819, 324.28 def. Kalitta, 3.802, no speed.
FUNNY CAR
ROUND ONE — Ron Capps, Dodge Charger, 4.060, 310.48 def. Courtney Force, Ford Mustang, 4.376, 213.87; Jack Beckman, Charger, 4.072, 313.66 def. Tim Wilkerson, Mustang, 5.213, 141.91; Bob Tasca III, Mustang, 4.122, 311.77 def. Blake Alexander, Chevy Monte Carlo, 6.525, 99.80; Alexis DeJoria, Toyota Camry, 4.290, 231.99 def. Mike Neff, Mustang, 4.425, 226.96; Tony Pedregon, Camry, 4.542, 209.14 def. John Force, Mustang, 4.875, 159.85; Matt Hagan, Charger, 4.134, 308.00 def. Cruz Pedregon, Camry, 4.883, 162.12; Jeff Arend, Camry, 4.136, 302.82 def. Jim Head, Toyota Solara, 4.908, 166.33; Johnny Gray, Charger, 4.091, 312.86 def. Robert Hight, Mustang, 5.036, 155.60;
QUARTERFINALS — Beckman, 4.100, 310.70 def. Hagan, 4.140, 299.40; Capps, 4.109, 306.53 def. T. Pedregon, 4.172, 306.12; Gray, 4.225, 295.14 def. Tasca III, 6.245, 109.64; DeJoria, 4.172, 302.35 def. Arend, 4.182, 301.67;
SEMIFINALS — Capps, 4.093, 305.63 def. Gray, 4.107, 305.29; DeJoria, 4.159, 301.27 def. Beckman, 4.378, 293.28;
FINAL — Capps, 4.076, 312.35 def. DeJoria, 5.232, 144.15.
PRO STOCK
ROUND ONE — Ronnie Humphrey, Pontiac GXP, 6.711, 205.13 def. JR Carr, ford Mustang, 6.697, 204.20; Erica Enders, Chevy Cobalt, 6.670, 206.51 def. Rodger Brogdon, GXP, 6.682, 205.91; V. Gaines, Dodge Avenger, 6.699, 205.69 def. Ron Krisher, GXP, 6.708, 206.10; Jason Line, Chevy Camaro, 6.682, 205.69 def. Warren Johnson, GXP, 6.696, 205.54; Kurt Johnson, GXP, 6.689, 205.44 def. Vincent Nobile, Avenger, foul; Allen Johnson, Avenger, 6.656, 206.99 def. Shane Gray, Camaro, 6.716, 204.42; Mike Edwards, GXP, 6.664, 206.57 def. Larry Morgan, Ford Mustang, 6.701, 205.38; Jeg Coughlin, Avenger, 6.684, 206.23 def. Greg Anderson, Camaro, 6.671, 205.91;
QUARTERFINALS — Line, 6.706, 205.82 def. Gaines, 6.710, 205.41; Enders, 6.677, 206.04 def. K. Johnson, 6.703, 205.82; Edwards, 6.669, 206.42 def. Coughlin, 6.695, 206.16; A. Johnson, 6.657, 207.24 def. Humphrey, 6.694, 205.44;
SEMIFINALS — Edwards, 6.680, 206.54 def. Enders, 7.372, 143.46; A. Johnson, 6.659, 206.67 def.
Line, 6.677, 206.54;
FINAL — Edwards, 6.674, 206.16 def. A. Johnson, 6.661, 207.05.
BRISTOL, Tenn. — Sunday's Sportsman final results from the 12th annual Ford NHRA Thunder Valley Nationals presented by Tri-Cities Area Ford Dealers at Bristol Dragway.
Stock Eliminator — Russell Johnson, Fairlane, 11.183, 117.23  def. Anthony Bertozzi, Camaro, foul.
Super Stock — Peter Biondo, Firebird, 9.753, 129.18  def. Bobby Dennis, Calais, 10.905, 112.45.
Super Comp — Tyler Caheely, Dragster, 8.894, 182.38  def. Edmond Richardson, Dragster, 8.893, 170.97.
Super Gas — Emily Lewis, Corvette, 9.890, 166.72  def. Marvin Benoit Jr, Ford, 9.879, 154.76.
Top Dragster — Steven Furr, Dragster, 7.196, 184.83  def. Marco Abruzzi, Dragster, foul.