Angelle Sampey raced to her first Pro Stock Motorcycle victory since 2007 on Sunday at the NHRA Summernationals at Old Bridge Township Raceway Park.
Steve Torrence (Top Fuel), Ron Capps (Funny Car) and Greg Anderson (Pro Stock) also were winners of the 10th NHRA Mello Yello Drag Racing Series event of the season.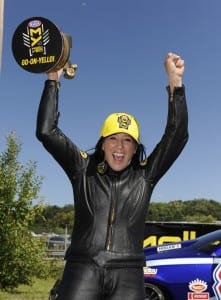 Sampey powered her Star Racing Buell to a 6.876-second pass at 194.41 mph to defeat Jerry Savoie's 6.928 at 177.21 on his Savoie's Alligator Farm Suzuki. The win was her first since 2007 in Houston and 42nd of her career. She became the fifth female to win an event this season while the NHRA Summernationals is the sixth event of the year to feature a female victor.
"I know this is my 42nd win but it feels like my first ever," said Sampey, the winningest female in NHRA history. "I don't feel like I had any wins before today. I'm starting all over again and I had something to prove and it took a while.
"I feel totally responsible to show my daughter what she can do with her life," Sampey continued. "Now I can show her that even if you aren't winning every weekend but if you just keep trying, you're going to get it. Showing her and being her role model – I don't have the words for it."
Sampey had to race past the Screamin' Eagle Vance & Hines Harley-Davidson team of Andrew Hines and Eddie Krawiec, who have collectively claimed the first three victories of the season, in the quarterfinals and semifinals, respectively, to get to the finals.
In Top Fuel, Torrence piloted his Capco Contractors / Torrence Racing dragster to 4.037 at 281.71 for his second win of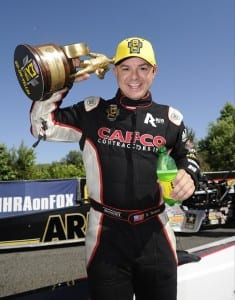 the 2016 season and seventh of his career. Torrence outlasted Tony Schumacher's 4.234 at 268.28 in his U.S. Army dragster in the final. Torrence claimed the seventh victory his career and second at Raceway Park. He is third in the points standings.
"This is huge," said Torrence. "This is home for my team I'm proud to have contributed to this win, I got it for them. We've been so fortunate and blessed. We've got a race car that has been impeccable and the only fault has been me some of the time. We are going to count our blessings and just keep going."
In the earlier rounds, Torrence had to race past Smax Smith, J.R. Todd, and two-time winner this season Brittany Force. Schumacher faced off against Terry McMillen, teammate and defending world champion Antron Brown, and Shawn Langdon to get to the finals.
Capps picked up his second consecutive victory and third of the season with a 3.954 at 316.90 in his NAPA Auto Parts Dodge Charger R/T by defeating Jack Beckman's 7.894 at 85.05 in his Infinite Hero Dodge Charger R/T in the final round. Capps, who tallied his 48th career win, took the points lead with the victory.
"It's great," Capps said. "It's something you hope will happen at the end of the day. With the competition, you can't imagine it will go as planned or easy. We're just taking it a little bit at a time. I almost felt embarrassed driving this car today because it's just so good. You don't want to mess up when it's that good. It's your race to lose."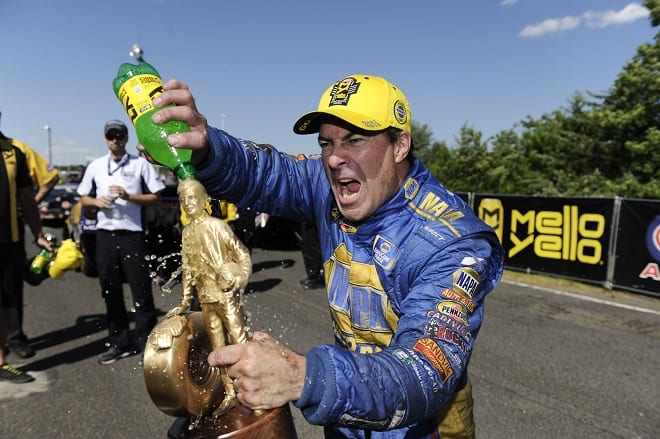 En route to his win, Capps defeated John Hale, 16-time world campion John Force and defending world champion Del Worsham. Beckman was tasked with getting past Las Vegas winner Alexis DeJoria, Atlanta and Topeka winner Matt Hagan and Jeff Diehl to get to the finals.
In Pro Stock, Anderson won his fifth victory of the season, 83rd of his career and seventh at Englishtown with a 6.610 at 210.93 in his Summit Racing Equipment Chevrolet Camaro over teammate Jason Line, who red lighted. Anderson has raced to seven final round appearances so far this season.
"It's unreal," Anderson said, "It's just absolutely been a dream season. I keep wanting to pinch myself. It's just cool and we've had such a great run. This was another great weekend. It's just one more time that Englishtown tells me how much it loves me and how much the fans up here appreciate Pro Stock."
Anderson's win continues the Ken Black Racing domination of the season. He and Line have won all 10 of the events so far. Line holds the points lead with Anderson in second and their KB racing teammate Bo Butner is third.
NHRA Mello Yello Drag Racing will continue June 17-20 with the NHRA Thunder Valley Nationals in Bristol, Tenn.