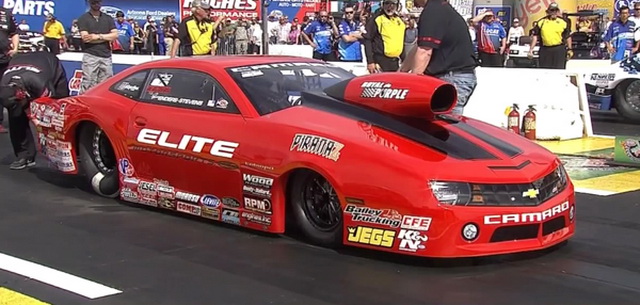 Synthetic lubricant manufacturer Royal Purple announced Mar. 6, its sponsorship of NHRA Pro Stock driver Erica Enders-Stevens.
This year marks Enders-Stevens' 10th season competing in Pro Stock as she works to continue her reign as the most successful female Pro Stock driver in NHRA history. A native of Houston, Texas, Enders-Stevens will drive the Elite Motorsports Chevy Camaro, which is tuned by the father/son duo Rick and Rickie Jones, with in-house horsepower crafted by Nick Ferri and Jake Hairston.
"Royal Purple is proud to support Erica and the Elite Motorsports team this season," Motorsports Coordinator Kyle Neal said. "As the lone female in the Pro Stock class, it's exciting to be on board with Erica as she begins this new chapter in her storied career driving for Elite with sponsorship from Royal Purple."
As part of the agreement, Royal Purple will provide support by furnishing its advanced lines of synthetic lubricants, coolant and fuel system additives for Enders-Stevens efforts on and off-track in the series. Enders-Stevens and her Elite Motorsports team will also provide Royal Purple with valuable feedback helping to make the company's products even more effective.
"Re-establishing a partnership with Royal Purple is a nod to their commitment to NHRA drag racing and hometown racers," said Enders-Stevens. "I'm looking forward to a great season with Royal Purple."
(Photo courtesy Elite Motorsports)