The resurgent NOPI Nationals Supershow series has teamed with Roy Hill's Drag Racing School to present the 2014 NOPI Drag events. The next event of the series will be held May 30 – June 1 at Bristol Dragway in Bristol, TN, featuring heads-up Pro Modified action with the stars of the Extreme Outlaw Pro Mod association, as well as Top Sportsman, Top Dragster, 4.90 Extreme, and Drag Bikes.
The ultra-popular NOPI Nationals events were the pulse of the import and tuner scene in the late '90s and early 2000s. After a four-year hiatus, the events returned with great success in 2012 and 2013 at Atlanta Dragway, and have expanded to Orlando Speed World Dragway, Bristol Dragway, and Myrtle Beach Speedway in addition to Atlanta Dragway for 2014.
"We come from a very strong import background, but we've been racing domestic cars in our program since 2006. This event, however, is our first all domestic-style race," said Mark Meyers, NOPI Nationals Supershows Managing Director. "Teaming up with a legend in the sport like Roy Hill will allow us to quickly increase awareness for our expanded drag racing shows."
As the presenting sponsor for the events, Hill will be offering an exclusive opportunity to ride in the Roy Hill's Drag Racing School 3-seater dragster. Tickets are $300 and can be purchased at

www.nopinationals.com

. This is a very limited opportunity, with only twenty ride tickets available for the event at Bristol Dragway. Tickets purchased in advance will also include two three-day event tickets.
"This is a once-in-a-lifetime experience that we're pleased to be offering in conjunction with FireAde 2000 and NOPI Nationals," Roy Hill said. "We're looking forward to working with NOPI Nationals going forward and giving attendees the opportunity to scratch something off their bucket list."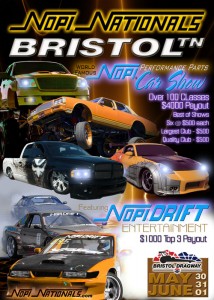 Meyers also joined forces with a top brand in Pro Modified drag racing by teaming with Extreme Outlaw Pro Mod (EOPM), one of the most prominent regional Pro Modified associations in the country.
"This will be our first time working with EOPM and Pro Mods in general, and I'm excited about it," Meyers said. "They'll also be with us for our event at Atlanta Dragway in September. These are the most exciting and unpredictable cars in drag racing, and will be a great addition to NOPI Drag."
A total guaranteed payout of $15,500 is on the table for EOPM competitors qualifying for the 16-car field at Bristol Dragway. $15,000 in total purse is up for grabs in Top Sportsman and Top Dragster, while 4.90 Extreme will be vying for a guaranteed $6,000 purse. Drag Bikes will be competing for $2,000 guaranteed.
"We're not getting away from imports; we're expanding the scope of our events," Meyers added. "We want to put on a heck of a drag racing show. We've got so many other elements to these events, with drifting, car shows, hydraulic shows, swimsuit competitions, audio competitions, concerts, and more, that we wanted to focus only on the most exciting and entertaining drag racing classes."
About NOPI Nationals Supershows:
Growing from its origins as an all-Volkswagen and Porsche show in the parking lot of a NOPI store in 1988 to the premier import and tuner events in the country by the early 2000s, the NOPI Nationals are back and better than ever for 2014 and beyond. Featuring NOPI Drag, NOPI Drift, NOPI Chic swimsuit contests, car shows, live concerts, and more, the NOPI Nationals truly are Supershows. For more info, a complete schedule, or to purchase your tickets now, visit

www.nopinationals.com

and check us out on Facebook, Twitter, Instagram, and YouTube.