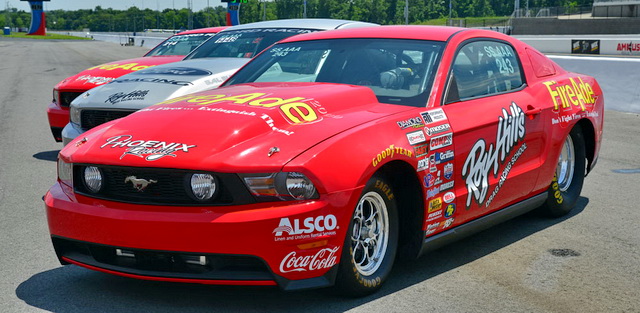 The first annual Factory Outlaw Showdown presented by ATI Performance Products, appropriately dubbed "Ford vs. The World", will live up to that billing when Roy Hill's entire fleet of Ford Mustang Cobra Jets rolls through the gates of Maryland International Raceway this weekend.
"After we host NAPA executives for a special session of Roy Hill's Drag Racing School at zMAX Dragway on Friday, we're loading up what seems like every race car I have and heading to MIR," Hill said. "I'll be driving the new FireAde 2000 car built by Petty's Garage, Craig Hankinson is driving the Coca-Cola/Alsco Cobra Jet, Lizzy Musi will be back in the seat of the Ford Racing Cobra Jet she drove for us last year, and we have Bo Kenney driving the Ronnie Thames Foundation Cobra Jet.
"The Ronnie Thames Foundation Golf Classic will be held on Monday near Atlanta, so this will be a great way to raise awareness for the event over the weekend."
The $10,000 winner-take-all Factory Outlaw Showdown is the brainchild of past IHRA Top Stock champion Bo Kenney. Kenney has big plans for the Factory Outlaw format, and he's looking forward to being behind the wheel of one of Hill's Phoenix Racing Ford Mustang Cobra Jets for the inaugural event.
"I'm thrilled to be teaming up with Roy," Kenney said. "Roy has done as much as anyone for this type of racing over the last several years, and having him at our inaugural race makes a statement. We're looking forward to what the future holds for Factory Outlaw; these cars have a huge following and it's only getting bigger."
Kenney is a longtime proponent of sportsman-level drag racing, but would like to see more heads-up action – particularly when it comes to the new factory drag cars.
"The Factory Outlaw Showdown is all about running these cars heads-up. That's what makes it exciting for me, and I think it's a great show for everyone – the fans, manufacturers and tracks," the Manassas, Virginia resident said.
"The racers like it too. We have a diverse, high-caliber group of racers competing this weekend, from JC Beattie Jr. to some of the best young women in drag racing like Top Sportsman standout Lizzy Musi, former Pro Stock driver Grace Howell and Jr. Dragster champion Michelle Chiles."
Musi piloted one of Hill's Cobra Jets for a match race last year and jumped at the chance to drive the car again.
"Roy is a great teacher and I learned a lot when I drove his car last year," Musi said. "It never hurts to have more seat time and I enjoy the challenge of driving something different. I'll see if I can cut another .000 light like I did last time I was in this car!"
Kenney plans to expand the Factory Outlaw series in 2014, offering an even larger purse and a schedule featuring some of the most prominent tracks in the Mid-Atlantic region.
"I couldn't have gotten this off the ground without the incredible support of people like Roy Hill, Royce Miller at MIR and JC Beattie of ATI Performance Products," Kenney said. "I really think this is the start of something big in factory drag racing."
For more information about the Factory Outlaw Showdown, visit www.factoryoutlaw.com
(Photo by John DiBartolomeo)