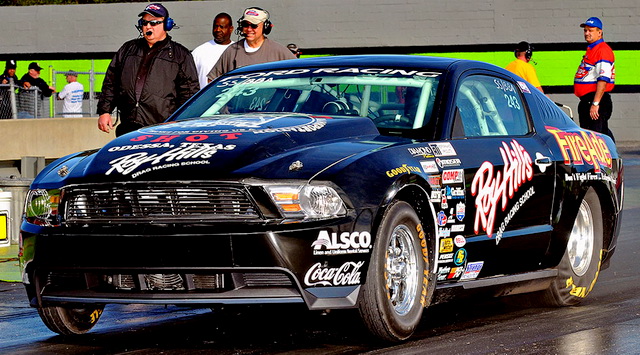 After starting the 2014 racing season with a busy March schedule, April will bring even more action for drag racing legend and current Super Stock racer Roy Hill and his iconic Roy Hill's Drag Racing School.
A special session of Roy Hill's Drag Racing School for Ford Mustang Cobra Jet owners at Orlando Speed World Dragway on March 3-5 marked the official start of the season for Hill. Later that same week Hill made the short drive to Bradenton Motorsports Park in Bradenton, FL for the NMRA Spring Break Shootout, where he faced off against longtime friend Carl Tasca in an outlaw Cobra Jet match race.
"It was a no-holds-barred matchup and unfortunately Carl broke his driveshaft on the first run," Hill said. "I shut off at 1,000 feet and still ran a 7.85 at 172 MPH, really showing what these Cobra Jets can do with no rules on them."
Continuing his tour of the state of Florida, next Hill was off to Gainesville for the NHRA Gatornationals. Always one of the marquee stops on the NHRA circuit, the Gatornationals brings out the best in every racer, Hill included. The Sophia, NC native advanced to the third round in Super Stock competition before bowing out to multi-time champion Dan Fletcher.
"We had a good showing at Gainesville, but we had even bigger things happening off the track" Hill explained. "We filmed an episode of the popular History Channel show Top Gear USA. Co-hosts Tanner Foust and Rutledge Wood raced against each other, with Tanner behind the wheel of our silver Ford Mustang Cobra Jet. The episode will air later this year so keep an eye out for it."
This weekend, April 4-6, Hill and his team head to Virginia Motorsports Park in Dinwiddie, VA for an NHRA Lucas Oil Drag Racing Series event. Hill and team driver Craig Hankinson will be piloting the Phoenix Racing Ford Mustang Cobra Jets in Super Stock with backing from FireAde 2000, Alsco, Coca-Cola, and Ford Racing.
Joining them will be Brooke Warren, granddaughter of International Drag Racing Hall of Fame member Bobby Warren, and the newest Roy Hill's Drag Racing School team driver. The 23-year-old from Clinton, NC is a full-time student and works as a nurse during the week, then competes in Quick Rod or Super Comp on the weekends.
"I'm very excited to have Brooke join our team. Her grandfather, Bobby, is a close friend and a legend in the sport, and her father, Jeff, is also a great racer and engine builder so I know she has the pedigree for success," Hill said. "We plan to have her racing at the divisional points races in the Carolinas, Georgia, and Virginia, as well as some national events. Her first race with us will be this weekend at Virginia Motorsports Park, then she'll be running the NHRA 4-Wide Nationals at zMAX Dragway in Charlotte next weekend.
"We just put this together earlier in the week, so there's a lot more to come," Hill continued. "We hope to secure some marketing partners to team up with Brooke then move her into a Super Stock car in the future"
Hill, Hankinson, and Warren will host many special guests during the 4-Wide Nationals. Executives and key employees from FireAde 2000, Alsco, and Coca-Cola Bottling Company Consolidated will join the team for a weekend of racing at Hill's home track. Following the race, drivers looking to learn from one of the best or hone their skills will be back to school when Roy Hill's Drag Racing School returns to zMAX Dragway on April 21-22. Also attending the school will be Jim Divers, Alsco's Director of Sales and Marketing, along with seven Alsco customers that won a contest held by the company.
About Roy Hill & Roy Hill's Drag Racing School:
A legend in the sport of drag racing for more than forty years, Roy Hill's resume includes 28 IHRA (International Hot Rod Association) national event victories and 31 runner-up finishes as a driver and team owner. Hill was also the team owner for 1995 IHRA Pro Stock World Champion Mike Bell, and is the founder of the acclaimed Roy Hill's Drag Racing School. 1999 marked yet another milestone in his career as he unveiled his newest venture, Roy Hill's Driving Experience. Hill now competes in the highly competitive NHRA (National Hot Rod Association) Super Stock division, where he drives Ford Mustang Cobra Jets owned by Phoenix Racing and backed by FireAde 2000, Alsco, Coca-Cola, and Ford Racing. For more information, visit www.royhillsdragracingschool.com or call (336) 498-7964.