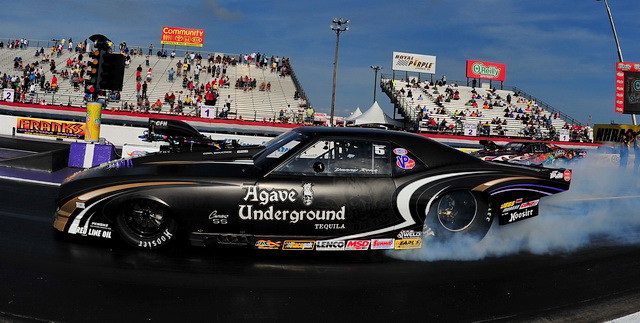 Despite a valiant effort, a three-peat at the O'Reilly Auto Parts NHRA Spring Nationals wasn't meant to be for Danny Rowe, driver of the Agave Underground Pro Modified Camaro, who qualified second and made it through to the semifinal round at Royal Purple Raceway near Houston.
Using an impressive 5.930-second, 246.53 mph quarter-mile blast to take the No. 2 qualifying spot, Rowe met Chip King in the opening stanza. After dispatching King, Rowe faced fellow supercharged racer, Von Smith, in the second round, where he utilized a near-perfect reaction time and 6.026-second, 245.90mph effort to best Smith's 6.065/242.84 combination to move onto a semifinal round matchup with Kenny Lang.
Lang was off the starting line first by a narrow margin, and used that early advantage to hold off the hard-charging Agave Underground Pro Mod and take the win with a 6.001-second, 246.26mph pass over Rowe's quicker, but losing 5.980/246.44 performance.
"We always seem to have eventful weekends in Houston and this year was no different," said Rowe, checking in from his home in Laguna Hills, California, after the race. "In previous years, it's been all the excitement that comes with going rounds and ultimately winning the race; this year it was dealing with heavy rain and bad weather, thrashing on the car in between rounds and trying to do a good job playing host to our sponsor, Agave Underground Tequila.
"We would have loved to pull off another win at the Spring Nationals, but it just wasn't in the cards," Rowe continued. "For me, though, it doesn't take too much away from the overall success of our weekend.
"During the first qualifying session, we had an electrical issue that caused the car not to shift and over rev the engine, forcing us to basically overhaul the engine between rounds. The crew flew into action, put new rods in the motor and put a new set of heads on it, but, unfortunately, we just didn't have enough time to start the car up before the next session. So, we had to get in the lanes, cross our fingers, and hope everything was going to be okay.
"We fired up the car, made sure we had enough oil pressure, went out there did a burnout and did what we had to do – the car ran great, went right down the race track, went 5.93 at 246 mph and qualified number-two. It was a great way to rebound and was really just a showcase of Jimmy Rector's [crew chief] leadership and our entire crew's talent and dedication.
"It was a victory in itself – especially when you consider the rain that came on Saturday and washed out the rest of qualifying."
On top of performing well and overcoming adversity in Houston, Rowe and company enjoyed the presence of Agave Underground Tequila owner Mike Ivey and a number of the exclusive tequila company's top executives.
"We really enjoyed having Mike and the Agave Underground crew at the track with us," said Rowe. "Jimmy and the crew put on a good show for them and all their guests in the pits between rounds, we ran well and went some rounds on race day, and I think everyone had a great time. The sensory experience that is pro-level drag racing is undeniable and I think we turned everyone at Agave Underground into serious drag racing fans almost overnight. Now, we're all turning our attention to the next race in Englishtown."
The NHRA Pro Mod Drag Racing Series presented by ProCare Rx will return to action at the 44th annual Toyota NHRA Summernationals at Old Bridge Township Raceway Park in Englishtown, New Jersey, on Friday, May 30th.
(Photos by Joe McHuch; Click to enlarge)