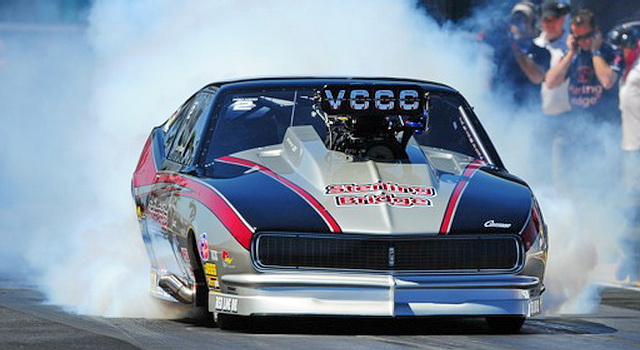 It seems no NHRA Pro Mod Drag Racing Series season is complete without its fair share of ups and downs for its competitors, and that doesn't exclude veteran driver Danny Rowe.
Up until this past weekend's Summit Racing Equipment NHRA Nationals in Norwalk, Ohio, Rowe had been on a tear in 2012, scoring back-to-back wins and maintaining the lead in the series point standings. After qualifying 11th in Norwalk, though, Rowe turned on the red light in the first round of competition against Mike Janis, handing Janis the automatic victory and ending Rowe's weekend way too early.
With the loss, Rowe fell from first to second in the championship point standings – just three points behind Rickie Smith. Though disappointed, Rowe has been well aware from the start of the season that winning a world championship in the rough-and-tumble world of NHRA Pro Mod wouldn't be easy. He remains committed to their championship goal and while the early exit certainly stung, he and the entire Sterling Bridge Pro Mod team have already shaken it off.
"It was a challenging weekend," says Rowe, checking in from his California home. "We were battling some tough track conditions, intense heat and, bottom line, we just struggled. Like I've said before, that's why they call it 'racing' and not 'winning' – it doesn't happen automatically.
"But we haven't lost faith – not in the least. There are still a lot of rounds of racing left and we've turned our attention to Indy, where we want to get back on track. We're not at all out of the hunt; we're just three points out of the lead right now and, yes, it's going to be a battle with all these strong cars at the top of the field, but we're up for it."
Rowe and team will have almost eight weeks to regroup prior to the NHRA Pro Mod Series return to action at the 58th annual Mac Tools NHRA U.S. Nationals in Indianapolis on August 29th through September 3rd. The team will spend the bulk of the brief layoff testing and working to iron out any kinks in their program before heading into the final four-race stretch.
"A rough weekend at the track doesn't change the fact that this team has been working hard – nothing will change that," Rowe continued.
"We've had a very good season and we're all pulling together right now, getting ready for these last few races. We've moved on; we're looking forward. We've got to keep after it here and keep our eyes on the prize. It's not exactly uncharted territory coming into these last few races in a tight points battle – come Indy, we'll be ready."
The NHRA Pro Mod Drag Racing Series presented by ProCare Rx will return at the 58th annual Mac Tools NHRA U.S. Nationals at Lucas Oil Raceway in Indianapolis, Indiana, on August 29-Sepemteber 3.
Check out the brand-new Danny Rowe Racing website at www.dannyroweracing.com
Visit Danny Rowe Racing Sponsors: www.hottingergroup.com , www.sterlingbridge.ca, www.gainsboroughcapital.com , www.rcdengineering.com, www.impactracing.com, www.hoosiertire.com, www.redlineoil.com, www.ngksparkplugs.com, www.weldracing.com, www.permatex.com, www.promodzone.com, www.competitionproducts.com, www.fstopaerialmedia.com, www.mr-horsepower.com
Visit Danny Rowe Racing supported charities and foundations: http://dwbhshirts.com, http://www.rustyunlimited.com