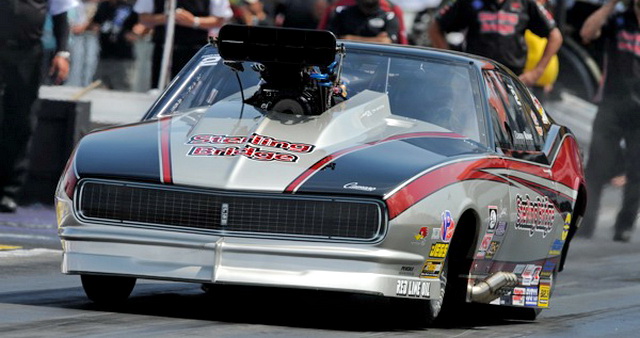 Danny Rowe has enjoyed the view from the top of the NHRA Pro Mod Drag Racing Series points standings for the better part of 2012, but an early exit from the Summit Racing Equipment NHRA Nationals in Norwalk, Ohio, cost him the prized position.
A mere three-points out of the No. 1 spot, Rowe looks to regain the lead and march towards his first NHRA Pro Mod Series world championship this weekend at the 58th annual Mac Tools U.S. Nationals.
"If there's a better place for us to make a stand than Indy, I don't know where it would be," says Rowe, who has finished 2nd in the championship points the last two seasons in a row. "This is the big one, the race you'd want to win if you could only win one, and everyone – from the drivers to the crew chiefs to the fans – treat it as such. It's a special race and I think it's going to bring the best out in this team.
"We've had a great year and we know that we've got to get after it here in Indy and try to get the points lead back," Rowe continues. "The competition in Pro Mod right now is incredible; there's a dozen cars capable of winning. We're surrounded on both sides by nitrous cars in the points, two of the best nitrous racers there are in Rickie Smith and Mike Castellana, and the turbo cars aren't far behind. With only three races left, we've got to hold our ground, and I really couldn't be any more confident in this supercharged Sterling Bridge Camaro to do so than I am right now. Jimmy [Rector, crew chief] and this whole team have been phenomenal all season long and that's not changing."
Readying themselves for the U.S. Nationals, Rowe took his Sterling Bridge Camaro through its paces at a special test session at Lucas Oil Raceway near Indianapolis and the results only bolstered the team's confidence.
"We made a few passes to the eighth-mile and everything looked great," says Rowe. "Jimmy and the crew have this car running hard and, most importantly, it's repeating. We always want to have the fastest car, but the nature of Pro Mod racing, honestly, puts high importance on just getting to the finish line under power. You've got to go out there and make good runs, consistently, and that's been our focus all season."
A successful weekend at the "Big Go" in Indianapolis could be all the springboard Danny Rowe needs to put himself in line for the series title come October, and he knows it.
"This weekend is the beginning of what is going to be a very intense and exciting end to the season," says Rowe. "We're going to see this deal come down to the wire, just like always, and this whole team knows that now is the time for us to make a move. The U.S. Nationals is the biggest drag race in the world and believe me when I say that we're treating it that way."
The NHRA Pro Mod Drag Racing Series presented by ProCare Rx will being qualifying for the 58th annual Mac Tools NHRA U.S. Nationals at Lucas Oil Raceway in Indianapolis, Indiana, on Friday, August 31st with a single qualifying session at 4:30 PM. Two more sessions will be held at 2:00 and 5:30 PM on Saturday with a final session on Sunday at 2:00 PM. First round eliminations will be held at 5:00 PM on Saturday with the race concluding on Sunday, beginning at noon.
Check out the new Danny Rowe Racing website at www.dannyroweracing.com
Visit Danny Rowe Racing Sponsors:  www.hottingergroup.com , www.sterlingbridge.ca, www.gainsboroughcapital.com , www.rcdengineering.com, www.impactracing.com, www.hoosiertire.com, www.redlineoil.com, www.ngksparkplugs.com, www.weldracing.com, www.permatex.com, www.promodzone.com, www.competitionproducts.com, www.fstopaerialmedia.com, www.mr-horsepower.com
Visit Danny Rowe Racing supported charities and foundations: http://dwbhshirts.com, http://www.rustyunlimited.com