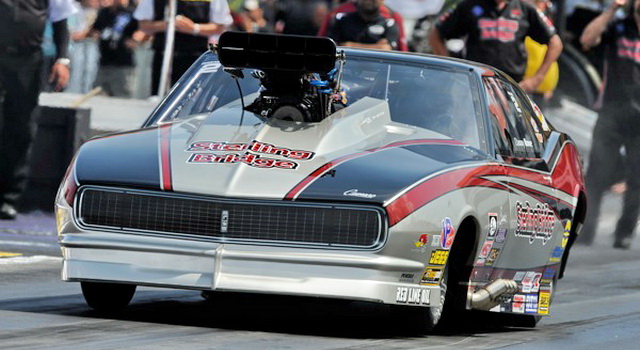 This weekend at Summit Motorsports Park, home of the sixth annual Summit Racing Equipment NHRA Nationals, Danny Rowe is more than ready to shake off his disappointing first-round exit at Bristol Dragway and get back on the championship track.
Currently leading the NHRA Pro Mod points standings after five of 10 scheduled events this year, Rowe has had a tremendous season thus far and recognizes the importance of these heat-of-the-summer races that ultimately will set the stage for a championship battle that routinely comes down to the final race of the season in Las Vegas.
"This has been our best to start of the season since our team has been together," Rowe said. "I'm very proud of all the hard work that [crew chief] Jimmy Rector and the whole crew put in over the winter months to give us the great start to the season. I think every racer feels that they have a chance to win at any event, but we realize how many things that have to come together to make that happen.  You need a little luck and a lot of hard work.
"So, we're getting back to the basics in Norwalk and we're focused on making the most of every round – both qualifying and eliminations."
Rowe, who maintains a 13-point lead over veteran nitrous racer Rickie Smith, knows that he's going to have a big target on his back so long as he's at the top of the points, but he's embracing what could be a high-pressure situation.
"This is the first time we have been in the lead of the points," Rowe said. "I know how hard it is to be chasing someone for the points. I think as the hunted we have to keep doing our jobs and looking to do well at each race and the points will take care of themselves.
"There are a lot of great teams out there and you cannot count anybody out. Last year you saw the turbo cars make a late charge and I think this year it is going to be the same. That being said, Rickie and Mike are not going to make this easy. They are both great racers. I think it is going to be a great race to the finals. There is going to be a lot of close racing, which will make this one of the most exciting years in the category.
"I have a tremendous amount of confidence in this Sterling Bridge team; we've shaken off Bristol and we're ready to rock and roll here in Norwalk."
The NHRA Pro Mod Drag Racing Series presented by ProCare Rx gets underway Friday, July 6th, with the first round of Pro Mod qualifying at 3:30 PM followed by a second session at 6:00 PM. The third and final round of qualifying will take place at 10:30 AM on Saturday, with the first round of eliminations slated for 1:40 PM.
Check out the brand-new Danny Rowe Racing website at www.dannyroweracing.com
Visit Danny Rowe Racing Sponsors:  www.hottingergroup.com , www.sterlingbridge.ca, www.gainsboroughcapital.com , www.rcdengineering.com, www.impactracing.com, www.hoosiertire.com, www.redlineoil.com, www.ngksparkplugs.com, www.weldracing.com, www.permatex.com, www.promodzone.com, www.competitionproducts.com, www.fstopaerialmedia.com, www.mr-horsepower.com
Visit Danny Rowe Racing supported charities and foundations: http://dwbhshirts.com, http://www.rustyunlimited.com