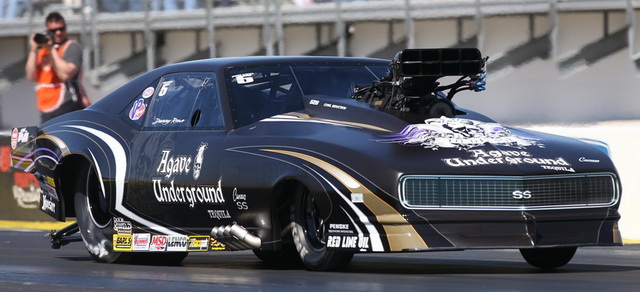 Danny Rowe, driver of the Agave Underground Tequila Pro Mod Camaro, heads into this weekend's 7th annual Summit Racing Equipment NHRA Nationals fresh off a semifinal round appearance at Bristol Dragway that propelled him from ninth in the Pro Modified points standings to fourth.
Another late round showing this weekend at the fan-friendly Summit Racing Equipment Motorsports Park in Norwalk, Ohio, could put Rowe directly into championship contention.
"We kick off every season with the goal of winning a world championship," says Rowe. "But at this level – against the best drivers, the best tuners and the best teams – it's never going to be easy. It's going to be a battle, and it looks to me like that's what we're going to see here in the second half of this NHRA Pro Mod Drag Racing Series."
For the last several years, the NHRA Pro Mod Series champion has been determined at the final race of the season. Without a repeat winner in 2013, a full field of teams capable of winning, and five races to go – this year will likely be no different
"It seems like it always comes down to the wire," continues Rowe, who calls Laguna Hills, California home. "Right now, nobody is running away with it. The turbo cars, the nitrous cars, we with superchargers – we're all right there together. We're going to have to fight and scrap for every round, but I'm confident this team is prepared to do exactly that."
In the weeks leading up to the Summit Racing Equipment NHRA Nationals, Danny Rowe Racing announced the addition of veteran driver Tim Tindle to the team, who will take the wheel of a second Agave Underground Pro Modified Camaro starting this weekend in Ohio.
"We can't wait to break out this second Agave Underground Pro Mod in Norwalk," Rowe admits. "With Tim [Tindle] behind the wheel and Jimmy [Rector, crew chief] calling the shots on these hot rods, I can't help but feel like we've got a great shot at putting our two team cars in the final on Sunday. That's exactly what we need to do points-wise, and this whole team is ready to get out there and make it a reality in Norwalk."
Qualifying gets underway for the NHRA Pro Mod Drag Racing Series at 5:00 PM, with a second session scheduled for 7:00 PM. A final qualifying session will be held Saturday at 2:00 PM with the opening round of eliminations slated for 4:00 PM. Final eliminations will continue Sunday at approximately 2:30PM.
To learn more about Agave Underground Tequila products, sweepstakes and hosted events, visit www.agaveunderground.com, Facebook.com/AgaveUnderground or Follow @AgaveUground on Twitter.
To keep up with the latest news and results from Danny Rowe Racing, log onto www.dannyroweracing.com