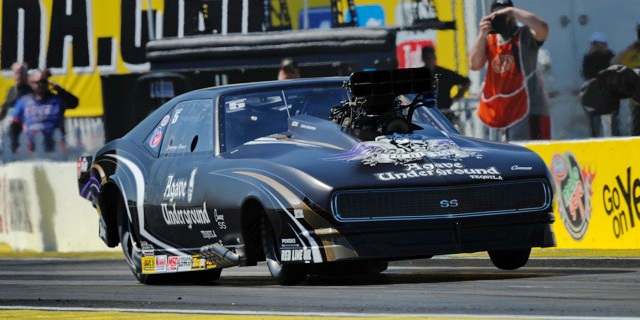 Only days removed from a phenomenal multi-day test session at Palm Beach International Raceway in Florida, the newly formed Pro Mod tag-team of Danny Rowe (above) and Steve Matusek have made the short trip up to Gainesville Raceway and are ready to put their supercharged Agave Underground Tequila Pro Mod Camaros to work.
Work begins, of course, at this weekend's 45th annual Amalie Motor Oil NHRA Gatornationals – the historic, tradition-rich kickoff to the 10-race NHRA Pro Mod Drag Racing Series season.
"We're definitely ready," said Rowe. "Jimmy [Rector, crew chief] and the team have hardly stopped working since we pulled out of Las Vegas last October. It's been a non-stop effort to get ready for what's likely to be the most competitive season we've ever seen in NHRA Pro Mod.
"We made some good runs in testing and made a lot of ground, especially with Steve [Matusek] getting comfortable in a blower car after having raced a turbo car for several years," Rowe continued. "This winter was all about finding horsepower and we're hoping we can see the fruits of that labor starting this weekend at the Gatornationals, which is always one of our favorite stops on the tour. It's the first race of the season, but it's also one of the most fabled events on the entire NHRA trail and you can tell – the fans come out in droves and they're passionate and knowledgeable. The community kind of rallies around the race, and that's adds a lot to it, as well."
Without question, the NHRA Pro Mod Drag Racing Series has established itself as the final frontier for fast doorslammer drag racing, and Rowe and Matusek intend to make the most of the platform in 2014.
"We've seen this series continue to grow year after year," said Rowe. "The caliber of teams that are out here right now – from the drivers and cars to the crew chiefs and crews – are at an all-time high. All the different combinations – supercharged, nitrous-injected and turbocharged – are all very competitive, and it should make for some bad ass drag racing. With the conditions we generally have in Gainesville, I'm sure we're going to see some big numbers, too. We're excited."
The NHRA Pro Mod Drag Racing Series will begin qualifying for the 45th annual Amalie Oil NHRA Gatornationals at Auto-Plus Raceway at Gainesville on Friday, March 14th with the opening session at 1:45 PM. The second and third rounds of qualifying will be held Saturday, March 15th at 11:30 AM and 1:45 PM. Final eliminations will begin at 9:30 AM on Sunday.
To learn more about Agave Underground Tequila products, sweepstakes and hosted events, visit www.agaveunderground.com, Facebook.com/AgaveUnderground or Follow @AgaveUnderground on Twitter.
To keep up with the latest news and results from Danny Rowe Racing, log onto www.dannyroweracing.com
(Photos courtesy DRR)