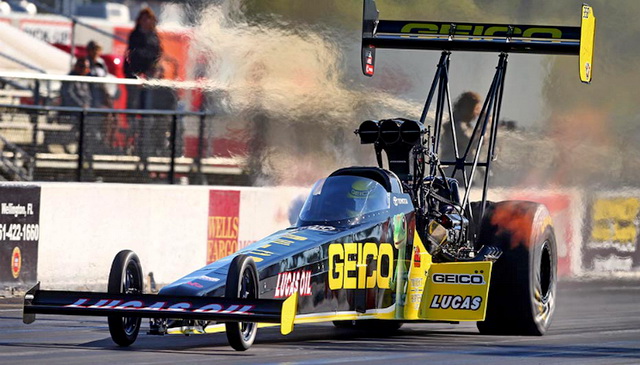 Safely back at Morgan Lucas Racing headquarters, rookie Top Fuel pilot Richie Crampton had time to reflect on his first official test session as driver of the 8,000-horsepower GEICO/Lucas Oil Top Fuel dragster.
Like many of the top teams in the sport, Crampton and the MLR crew headed south to West Palm Beach, Fla., last week for a lengthy preseason test in advance of the rapidly approaching 54th annual Circle K NHRA Winternationals, Feb. 6-9, in Pomona, Calif.
"It was a test session I needed, for sure," Crampton said. "It was a good opportunity for things to settle in for me and the team. I needed a chance to make some of the rookie mistakes I'm going to make, and I'm glad I had the luxury of doing that down there.
"We had the luxury of making 24 runs while we were down there," he added. "That helped me get acclimated to driving in all types of scenarios: nighttime, daytime, heat, cold, and even with someone in the other lane, which I hadn't done before.
"On top of everything going on with me being new, we had a number of crew guys shuffle positions as well, so we tried to do service work under race-day time constraints to get everyone used to their new jobs. It was a learning curve for everybody, and certainly no one was learning more than I was on every pass."
Although new to the cockpit of a Top Fuel car, Crampton has been with the team since it's earliest days, making the transition easier for everyone. That showed towards the end of their stay when Crampton peeled off a 3.800-second run at 323.90 mph, his best to date.
"Making that pass was a huge confidence builder for me," Crampton said. "It felt great to get down through there. It was the smoothest the car had felt to that point. Once I knew the car had made it through the zones we'd had troubles with and it was still so smooth, I was like, 'Here we go, this one is going to be real good.' Before I knew it, the finish line cones were coming up. It was a great feeling to pull the parachutes.
"Having had this test I can really mentally prepare myself for what's next. I'm making so many runs in my head. I want everything to become second nature. I want to work on creating better reaction times. I'm figuring out how to block out all the other stuff and focus in on what I need to do to be better on the tree. I don't want to hold up this team in any way.
"By the end of the week, I could feel the chemistry is there, the team is outstanding, and (crew chief) Aaron Brooks is making great horsepower. I was excited already but now I really can't wait for Pomona."
Qualifying for the season-opening Winternationals will air from 8-10 p.m. PT, Saturday, on ESPN2, with final eliminations from 5-8 p.m., Sunday, on the flagship ESPN.
(Photos courtesy MLR/Rebilas; Click to enlarge)