For the eighth time in his illustrious career Ronnie Davis will spout the number one and reign as Top Sportsman Champion. By capturing the 2015 PDRA MagnaFuel Top Sportsman World Championship, Davis earned his eighth divisional or national level championship across three organizations (PDRA, IHRA, NHRA).
At the PDRA World Finals at Virginia Motorsports Park in October of 2015, Davis had what he calls a "clean sweep" by winning the event and securing the World Championship in the same weekend. Amazingly, this wasn't the first time this happened for the owner of Davis Golf Cart Sales.
"In 2010 I was third in NHRA Division 2 points going into the last race of the year we could claim," storied Davis. "I believe Billy Vaughn was leading points and Jeff Pittman was second. I don't think anybody gave me a chance since I was in third place. My strategy for that race was to qualify number one and get a bye first round if there was one and then win the race. I figured the points out, if I won the race I would win the championship by one point. I qualified number one, drove good and won the race. I beat Billy Vaughn for the championship by one point.
"So that was the first time I ever won the race and the championship in the same weekend. Winning the PDRA World Championship was my main focus in 2015, and something I really wanted. Racing in a 16 car really fast field is what it's all about to me and I love it. It's Top Sportsman's baddest of the bad.
"My main objective [at Virginia] was to win the World Championship. Since I'm not getting any younger, I felt like I really needed to pull that off. I really wanted to win the race because it was the Brian Olson Memorial Race. He and I had grown very close over the last three or four years, and I wanted to honor his memory with a win. I also wanted to get the monkey off my back from that track, because I've never done well there. Clinching the World Championship and winning the race in the same weekend was pretty cool for me."
Although his year ended in incredible fashion, the road to his eighth championship wasn't a walk in the park. Two key back to back wins in Shreveport, Louisiana and St. Louis, Missouri almost didn't happen.
"I think it was second round of Shreveport I had a lifter start going out," Davis told. "I was going to replace it but time didn't allow for that, so I kept checking the valve lash and keeping it tight. I limped through and made it to the final. When I did the burnout it was squeaking so loud you could hear it over the engine. I saw Todd Tutterow started making the it's broke motion. I had oil pressure and ran anyway and got the win.
"Then I went on to win the Mid America Nationals. We got completely rained out on Saturday and the PDRA decided to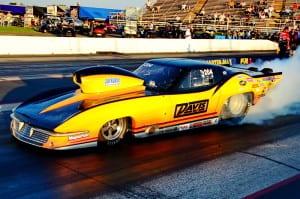 give us one last shot Sunday morning. Well Sunday the air was killer and track was cold and tight, so I shook my teeth out [in our last qualifying session]. I knew I wasn't going to get down the track in those conditions with the tune up I had in it and had to do something, knowing I couldn't win a round if I didn't go A to B. So I went back to the trailer and looked at a run I had made at the Gators with a small tune up in it. I call that an A-B tune up, not fast but consistent. I took the eighth mile part of that run and dialed my car off of that. I was number one qualifier with a 4.01 but I dialed up to a 4.27. I don't think anyone thought I could win since I'm used to spotting not getting spotted. I was .00 on the tree 3 of my 4 runs, and I ran close to dead on almost every round that race."
Davis accepted his Championship at the PDRA Awards December 12, but his accolades weren't over yet.
That evening he was also voted Sportsman Driver of the Year.
"I never gave it a thought about who would win driver of the year. It was very humbling to be voted Driver of the year by my peers. You win the last race of the year, you win the most races, you win the Championship, you win Driver of the Year, and I started thinking this may be a good time to retire. I had been saying for about five years I was ready to hang it up and go hunting and fishing. My daughters said, 'If you ever wanted to quit, now's the time to do it when you're on top.'"
His answer to that? A brand new car.
Davis says he's "to stubborn to retire" and in his race shop he has a new Larry Jeffers '63 Vette, his 2015 Championship winning Tommy Mauney '63 Vette and his 2010 NHRA Championship winning Tommy Mauney '63 Vette. With three complete race ready '63 Vettes, it doesn't sound like he's retiring any time soon.
"I'm looking forward to the 2016 PDRA race season and defending my championship," Davis ended. "I'm a huge supporter of the PDRA, and will do anything I can for them."