Rather than simply saying he was on a mission going into the 2015 race season in his orange and blue Chevrolet Monte Carlo-bodied car, Todd Robertson proved it.
The NHRA North Central Division Lucas Oil Drag Racing Series Top Alcohol Funny Car driver powered to a best of 5.62 at 257 mph, earned a trip to the winner's circle at the race in Indianapolis, Indiana and emerged as the runner-up at the races in Norwalk, Ohio and Bowling Green, Kentucky on his way to claiming the championship in the category known for its fierce competitors in finely-tuned machines.
The win in Indianapolis was especially rewarding for the Michigan-based driver, as it was his first in the class.
"It feels awesome to have been able to win that race and and then win the championship," said Robertson. "It was huge, and it was beyond our wildest dreams, because we're racing against people who have been doing this for twenty-plus years, and they know what they're doing."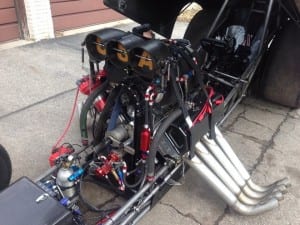 In a somewhat surprising move considering how well he and his Monte Carlo-bodied car were working together, he'll park it in a cozy spot in his shop and climb into a 2006 Mustang-bodied Funny Car on-loan from a friend and fellow racer he declines to identify. The car, which was satin-black, now sports the same blue and orange color scheme as his Monte Carlo-bodied car, and as he has for years, Robertson will fly Eaton and Aeroquip banners on the car, in recognition of the support the companies give him.
"This is an exciting opportunity," said Robertson, who knows all about around-the-clock thrash sessions at the track and away from the track. "Eddie Youness and I did all of the custom work on the car and then took it to 21st Century Collision in Michigan. Then, EZ VZ did all of the custom pin-striping."
The car will get from the starting line to the finish line in exceptionally fast fashion with the help of a Brad Anderson Enterprises Hemi and DMPE-prepped supercharger, with a Lencodrive transmission and Coan converter transferring the power to the pavement. Aeroquip plumbing is in place, and the combination is set up to accommodate shifting at an angry 10,500 rpm.
"Ninety-nine percent of Funny Cars have a clutch in them, but we like to be a little different by having a torque converter," said Robertson. "Besides, torque converters tend to make the cars more consistent than a clutch because a clutch requires so many adjustments."
Robertson has his sights set on laying down 5.50s in the car, and when asked whether he wanted to share – in general or in detail – which aspects of the chassis or combination he and his team might focus on to get there during an upcoming test session, he laughs at exactly the same time he declines to be specific.
"You have to keep some things close to you at this level, especially if it can help you have a performance advantage," said Robertson.
Helping him in his attempt to back up his 2015 championship are his wife, Lynne Robertson, his son, Grant Robertson, as well as Dennis Kolomyjec, Rocco Wilson, Ed Youness, Jim Youness, Jeff Sawruk, Alan Stark and Larry Mizzi.
"Someone once told me that so many races are won at home by preparation, and that's true," said Robertson. "We need to be ready to rock and roll when we leave the house, because that's how we're going to get down track. We're looking forward to this challenge, and we hope to do well for ourselves and for the car-owner."
Catch Robertson in action at the 10th Annual Cavalcade of Stars presented by Budweiser, May 20-22 at Summit Motorsports Park, 1300 State Route 18, Norwalk, Ohio. It's the second race in the 2016 NHRA North Central Division Lucas Oil Drag Racing Series. For more information, please call 419-668-5555 or visit www.summitmotorsportspark.com.
Story by Mary Lendzion