During Robbie Massey's tenure in the Junior Dragster ranks he got fairly accustomed to winning. He was named champion in Division 5 for IHRA and NHRA. He won the Western Conference Finals at age 13. He racked up a couple of track championships at Iowa's Eddyville Raceway Park and when he dabbled in Outlaw 330 he won a points championship there as well.
With a father well versed in racing, Massey had a built-in mentor. Bob Massey built door cars for years and tuned Top Alcohol Funny Car legend Vern Moats. As soon as he was old enough, Robbie began taking notes from both his father and Moats.
"I grew up watching [my dad]," says Massey. "Before I could walk I was around the shop. We really enjoyed racing Juniors together."
But when Massey aged out of juniors, it looked as though his drag racing career might be over. With no clear next steps, he sought every angle for an open door to jump into a full size car.
"That year I was off, I was really going crazy. Every summer since I was eight years old all my weekends would be booked with races. It was my life and all I knew, so when I thought we were going to be done, it was kind of a culture shock. I love competing and I have the type of personality that I need something to put all that energy and emotion towards or else I really start to lose my mind," Massey laughs.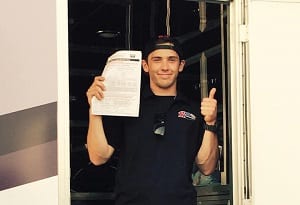 "I caught wind General Motors was coming out with that COPO Camaro," the Karl Performance employee continues. He put in an application and was picked to purchase the car specifically designed to NHRA racing specs. "Of course, I didn't have all that money laying around. I went up and talked to [employer] Carl, who has supported us all through juniors. My dad and him have been friends for a long time, as well, so when I told him the situation and that we were chosen for one, he was all for getting it, and I would be the one to drive it."
Carl Moyer, owner of Karl Chevrolet and Karl Performance, was a regular on the IHRA tour, fielding a classic red 1957 Chevy in Pro Mod, amongst several other world-class doorslammers, and even sponsoring the organization for periods until he abruptly retired after a qualifying run at the 2001 President's Cup Nationals. He had been thinking about retiring for some time and a solid performance that season helped the sale of his car to Bob Rieger. Moyer has stayed involved with various forms of motorsports since, including Massey's program.
Massey was out of racing for just one season in between Juniors and his move into the Camaro. "We came out with a 2012 COPO Camaro 427 naturally aspirated," explains Massey, who continued his racing with the help of his father and stepmother, Shelly. "We were a little naïve to think we could just jump right in. We weren't very sure what the Stock class was all about. I found out very soon that that class is pretty prestigious. We basically had to learn everything the hard way because we would drag the car across the country to national and divisional races, which left no time to test, because all our available time off work was taken traveling to races.
"We chased our tail at that thing for a couple of years. Put a new motor in it. Basically, it was just a couple years of constant adversity. We weren't having as much fun as we used to in juniors. It was frustrating. I like to win so whenever we would lose for something stupid we could have found in testing it was frustrating for us."
Despite the frustrations, Massey did win Stock at an NHRA divisional event, as well as a few bracket races, while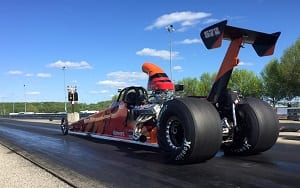 piloting the Camaro. Last year, the Masseys made the decision to step away from competing in Stock on a national and divisional level. They agreed they could spend an equivalent amount of money and go faster in a machine that the elder Massey had more experience tuning. They sold the spare COPO parts and bought a 2012 American Race Cars Top Dragster with a 620 all aluminum big block Chevrolet, mechanically fuel injected engine that was redone by Karl Performance. Massey was licensed in early May this year, and in short order won his first race out with the dragster, a points race at Eddyville Raceway Park.
An ecstatic Massey says he felt right at home in the dragster. "I went in with basically no expectations, but we got it done. The transition [from the Camaro to the dragster] wasn't as hard as I thought it would be. It's kinda like my comfort zone. I was very comfortable ever since the first run, although I was definitely surprised at what 180 miles an hour feels like. I really enjoy it and I'm a lot more comfortable than I was in the Camaro."
Moyer continued his support of Massey's program when they decided to focus more on the dragster. Massey also garnered the support of Siteworx, a company owned by his sister and Tony Rose, as well as DRE Engine Diapers, Aeromotive Fuel Systems, Novak Electric, PRO-FABrication, Sun Chaser Racing Products, Iowa Outlaws BBQ and Beer Can Alley.
"Carl is a huge player in my career," says Massey. "He's always been there and has never hesitated to give his support. I'm super thankful for him and the Grimm family, and gotta thank my mom because she is one of, if not my biggest supporter/cheerleader. And without my dad and Shelly none of this would be possible."
Although Massey hasn't given up on the Camaro, his main focus will be local and divisional NHRA events with the dragster with future plans to compete in PDRA Top Dragster. "We just want to take a step back and do it the right way this time. Get as much data as we can. Going in with this car I want to do it a lot differently than I did the Camaro. I wouldn't say I'm mad at the road we took with the Camaro because adversity helps you even if you don't see it at first. This time, though, we're doing all we can to have all the variables under control. There's a lot of outside factors you can't control in racing, but I'm going to do all I can to be at my full potential.
"Plans for this year are to get our feet wet in the Top Dragster class and get into a solid routine with the car. I unquestionably want to keep at it, and race as much as possible, not cut any corners and make the most out of every race I go to. I'm big in investing in myself, so I'm doing all I can right now to make sure that my mentality is in the right spot as well as keeping a healthy lifestyle, learning and listening as much as possible."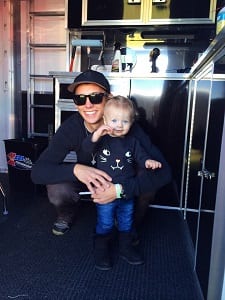 Massey, who is also interested in business, plans to be running the operation by himself in a few years, freeing up the investment his dad and Shelly currently put into his program. He recently purchased two rental properties, the income of which will support his racing while he continues to look for other business opportunities and continue building Karl Performance. With his driven personality and proven driving capabilities, neither is out of reach and with his career just beginning Massey is sure to be a long term threat in whatever class he undertakes.
"If I have learned anything in the past couple of years, it is patience," concludes Massey, now 23. "Most things are not going to happen right away or the way you'd envisioned. You just have to keep rolling with it, and accept things and people for what and who they are. It's your reaction to adversity, not the adversity itself that determines how your life story will develop. I'm living my life right now by this gem from Gary Vaynerchuk, 'Doing the right thing is always the right thing.'"
This story originally appeared in Drag Illustrated Issue No. 110, the Sportsman Issue, in June of 2016.