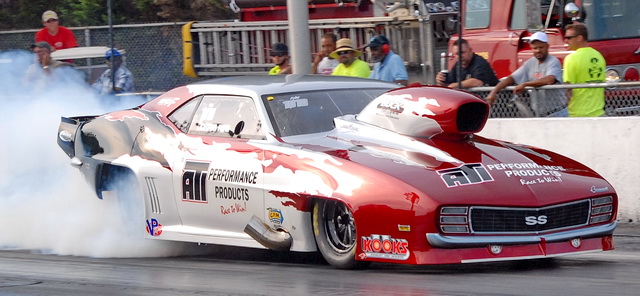 With his first pass out of the trailer for the August edition of the Big Dog Shootout presented by ZDD Plus at Piedmont Dragway, Chris Rini (above) nailed down the number-one qualifying position with a 3.84-seconds charge at 192.47 mph.
That Rini, along with longtime engine builder Charlie Buck, were even at the track is a testament to the strength of their partnership and their resolve to compete.
In May, Rini experienced a severe underhood nitrous explosion during the EOPM event at Virginia Motorsports Park that injured Buck and sent him to the hospital via helicopter.
After Buck recuperated and the ATI-sponsored '69 Camaro had been repaired and rebodied at Jerry Bickel Race Cars, the pair returned with a vengeance the first weekend in August at the ADRL race at Memphis International Raceway, where Rini qualified on top of a highly competitive Pro Mod field, then made it to the second round of eliminations.
One week later (Aug. 10), Rini qualified first again at Piedmont, where the track was a challenge to be met head on. New competitor Kevin Rivenbark with Big Dog legend Todd Tutterow tuning was close behind at 3.92, Matt Giangrande qualified third at 3.94, and Ed Hoover rounded out the top half of the eight-car field at 3.95 seconds.
In fifth was Danny Perry with a 3.97 run, sixth was Travis Harvey at 3.98, Brian Schrader seventh at 4.04 and Jeff Blasi completed the qualified list with a 4.05 effort. Non qualifiers were Brian Teachman, Keith Floyd, Jason Harris, and Kenny Rucker.
After round one of eliminations, Perry, Harvey, Rivenbark and Rini each advanced, with Rini's 3.83 win over Jeff Blasi also setting a new Big Dog elapsed time record.
The semis saw Rivenbark run a 3.89 to defeat Harvey's 3.92 and Rini go 3.85 to defeat Perry's 3.94 and set up a final-round showdown between the top-two qualifiers.
Rini left first with a solid .022  light, but Rivenbark was close behind with .030 on the tree. It was a stripe-to-stripe advantage for Rini, however, as his 3.86 beat the 3.88 by Rivenbark for the event win.
As the season wears on, points are becoming increasingly important with Perry first, Harvey second, Rini third, Giangrande fourth, Harris fifth and series newcomer Rivenbark currently sixth.
The Renegade class also had 12 cars entered, with Tim Lawrence taking the pole at 4.14, but Jamie Chappell, fresh off a month off in July, just four thousandths back at 4.146 in second. Third went to Jay Cox at 4.181, with Brian Nesbitt and John Lassiter fifth and sixth respectively, after both ran 4.20 seconds. In the closest of finals, Lawrence ran a 4.130 to defeat Chappell at 4.133 seconds.
Other winners for the evening included Leonard Langhorn in Outlaw Doorslammer, Nick Reynolds in MT 6.00 Raiders and Jeff Faucette in 7.49 Real Street.
The next round of the Big Dog Shootout presented by ZDD Plus will be held Thursday, Sept. 5, at Piedmont Dragway.
(Photos by Greg Burrow; click to enlarge)