There are still times when it hits Rickie Jones how cool he has it.
Like when he's the first one in the Elite Motorsports crew chief lounge early in the morning, sitting in front of all the monitors in the team's state-of-the-art set-up.
Or when he's standing behind the car of five-time Pro Stock world champion Jeg Coughlin Jr. as he wins for the 62nd time in his career last weekend in Phoenix.
Sure, the former racer turned tuner has a job to do and that means building cars at RJ Race Cars and tuning cars for Elite Motorsports, but it's still one of the most thrilling jobs possible in his eyes.
"I just feel honored and humbled to do this," Jones said. "I just grew up racing with mom and dad, and it's been our business. It's been a pleasure and honor to work with some of the brightest names in the business. I've always just been inspired and motivated by my dad to want to do better.
"No matter what's happened, you try to give it your all. Everything I do at work and the track, I try to do my best and make the most of what I've got. It has been a dream come true. It doesn't even seem real some days."
Jones repeatedly uses the word "blessed" to describe his current situation, one that includes working alongside his father, Rick, everyday, whether at their impressive facility in Galesburg, Ill. or at the track.
That's a dream in itself, but factor in Jones' clientele at the track and things become even more, well, blessed for a talented crew chief who has race wins in both Pro Stock and Pro Nitrous.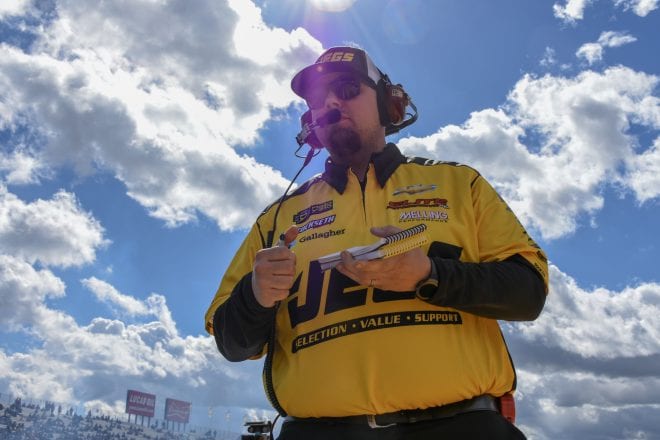 Now, he's guiding the likes of Erica Enders and Coughlin to victories, and was a critical part of Enders' two world championships.
The aim is to deliver another world title to the Elite Motorsports contingent, and the team has opened the 2019 season in strong fashion following Coughlin's win. But what has impressed Jones is the overall status of Pro Stock, which has drawn the most cars of any NHRA pro class the first two races.
A reduced schedule to 18 races this year has been a factor, but Jones also notes costs have come down considerably for those who want to run in the class.
"Back when I was running, it was over a million (dollars) a year to try and get a motor that could qualify in the top half," Jones said. "Nowadays, (Elite Motorsports team owner) Richard (Freeman) has done a great job with Elite making these engine programs leasable. If you rent a motor, the same guy tuning that car is tuning Erica's or Jeg's, and that support is great."
Jones has also noticed a sense of community returning in the Pro Stock pits, while still maintaining fierce competition between the standout drivers. That mix of family and intense competition makes Pro Stock unique, but the challenge of the class is what keeps Jones pushing forward.
The motivation to find improvements – even at a hundredth of a second at a time – is what motivates and drives Jones, presenting ever-present challenges that require constant work.
"Pro Stock is like hitting a perfect shot in golf. And it's hard to do that," Jones said. "There's so much that goes into golf and it's the same thing in Pro Stock. It's so hard to hit a perfect shot every time. Just that challenge of it, you think about stuff, you write them down and think of ideas to try and be better."
It's a never-ending process, but seeing the work come together for success is the ultimate payoff. Even within a team like Elite, there are changes from car-to-car. Enders debuted a new RJ Race Cars Camaro this year, and Coughlin will get his new Camaro shortly, but the preparation and adjustments of the car will be entirely different. In Jones' eyes, that's the beauty of Pro Stock.
"Just because you try something on one car doesn't mean it automatically translates to another," Jones said. "You can find similarities and trends, but, ultimately, every car you have to get it what it wants. Just because something works in Jeg's car, it doesn't mean you can put the exact same thing in Erica's. Just the way the driver drives the car makes a difference. Sometimes there are minor differences, but having that team mentality is an advantage because you can work together."
And it's teamwork, either with his father at the shop or in the pits with Elite Motorsports, which brings out the best in Jones.
"You're only as good as the depth of your team. It's really the people," Jones said. "That's something Richard has really believed in. As long as you have the right people in the right places everything else will fall in line and I truly believe that."