I almost – so freaking close – made the headline of this story, "Move Over Garlits & Prudhomme, Drag Racing Has New Heroes", but I wanted to avoid being beaten to death or tarred and feathered the next time I went to a NHRA national event.
But…that's kinda how I feel right now. Anyone who knows me will attest that "how I feel" can change rapidly, but I don't anticipate this notion subsiding anytime soon.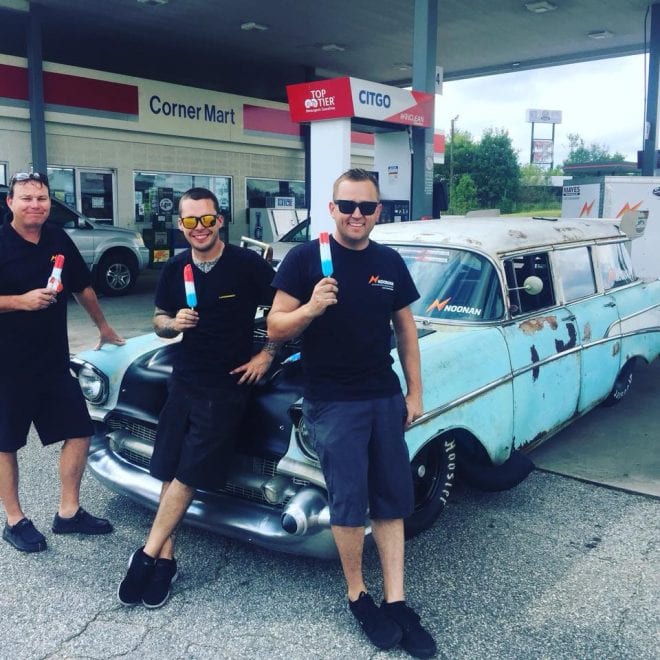 Seriously, I challenge anyone alive to identify anything that captures the innovative, boundary-pushing nature of a drag racer more so than Richie Crampton and Jonnie Lindberg's Top-Alcohol-Funny-Car-Turned-1957-Chevy-Wagon that they're driving on HOT ROD Drag Week right now. These two young men, who make their living as professional drivers on the NHRA Mello Yello Drag Racing Series tour wheeling for legends Connie Kalitta and Jim Head, respectively, managed to pull the screw-blown Hemi, Lenco, titanium can and clutch out of Jonnie's championship-winning TAFC and stuff it between the frame rails of an all-steel '57 Chevy Wagon. I don't know about you, but this is typically the type of thing that gets dreamed up over a dozen cold beers and a couple shots of Fireball at the local watering hole and doesn't make it much further. Even having a discussion – either while completely hammered or stone cold sober – about putting the motor and transmission out of your Funny Car in your vintage street car and taking it on a road trip is worth celebrating (in my opinion), but actually doing it? Yep, hashtag legendary.
Drag Week is still in full-swing, but as of this moment they've made it to a couple stops and managed a six-second, 200-plus mph pass in the low-slung, patinated Chevy all the while racking up a few hundred street miles. For me, a dyed-in-the-wool Pro Mod guy and clutch-pedal-fanatic, amongst the coolest parts of the whole deal is that they're running a clutch in the car. Seeing Jonnie bring the motor up and slide the ol' girl in the beams is, well, like freaking awesome and better than almost anything else I've ever seen on the drag strip. Even cooler? Seeing the car roiling down the interstate, pulling a trailer, with two dudes inside wearing racing radios.
The ingenuity involved in making this whole dream a reality is impossible to overstate. If you've seen any pictures of the car, which have flooded social media the last few days, it's hard to miss the modifications made to take one of drag racing's most notoriously nasty combinations and make it roadworthy. The most talked about and perhaps coolest concept in play is Lindberg's idea to bypass the massive PSI screwcharger by replacing the burst panel with a 100-some-odd-millimieter throttle body for street driving. Remove the blower belt, swap the throttle linkage and you've just storing a blower and injector hat on the stop of your engine for safe keeping. Lindberg and Crampton are leaning on Holley EFI and an E85 tune up to get to-and-fro the track where they put the "Shitbox of Doom" back closer to Top Alcohol trim. They've even got a Gear Vendors overdrive unit bolted onto that Lenco. Sweet.
There's been a slew of killer runs made on Drag Week – no doubt – but for most, and I believe especially Crampton and Lindberg, it's a lot more about "giving it a go" than setting world records or winning the deal. Just going out and being a part of it, putting yourself and your ride to the ultimate test is what it's all about. The journey, right? Not the destination. While Jonnie and Richie skipped a day and were a bit touch-and-go all week, based on the reaction I've gotten from them via text I think they've accomplished most of what they set out to do, namely that aforementioned six-second pass at over 200. They've also established a bit of a baseline for what is possible in the future, and given the ability schedule-wise, I wouldn't be surprised to see them go for the long haul in 2019.
I want to say that I'm well aware this isn't exactly the first awe-inspiring happening in the history of Drag Week, nor is it the only marvel of modern mechanics and technology that has been on display during this brutal 1,000-plus mile road trip that in 2018 takes racers from Atlanta Dragway in Georgia to Darlington Dragway in South Carolina to zMAX Dragway outside Charlotte to Bristol Dragway in Tennessee before returning to the ATL. Racers like Larry Larson, Jeff Lutz and Tom Bailey, amongst others, have basically become car culture superstars by way of the reach and following of this event, which HOT ROD has been putting on for almost 15-years.
By highlighting the efforts and accomplishments of Richie and Jonnie this week, I'm not trying to downplay anything else that's happened in the history of Drag Week. That's not why I'm writing this. What I hope to identify here is that, well, drag racing – right now – is freaking awesome, and it's packed full of incredibly talented, inspiring and charismatic people. Maybe that's no surprise to you. I hope it's not. It's not to me. But I don't think everyone feels that way. When I look around at the sport of drag racing I see a group of people that, by and large, are so focused on the past that they can't see nor fully appreciate the significance of what's going on right in front of them. I have a deep appreciation for the sport of drag racing's history and traditions, but I don't think we can let those things get in the way of forward progress.
Let me give you an example. I'm not sure how big of a team is dedicated to the production of this deal, but I know for a fact that there is a team that is responsible for producing something called the NHRA Legends Tour – a deal where NHRA brings out racers from drag racing's yesteryear to every single stop on the 24-race series. It's great, fantastic, and definitely pays respect to and honors many of the racers that blazed trails and paved the way.
But I'm curious… If you've got a team dedicated to honoring your past, shouldn't you have a team dedicated to identifying, highlighting and promoting your future? Does that exist? If not, I think it should.
If you ask a casual drag racing fan what they think about our sport these days – like the version they see on TV and at national events – they'll tell you that "things just aren't the same". That's because they thinkthere aren't any more Don Garlits or Don Prudhommes or Shirley Muldowneys or Tom McEwens or Jim Libermans left in this deal. I think we've letthem believe that, and it's freaking crazy because you literally don't have to look any further than Richie Crampton and Jonnie Lindberg to find a couple bona fide drag racing heroes. Young, marketable, super cool dudes with all the tattoos, swagger and charisma you can possibly ask for. Plus, they're freaking legit mechanics and extremely talented, technically-minded guys that young, up-and-coming car guys can aspire to be, and old heads can respect. They're even foreigners! With cool accents!
To think that two guys that are competing at the highest level of drag racing, that are hired gun drivers in Top Fuel and Nitro Funny Car basically every weekend, were able to crossbreed a Top Alcohol Funny Car and a '57 Chevy into something that can be street-driven and run the quarter-mile in six-seconds at over 200mph is nothing short of amazing. Crampton and Lindberg's exploits on Drag Week, in my opinion, have the potential to obliterate any stereotype that exists about pro-level drag racing being a billionaire boys club comprised entirely of big money rent-a-riders. We can't let things like this happen in a bubble. Of course, hardcore racers and fans know what the Blower Bros. are up to here in mid-September, but we do enough preaching to the choir. If I were running shit, you can bet your bottom dollar I'd have a squadron of videographers, producers, writers, photographers and whatever other manpower I could throw at chronicling, celebrating and promoting Australia and Sweden's favorite sons while they're on drag racing's ultimate road trip.
Looking for the ultimate tie-in? The dynamic duo had to cut their time on Drag Week short in order to honor their commitments for this weekend's Dodge NHRA Nationals at Maple Grove Raceway in Pennsylvania. Regardless, I'm a bigger fan today of Crampton and Lindberg than I was last week, and I was already pretty high on these guys. I was worried that Drag Week may lack a little pizazz this time through without big names like Jeff Lutz and Larry Larson, but I was wrong, and I'm happy about that.