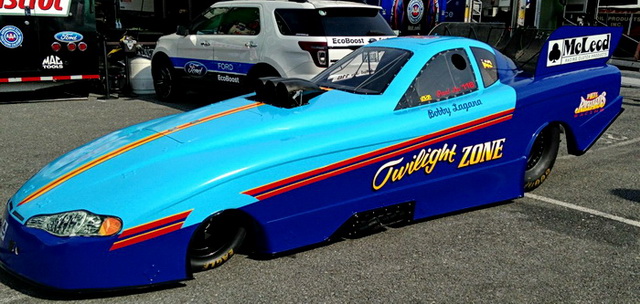 When Bobby Lagana Sr. passed away Sept. 5, he left behind a family that included not only his daughters Marie and Laura and his drag racing sons Bobby Jr. and Dominick, but also a very large drag racing family who felt his loss deeply.
This weekend at the Auto-Plus NHRA Nationals at Maple Grove Raceway in Reading, a few members of that extended family will have the opportunity to pay special tribute to Lagana Sr. by running a special Twilight Zone paint scheme on their Funny Car, a resurrection of a car that Sr. himself match raced across the Northeast in the 1970s.
One of Lagana's fellow match racers was Gary Richards, and the two families formed a lifelong bond. They match raced together for many years, and later, Gary's son Paul Richards would form Paul Richards Racing and compete as a team on the NHRA circuit with his brother Dave Richards and Sr.'s boys, Bobby Jr. and Dominick.
Paul Richards Racing and driver Paul Lee conceptualized the idea and put it into action, and this weekend they plan to surprise Bobby Jr. and Dominick with the tribute car before the first round of qualifying at a racetrack where they have shared many memories.
"This is the least that we can do," said recently licensed nitro Funny Car driver Dave Richards, Paul Richards' brother. "Bobby Lagana Sr. was such a great guy and a real family man. Going to the races was so important to him, and seeing his passion for it really made me respect the sport even more. When I was going through my licensing process, I would always go back to what he told me. I remember sitting there and talking to him in the pits – he would pretend he was driving the car and talk me through everything that would happen. He was a huge help for me, and really, he was a pioneer in this sport. This is just a little something special we wanted to do to pay back the Lagana family for all that they've done for us. They're great people."
"We're all family; Bobby [Jr.] and Dom are like brothers to me, and Bobby Sr. was a big part of my life," said Paul Richards. "My father raced with him for so long, our mothers were friends, and it was a really tough deal when he got sick. It means a lot to us to be able to remember Sr. like this with a Twilight Zone tribute car.
"Maple Grove is the perfect place to do it – it was a home track for them, and I remember growing up with my dad's cars and running with Bobby Sr. at those Northeast tracks, Maple Grove was a big one. Bobby and Dom were a little younger than me, and when they were growing up they raced there a lot. I know Sr. loved that track. We asked Paul Lee what he thought about running a Twilight Zone car, and he thought it was the best idea ever. He was 100% on board, and we wouldn't be able to do this without Paul Lee and McLeod, as well as Rob Boninfante."
Driving the Twilight Zone tribute car will be very special for Lee, whose alcohol Funny Car license was signed by Bobby Lagana Sr. in 1988 in Englishtown.
"We've been friends ever since," said Lee. "I grew up watching Bobby Sr. run. He was always one of my favorite racers back in the day with the Twilight Zone car, and I always rooted for him because he was the underdog.
"Bobby Sr. was always so nice to me, and when I would do something good – like when I beat John Force at Seattle – he would call me up and be laughing, so happy and proud. It made me feel good that he would do that, and I always valued his advice. I feel very fortunate to have been the only person outside of the Lagana family to drive one of their cars. In 2009, I drove their Top Fuel dragster in IHRA, and that really meant a lot to me. Now I get to pay that back with this tribute car. I'm going to miss him, but this is pretty special. I can't wait."