Despite a racing-dense weekend with events at nearby zMAX Dragway and Darlington Dragway, a host of competitors and fans showed up for Piedmont Dragway's 20th anniversary celebration of its Big Dog Shootout series.
There were nitrous cars, blower cars, new cars, and old cars all competing for the top eight spots in the "Original Big Dog Shootout". This being the 20th anniversary of the race, which evolved from Thursday night test 'n' tune, there were doubts as to the attendance of competitive cars but save for Brett Nesbitt selling his trusty Pontiac, there would have been 14 cars competing for the eight spots. Still ailing with his back problems, Nesbitt had Travis "The Carolina Kid" Harvey on hand to drive the multi-time event-winning Pontiac. The new owner had other ideas, so Travis drove in Outlaw Doorslammer, a class he has already won this season. Other cars included Bubba Turner's blown Camaro, Cam Clark's Camaro, Jason Harris's brand new Camaro, and the blower car of Eddie Dooley.
Qualifying ended up with double event winner Charles Richards (pictured above) at a 4.093, Tim Siler's nitrous Camaro at 4.095, Billy Albert in Earl Farmer's Camaro at 4.115, and fourth was Brian Schrader's Corvette at 4.118. Five through eight included Ronnie Gardner in Jack Gaddy's event-winning Camaro; sixth was Michael Graham's blown Nova, with tuning help from Charles Terrell; seventh was Larry Pearce's Cobalt, and eighth was John Lassiter with a 4.208.
First round highlights included wins by Charles Richards, Jr., Graham's Nova with a 4.098, Tim Siler's 4.09 over Larry Pearce and Ronnie Gardner with a 4.12 over a broken Schrader. The semis saw a great race with Graham's Nova and Siler's Camaro running IDENTICAL 4.096 ETs. The win went to Siler at the light. The finals had Richards winning for the third time with a 4.062 over an off-pace Siler's 5.044. WOW. If you missed this, you have one more chance to catch the Big Dog action on September 29th. Charles Richards Jr. enters the event with a comfortable lead in the points but second through fifth are still up for grabs.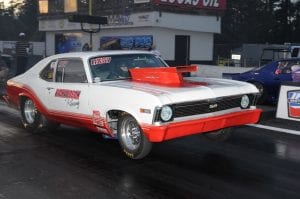 Also competing were the Outlaw Doorslammers with Robert Richardson winning over a red-lighting Dion Brooks. In the process of winning, Robert took out Travis Harvey in the semis.
Hope to see all of you on September 29 at historic Piedmont Dragway, the "DoorSlammer Capital of the World".
Story and photos by Greg Burrow