The Pro Modified community has lost one of its best. Just after midnight on January 30th, Steve "Wormy" Helkin, longtime crewman for the Mike Castellana/Shannon Jenkins-led Awesome Motorsports team, passed away after spending the last month in the hospital.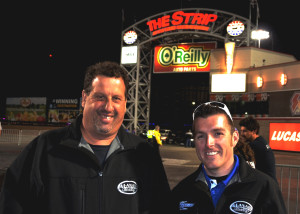 Friend and co-worker at Speedtech Nitrous and Awesome Motorsports, Will Smith, remembered Helkin by posting on his Facebook page, "Wormy was a hard-working, loyal, dedicated, trustworthy, and very selfless friend and co-worker. Two days before his accident, he was on his way to Jerry Bickel Race Cars, and we got to have one last conversation on the phone, before his accident. We joked around and aggravated each other for a minute or two, as we always did, but that's how we showed our love for one another. After I got Wormy "stirred" up for a minute, I told him that I loved him, and I wasn't afraid to tell him that, because he knew I did. The reason he called me though, was that he wanted to make sure I didn't need any parts for my race car, from Jerry Bickel. Wormy was such a selfless individual. He was always doing for others, and putting other's needs before his own."
Our sincerest condolences go out to his family and friends throughout the drag racing community who will mourn this tremendous loss.