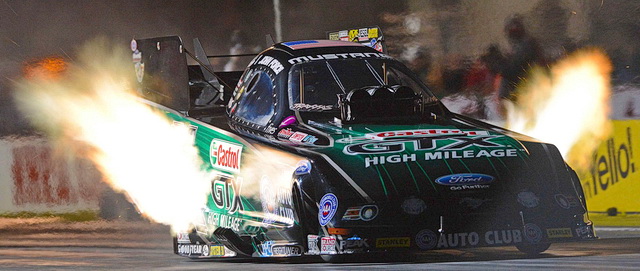 John Force picked up right where he left off in 2013 when he raced to his unprecedented 16th Mello Yello Funny Car championship. On the first day of the 2014 NHRA season at the 54th annual NHRA Circle K Winternationals the winningest driver in NHRA history lowered the track elapsed time record he set in November at the Auto Club Finals twice en route to unofficially setting the national elapsed time record. NHRA national records become official at the conclusion of the race but his 3.966 second pass to close out the second qualifying session has a great chance of standing up for a long time.
The last time Force held the national E.T. record was November 11, 2006. For good measure Force piloted his mean green Castrol GTX High Mileage Ford Mustang Funny Car to the national mph record with a blast of 324.12 mph which was the fastest speed ever for a Funny Car at 1,000 feet.
"I knew I was going for a ride or I was going to the burn center. That was awesome. A lot of good stuff is happening for John Force Racing lately. We aren't done yet and this is getting to be way too much fun for me. That 3.96, let's face it. Something just goes down and something just went good for me. Sometimes the cards just fall your way. I am going to keep fighting," said Force in the Shav Glick Media Center.
"I am going on a quest to win another championship with one of our cars. I am going on a quest to find sponsors. I am going to work every day. That run was awesome. When a motor is that good the first thing you do is get out and look underneath it to make sure it is not leaking. When it is fast it is fast. I have great people around me."
In the opening session Force flew down the track in 3.983 seconds at 317.72 mph. Force was thrilled with his performance to start the season.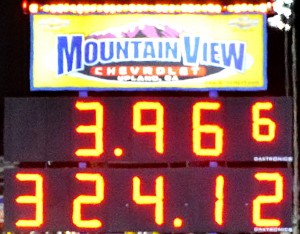 "When you have a hot rod like this that (crew chief) Jimmy Prock has tuned and it flies like that it is pretty exciting. All the crew chiefs are working together. We have new sponsors here with PEAK antifreeze and we have Auto Club up there and they just signed for five years. We needed to go down the race track. We wanted to give the fans a show and that 3.98 surprised me. I will take it. That was awesome," said Force.
Right before Force made his second historic run of the day teammate Robert Hight and the Auto Club Ford Mustang made their first run into the three second range posting a 3.996 second run and moving up to the provisional No. 2 spot. The run was a relief to the 2011 Winternationals champion.
"It is like getting a monkey off your back. To be honest I am just glad it is over. It is not a big deal anymore. Matt Hagan did it two years ago. I am not taking anything away from our guys. It is a good way to start the season," said Hight a two-time winner in 2013. "It seemed like every time we tried to go out and run a three second run something screwy would happen. It doesn't always work out to push on these cars and have a positive result. Now that we have done it I think it will be more frequent. We can't let the boss have all the fun."
With similar weather conditions forecasted for tomorrow Hight feels that his times could improve even further.
"Tomorrow will be unbelievable. Luckily we have three Funny Cars that we can look at the data. I am sure tomorrow we will pick our Auto Club Mustang's performance up some. I am glad for my guys," said Hight.
Defending event champion Courtney Force made her presence known today at the Winternationals after two qualifying sessions were complete. Currently, the 25-year-old occupies the No. 5 spot and hopes to improve on that position on Saturday.
"It's great to be back out here at my home track in Pomona," said last year's Funny Car field leader. "Coming out here as defending champion is definitely exciting and uplifting for my Traxxas Ford Mustang team."
Force and her team beginning their third season in the Funny Car category, encountered a setback in the opening round today due to a part failure and were not able to make a pass down the race track. The delay put Force's team at the front of the pack for Friday's evening session, but paid off when the Traxxas Ford Mustang made a straight, clean pass down the race track with a 4.046 ET at over 320 mph.
"My first round didn't go as we had hoped. We had a throttle cable break on the burnout which ended my run pretty quickly. We pulled back to our pit area and thrashed to get the car back together and ready. We made a pretty solid pass with a 4.04 ET at 321 mph," said Force.
The youngest daughter of John Force will have two passes on Saturday to move up in the field before eliminations on Sunday.
"We had a great announcement that went out today; we're partnering up with Peak and we're just excited to be out here kicking off the season. Our JFR cars are looking pretty strong so we're looking forward to improving on our ET tomorrow," said the youngest Force.
(Photos courtesy JFR/Lewis; NHRA/National Dragster; Click to enlarge)