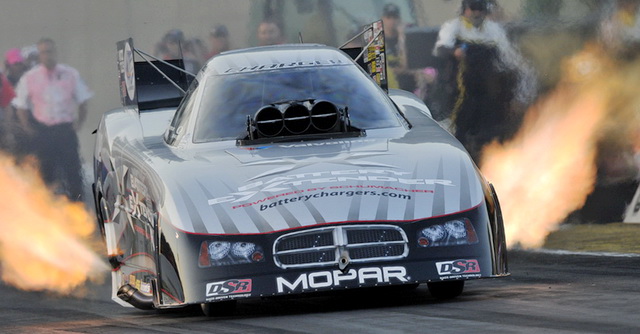 Jack Beckman (above) raced to a track record performance Friday to lead Funny Car qualifying at the Auto-Plus NHRA Nationals at Maple Grove Raceway. Morgan Lucas (Top Fuel), V. Gaines (Pro Stock) and Eddie Krawiec (Pro Stock Motorcycle) also were qualifying leaders at the fourth of six races in the NHRA Full Throttle Countdown to the Championship playoffs.
After winning at St. Louis last weekend, Beckman continued to gain momentum as he became the third Funny Car driver in history to dip into the three-second zone by posting a career-best effort of 3.989 seconds at 320.58 mph in his Schumacher Electric Dodge Charger. If he can post a time during the rest of the weekend at 4.029 seconds or quicker, Beckman will certify the time as an NHRA national record and receive a 20-point bonus.
When Beckman was getting ready to stage for his second qualifying attempt of the day, NHRA Safety Safari officials shut he and Jeff Arend's cars off due to oil on the racing surface. They had to go back to the pits and refuel their cars and ended up running at the end of the Funny Car session. The brief delay ended up working out for Beckman.
"I'm just happy we're solidly qualified," Beckman said. "That'll give us some session bonus points. It's just nice to know it appears that we have our hot rod back. We had to tow back to the pits after we were shut off, put a brand new clutch in the car and they got me belted in the pits. It's just stunning to see the guys faced with so much challenge on that run, step up,  get it perfect and come up here and run that good."
Mike Neff was second in his Castrol GTX Ford Mustang with a 4.017 at 318.84 and Alexis DeJoria was third with a 4.032 at 319.07 in her Tequila Patron Toyota Camry. Robert Hight qualified sixth and set a track record speed in his Auto Club Ford Mustang at 321.81 mph. Series points leader Ron Capps was 18th in his NAPA Dodge after his car lost traction on both qualifying attempts.
Lucas powered his GEICO/Lucas Oil dragster to a performance of 3.760 at 326.95 to lead the Top Fuel category. This would be his fifth top qualifying position of the season, eighth in his career if his performance stands after Saturday's final qualifying rounds (11 a.m. and 2 p.m.).
"To be completely honest, as good as a run that  3.760 is, (A) if I had driven it straight and (B) if the belt had stayed on, it probably would have run a 3.74 or a 3.75," Lucas said. "But I still wouldn't have thought that a 3.76 would have stayed as the No. 1 time, especially with the way that the other cars ran in the first session."
Shawn Langdon was second in the Al-Anabi Racing dragster with a 3.762 at a track record speed of 328.38 and title contender Spencer Massey was third with a 3.763 at 324.90. Series points leader Antron Brown was 11th in his Matco Tools dragster with a 3.844 at 317.87.
In Pro Stock, veteran driver V. Gaines is the leader after pushing his Kendall Oil Dodge Avenger to the top spot with a run of 6.544 at 209.62. If the time holds it would be his first career No. 1 qualifying position.
"We actually might have gone a little quicker, but I misjudged the finish line and shut off 6.4-seconds into the run," Gaines said. "But that really hurt the speed more than the elapsed time."
Points leader Allen Johnson was second with a 6.545 at 211.49 in his Team Mopar Dodge Avenger and title challenger and defending world champ Jason Line was third in his Summit Racing Chevy Camaro with a 6.553 at 211.86. St. Louis winner Erica Enders was fourth in her GK Motorsports Chevy Cobalt with a 6.560 at 211.00.
Points leader Eddie Krawiec rode his Screamin' Eagle Vance & Hines Harley-Davidson to the top of the Pro Stock Motorcycle qualifying order with a performance of 6.821 at 196.19, which would be his fourth of the season and 13th of his career.
"We went down through there and made a good lap," Krawiec said. "Hector Arana Sr. went out and made a better run (in the first session), so we went back, looked at data, just changed a little bit on the set-up. We were a little overaggressive about 30 or 40 feet out on the first run, so we actually took a little lock up weight out of it to make the bike transition smoother through the early part of the run. It worked out for us."
Arana Sr. was second with a 6.834 at 194.46 on his Lucas Oil Buell, while Andrew Hines was third on his Screamin' Eagle Harley-Davidson with a 6.853 at 195.93.
(Photos courtesy NHRA/National Dragster; Click to enlarge)
MOHNTON, Pa. — Friday's results after the first two of four rounds of qualifying for the 28th annual Auto-Plus NHRA Nationals at Maple Grove Raceway, 21st of 23 events in the NHRA Full Throttle Drag Racing Series.  Qualifying will continue Saturday for Sunday's final eliminations.
Top Fuel
1. Morgan Lucas, 3.760 seconds, 326.95 mph; 2. Shawn Langdon, 3.762, 328.38; 3. Spencer Massey, 3.763, 324.90; 4. Doug Kalitta, 3.767, 327.59; 5. Tony Schumacher, 3.770, 325.14; 6. Brandon Bernstein, 3.775, 325.61; 7. Khalid alBalooshi, 3.776, 327.03; 8. Steve Torrence, 3.803, 321.04; 9. David Grubnic, 3.818, 318.77; 10. Larry Dixon, 3.835, 315.71; 11. Antron Brown, 3.844, 317.87; 12. Bob Vandergriff, 3.849, 321.42. Not Qualified: 13. Clay Millican, 3.850, 316.97; 14. Dom Lagana, 3.883, 318.69; 15. Terry McMillen, 3.896, 301.27; 16. Ike Maier, 4.043, 267.37; 17. Rit Pustari, 4.340, 201.04.
Funny Car
1. Jack Beckman, Dodge Charger, 3.989, 320.58; 2. Mike Neff, Ford Mustang, 4.017, 318.84; 3. Alexis DeJoria, Toyota Camry, 4.032, 319.07; 4. Cruz Pedregon, Camry, 4.034, 313.00; 5. John Force, Mustang, 4.038, 315.19; 6. Robert Hight, Mustang, 4.061, 321.81; 7. Matt Hagan, Charger, 4.074, 311.92; 8. Johnny Gray, Charger, 4.090, 313.37; 9. Courtney Force, Mustang, 4.091, 311.99; 10. Jeff Arend, Camry, 4.097, 307.86; 11. Jim Head, Toyota Solara, 4.107, 301.60; 12. Bob Tasca III, Mustang, 4.122, 298.34. Not Qualified: 13. Tim Wilkerson, 4.150, 284.15; 14. Blake Alexander, 4.163, 299.93; 15. Todd Lesenko, 4.176, 272.23; 16. Tony Pedregon, 4.501, 267.64; 17. Mike Smith, 4.761, 178.00; 18. Ron Capps, 7.485, 88.37.
Pro Stock
1. V. Gaines, Dodge Avenger, 6.544, 209.62; 2. Allen Johnson, Avenger, 6.545, 211.49; 3. Jason Line, Chevy Camaro, 6.553, 211.86; 4. Erica Enders, Chevy Cobalt, 6.560, 211.00; 5. Greg Anderson, Camaro, 6.569, 200.38; 6. Vincent Nobile, Avenger, 6.570, 210.73; 7. Ron Krisher, Pontiac GXP, 6.573, 210.05; 8. Mike Edwards, GXP, 6.575, 210.73; 9. Jeg Coughlin, Avenger, 6.579, 210.24; 10. Dave Connolly, Cobalt, 6.590, 210.60; 11. Ronnie Humphrey, GXP, 6.590, 210.34; 12. Warren Johnson, GXP, 6.595, 210.05. Not Qualified: 13. Shane Gray, 6.608, 208.84; 14. Larry Morgan, 6.614, 208.30; 15. Frank Gugliotta, 6.622, 209.04; 16. Lewis Worden, 6.759, 204.35; 17. John Gaydosh Jr, 6.778, 203.68; 18. Kurt Johnson, 7.652, 154.02.
Pro Stock Motorcycle
1. Eddie Krawiec, Harley-Davidson, 6.821, 196.19; 2. Hector Arana, Buell, 6.834, 194.46; 3. Andrew Hines, Harley-Davidson, 6.853, 195.93; 4. Hector Arana Jr, Buell, 6.853, 195.70; 5. Matt Smith, Buell, 6.885, 193.99; 6. Michael Ray, Buell, 6.910, 191.51; 7. Karen Stoffer, Suzuki, 6.924, 192.33; 8. Chip Ellis, Buell, 6.932, 193.05; 9. LE Tonglet, Suzuki, 6.934, 193.43; 10. John Hall, Buell, 6.963, 186.54; 11. Shawn Gann, Buell, 6.967, 190.57; 12. Scotty Pollacheck, Buell, 6.971, 188.17. Not Qualified: 13. Craig Treble, 7.037, 191.13; 14. Steve Johnson, 7.039, 189.47; 15. Michael Phillips, 7.060, 189.82; 16. Wesley Wells, 7.091, 183.94.