Rain cut short the opening round of qualifying and forced an extra day onto the weekend's schedule for the inaugural Professional Drag Racers Association (PDRA) Texas Nationals. Originally scheduled as a two-day event with final eliminations on Saturday, the race will now conclude Sunday, Mar. 22, at the Texas Motorplex, about 30 miles south of Dallas.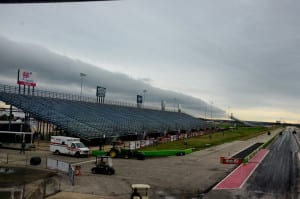 After all four rounds of planned qualifying on Friday were washed away, the PDRA track-prep crew led by Cale and Cody Crispe, also known as the PDRA's "Traction Twins," continued to battle persistent showers throughout most of Saturday before getting the track dry so qualifying finally could begin late in the afternoon. The wet stuff resumed about 7 p.m., however, with six of eight classes having completed their first qualifying session.
The day concluded when rain began falling as track crews cleaned up after a crash by Switzer Dynamics Pro Nitrous racer Lizzy Musi, who crossed over from the right lane in her brand-new, Lucas Oil Products 2015 Dodge Dart to hit the '68 Camaro of Ron Muenks just past the eighth-mile finish line. Fortunately, neither driver was injured, but Musi's car was damaged too badly to continue this weekend.
With six Pro Nitrous entries left in the staging lanes and the entire Pro Extreme class yet to make a run, PDRA officials announced those cars would conclude the first round of qualifying beginning at 9 o'clock Sunday morning, followed by a second qualifying round for all classes before elimination rounds determined winners by Sunday night.
"It's not the way we wanted to start our 2015 season, but nobody can control the weather so we're just trying to make the best of things," PDRA Director Bob Harris said. "Obviously, we're also very happy to know Lizzy and Ron are okay. That was a scary wreck, but it's good to know the safety equipment and our rescue crews did their jobs to keep them safe."
After one round of Precision Turbo Pro Boost qualifying, Kevin Rivenbark and Tylor Miller both ran 3.853 seconds to sit atop the 16-car field, but Rivenbark and his '67 Mustang got the nod as provisional number one based on going two-thirds of a mile an hour faster at 192.96 mph. Meanwhile, defending PDRA Drag 965 Pro Extreme Motorcycle Champion Eric McKinney served notice he wasn't slowing down any with a class-leading and potential record 4.008-seconds pass at 178.05 mph.
In the PDRA sportsman classes, Arizona's Jon Bradford led the way in Dart Top Dragster with a 3.856 at 185.77, while Musi's sister, Tricia, seized the early lead in MagnaFuel Top Sportsman with a 3.983 at 188.36 mph in her very first official PDRA pass.
Huddleston Performance Top Junior Dragster qualifying is determined by best reaction time and after one session David Roloff was first with a .036 reaction time off the start. In Huddleston Pro Jr. Dragster the order is set according to running closest to the 7.90 index for the class and a perfect 7.900 by Texas racer Aaron Philpot put him on top of 19 entries.
The PDRA Texas Nationals is the first of 10 scheduled events for the PDRA this year. The all-eighth-mile series will next visit historic Rockingham Dragway in North Carolina Apr. 9-12, for the 2nd annual PDRA Spring Nationals.