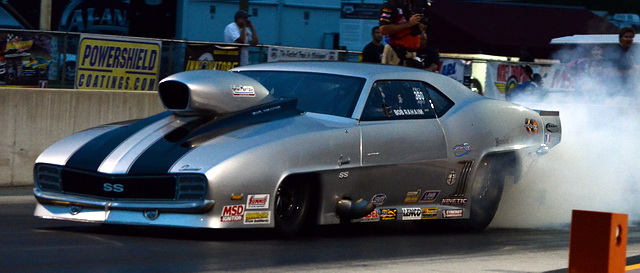 Bob Rahaim couldn't have picked a better place for his first American Drag Racing League (ADRL) win. Racing at his home ADRL track, the Pro Nitrous standout delivered an incredible performance in front of a huge gathering of friends and family, going a career-best 3.797 at 197.10 miles per hour on Saturday to beat Pat Stoken in the finals of the Summer Drags VIII at U.S. 131 Motorsports Park.
It capped off a day the Grosse Point, Mich. native won't ever forget.
"I'm feeling numb. This is pretty overwhelming. To do this at your home track and have everybody here, it's just a storybook thing," Rahaim said. "You couldn't have scripted it any better.
"I can say my life is complete. I've always wanted to win one of these races and I've always wanted to do it at my home track with everybody here in person."
Other Summer Drags VIII winners included Jason Scruggs (Pro Extreme), Alan Pittman (Mickey Thompson Extreme 10.5), Eric McKinney (Pro Extreme Motorcycle), John DeFlorian (Extreme Pro Stock), Mike Castellana (Aeromotive Fuel Systems Pro Modified), Bruce Thrift (Summit Racing Equipment Top Sportsman) and Bo Butner (SuperCar Showdown).
Rahaim, DeFlorian and Thrift were all first-time ADRL winners.
Rahaim's career-best 3.797 came after a lengthy rain delay but it was the perfect combination and the perfect time for the run against Stoken, who was also seeking his first ADRL win.
"The team made a lot of great calls today and it couldn't have went any better," said Rahaim, who dedicated the team to crew chief Kevin Bowen after Bowen was recently hospitalized.
John DeFlorian let loose with a memorable celebration in the winner's circle after picking up his first career ADRL win. Driving a Jerry Haas Race Cars 2012 Camaro, DeFlorian went 4.086 at 174.78 mph to beat Matt Bertsch in a matchup of first-time finalists and hand the Black Diamond Motorsports team, owned by Karen and Kevin Bealko, its first ADRL victory as well.
"I'm never speechless, but I'm almost speechless over this," DeFlorian said. "This is just an amazing thing. This is something I've dreamed about. I've been trying to get one of these things for so long.
"I have to thank Kevin and Karen for just giving me this opportunity. This is something I've always wanted to experience and it's beyond my wildest dreams."
After breaking the world E.T. record (4.01) in June at his hometown track in St. Louis, DeFlorian didn't qualify three weeks ago in Virginia. But the team put it together in Martin, qualifying No. 4 and knocking off 2012 event winners Dean Goforth, Todd Hoerner and Cary Goforth to get to the finals, running as quick as 4.10.
"We couldn't seem to get all the pieces of the puzzle together and then Virginia couldn't have been any worse," DeFlorian said. "We had to get our act together and we finally put it all together for this race. It's an incredible bunch of guys on this team."
After a series of unfortunate events at recent races, Jason Scruggs put in a banner day, capped off by a new track record of 3.638 at 208.87 mph to beat Terry Leggett and his 3.689 at 205 mph in the finals.
Scruggs had four runs in the 3.60s during eliminations, including a 3.643 in the quarterfinals to get by Tommy D'Aprile. It gives Scruggs eight career wins, matching Joshua Hernandez for the most in Pro Extreme history.
"It was a very good day today and we're real happy to get the win," Scruggs said. "Every round here is tough. Tommy had a great run, and Terry and his team are a great group of guys.
"I've never had that much luck here, but the track was really good and things just worked out well."
With Mick Snyder falling in the first round, Scruggs also inched back into the championship chase. Coupled with Scruggs' win in Bristol, Snyder's three-race winning streak and Scruggs' win on Saturday, their two-car team is also in the midst of a potent stretch.
"I think all this did was give something people can talk about for a little bit," Scruggs said. "Mick had won three in a row, so as a team we're on a pretty good streak."
Eric McKinney took a commanding lead in the Pro Extreme Motorcycle points race with a brilliant showing at U.S. 131 Motorsports Park. McKinney made it three wins in 2012 after running a 4.073 at 170.15 mph against first-time ADRL finalist Dave Norris.
"It was unbelievable. We changed some stuff and really stepped it up. You're only as good as the people surrounding you and they make my program easier," McKinney said. "They keep everything routine and we just keep plugging away. This was an awesome weekend."
McKinney was outstanding on the tree during eliminations, capped off with an .006 and .013 reaction times in the semifinals and finals, respectively. McKinney also finished as the No. 1 qualifier after going 4.10 in the final qualifying session to take momentum into eliminations.
"That was definitely a confidence-booster," McKinney said. "There's nobody easy out there, so everyone has to do their jobs. This bike is consistent and comfortable and that's big."
Alan Pittman gladly took a lucky break in Mickey Thompson Extreme 10.5, denying Billy Glidden's chance at history in the process.
Glidden went 3.917 – a weekend-best in the class – but had an .001 red light, handing the win to Pittman and his 4.042 at 195.28 mph. It's the third win in 2012 for the XTF points leader, and Pittman also kept Glidden from picking up an ADRL-record 14th career win.
"I won already when Terry Leggett made it to the finals. I mean, I wouldn't be here if it wasn't for him and his wife," Pittman said. "I felt real good and then I pulled up to the starting line and I had it in low gear but the car wouldn't move forward.
"So I had to stick it in high gear and leave in high gear, so he definitely would have had me beat if he hadn't turned it red."
Bruce Thrift was remarkably consistent in picking up his first win in Summit Racing Equipment Top Sportsman, finishing off a standout day with a 4.376 at 153.61 mph in the finals to beat William Brown III.
"I'm real excited. This is the real deal for Top Sportsman racing," Thrift said. "This is the cream of the crop in this class. You really have to get after it just to get in. This was just awesome."
Mike Castellana was superb in his fourth trip to the finals in Aeromotive Fuel Systems Pro Modified, winning his fourth race of the year with a 3.827 at 196.35 mph, giving him the quickest pass in the history of the class.
Driving a 2012 RJ Race Cars Camaro, Castellana beat Pat Musi in the finals to add to his points lead. It also gives him 13 career wins to match Glidden and Ashley Owens for the most in ADRL history.
"Our main concentration is to win the Pro Modified championship and this is all because of my crew. They do a great job and they got it right," Castellana said. "It's been a great year and I can't say enough about it.
"I really have to thank KH (Al-Thani) and Al-Anabi Racing for making this happen."
Bo Butner made it four wins in the SuperCar Showdown, slipping past Drew Skillman in a great side-by-side pass with a 5.77 at 119 mph, inching past Skillman and his 5.80 at 118.57 mph.
In Pro Junior Dragster, Devin Isenhower won with a 7.88 at 81.68 mph, knocking off Lane Ledford.
The seventh stop on the 10-race 2012 ADRL Tour takes place Aug. 3-4 at the state-of-the-art zMAX Dragway in Charlotte for ADRL Dragstock IX.
(Photos by Ian Tocher; Click to enlarge)