PDRA fans likely will remember the wild ride Jim Sackuvich took during the first round of Switzer Dynamics Pro Nitrous eliminations at last season's PDRA event at Tulsa Raceway Park. Jim walked away from the violent crash unscathed but his beautiful black 2013 Camaro wasn't as lucky.
It's another year and another racing season, however, and Sackuvich is now back in the middle of the PDRA Pro Nitrous action. Over the winter he commissioned the folks at Jerry Bickel Race Cars to build him a brand-new ride for the 2015 campaign, this one a classic '69 Camaro, painted black with silver racing stripes as was its predecessor.
Through three events this season, Sackuvich is eleventh in the point standings, and he fully intends to work his way closer to the top as he and his team, crew chief Delon Joseph and sons Andy, Robert and Jimmy, fine-tune the all-new combination which includes a Pat Musi 941 with a Bruno/Lenco setup.
At the recent Cajun Nationals, hosted by Thunder Road Raceway Park in Shreveport, Louisiana, Sackuvich qualified in the No. 8 position with a career-best pass of 3.808-seconds at 197.68 mph. He went out to eventual race winner Mike Castellana in a close first round, 3.86,197 to 3.84,197, but performance-wise, this was certainly a sign of things to come.
"So far this year we have been doing pretty well, qualifying near the middle of the field," Sackuvich said. "We've had a to deal with a couple of minor issues, but we feel real good about the way things are going and we're looking to step things up when we get to the next race in St. Louis."
Taking a steady, methodical approach when it comes to sorting out a race car is the hallmark of a veteran competitor, and Sackuvich, who hails from Raymore, Missouri, has certainly earned that designation based on his 35 years of on-track experience.
"I started out as a bracket racer with a '69 Chevelle SS," Sackuvich, 53, said. "From that I went on to a '68 Camaro that I ran for a long time in NHRA Super Gas as well as bracket events throughout the Midwest. In 2011 I moved into Top Sportsman, which I stayed with until I jumped into Pro Nitrous in 2013.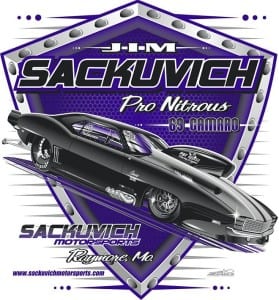 "I really love the Pro Nitrous class, and I'll tell you it's a real dog fight every time we go out on the track. There are some real strong teams and drivers out there, but as far as I'm concerned anybody in that class can win on race day; it's that good and that competitive. You just have to have some breaks along the way, and we haven't had too many yet. That's going to change soon, I hope."
As the title suggests, racing is a true family affair for the Sackuvich clan.
"My wife Lisa and my sons Andy, Robert and Jimmy are all deeply committed to our racing and to PDRA," Jim said. "In fact, Jimmy, who is 17, also races with the PDRA. He moved up from Pro Junior Dragster to Top Dragster this season with a 2009 Mullis Race Cars-built dragster. We dropped in the 622 Reher-Morrison engine that I previously ran in my Top Sportsman car, which, true to family tradition, will be using nitrous oxide as a power adder. He's a good racer and already looking ahead to the day when he can race in Pro Nitrous with me."
On the personal side, Jim and Lisa own a company called ARJ Infusion Services, which has locations throughout the Midwest. The company has been in existence for 15 years and provides infusion therapy to people affected by chronic disorders.
"Lisa is the president of the company and handles most of the business while I'm mainly responsible for the race cars and making sure they are ready to go," Jim said. "I do whatever needs to be done in that respect, and of course I get a lot of help from my sons. I can't thank my family enough for their support, and I also want to thank the folks from Flying A Motorsports and Straight Line Media for everything they do for us."
Now in his second year with the PDRA, Sackuvich has nothing but praise for the eighth-mile racing sanction.
"I tell you what – I live in the Midwest and I think nothing of driving to the East Coast to race with the PDRA because we absolutely love it. I have run with other organizations in the past and you are just a stepchild to them – they don't care. In PDRA it doesn't matter if you run Junior Dragster or Pro Extreme – everyone is treated the same and I hope they keep it up. It's a great place to race."