Never one to rest on his laurels, drag radial racing promoter Donald "Duck" Long announced in June he is adding a third major event next spring to his annual offerings at South Georgia Motorsports Park (SGMP)—with a major twist.
"We're going to put on a race for Radial vs. the World cars only that'll pay a winner-take-all $101,000—and we're going to limit attendance to 500 spectators," Long proudly declared. "Obviously it's a little different from everything else because it's not about making a ton of money. We just want to spotlight Radial vs. the World because there've been rumors about people maybe wanting to sell their cars because there just weren't enough good races, so we're trying to bring another elite race to them. That's the original goal. So yeah, it is a little different, but if we don't try it we'll never know if it can work or not."
The event, Sweet 16, will be run March 23-24, 2018 (with Sunday, Mar. 25 available as a rain date), just weeks after Long's now-legendary Lights Out 9 wraps up at the track just a few miles north of Valdosta, the southernmost city in Georgia. No Mercy 8, the third event for Duck X Productions, will go off early this October, also at SGMP.
"There's no way money wise you could bring back all the people from February, make them spend a whole bunch more money, camping, taking vacation time, but the Radial vs. the World guys, they're a little different; they're a little bit more into the expensive stuff, the people that have those cars tend to own their own businesses, so it makes it a little easier for them to get away. They have a little more flexibility," Long explained.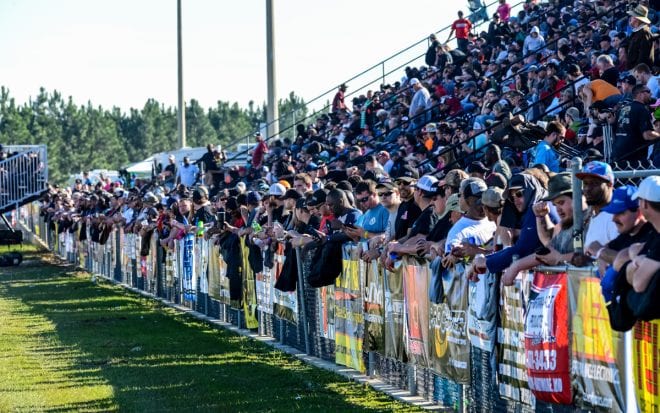 "So I called about 10 or 12 people before going forward with this, including Stevie Jackson, Barry Mitchell, DeWayne Mills, Mark Woodruff, Jamie Hancock, Keith Haney, Kyle Huettel, guys like that; I wanted to get reaction from the characters of the sport, the ones who make the sport, if you know what I mean. Once I got their okay and knew they were hopped up about the idea, that's when we went ahead and made the announcement."
DRAG ILLUSTRATED caught up with Duck shortly after he made the initial announcement, just to get a little more clarification on what racers and fans can expect from the inaugural Sweet 16 event.
How did the $101,000 figure originate?
You know, in the past we'd done $51,000 to win and then $63,000 or some weird number—and I know people have said we're just trying to one-up everyone with the $101,000—but the deal is, you know how people say things like that's Mechanics 101 or Radial Racing 101, well, we just thought we'd do something like Promoting 101 with this. It's as simple as that.
And we made it winner take all because that's what these guys always say that's what they want, just put it in the pot and let's run for it. Will there be splits made when they get down to three or four cars? I don't know, but that's up to the racers; that's up to them. We already saw Stevie (Jackson) put out a video saying he's not going to split no matter what, but who knows what everyone else is thinking. All I know is that it's all going to the winner, as far as we're concerned.
With such a large purse, though, why have only 500 spectators? Why not 5,000 or at least a couple of thousand fans? That would still be a pretty intimate crowd.
Well, to be honest, Lenco Jim, my main guy, he and I have been talking about this for the last two or three years and he actually didn't want to let anybody on the property. He wanted just the racers, a couple of crew members for each car and everyone else would just watch the live stream online. And I should mention we've already got Brian Lohnes locked in to announce this race; Lee Sebring, I think he's locked in; Al Tucci, he's a maybe; I know Big Don (Ellison), he's planning on coming down with his talk radio thing; we would love for Chad (Reynolds) from BangShift to be here and Brian said he would try and help us with that; maybe Rockin' Rob (Cherkas) doing his thing. We want to have interviews from the pits going the whole time, getting everyone on there because with only 50 cars or so we want to talk to not just the drivers but the crews, too, talk about their combinations, what they're going through when they come up on their four-wheelers or golf carts, towing the cars and ready to make a pass, all that kind of stuff.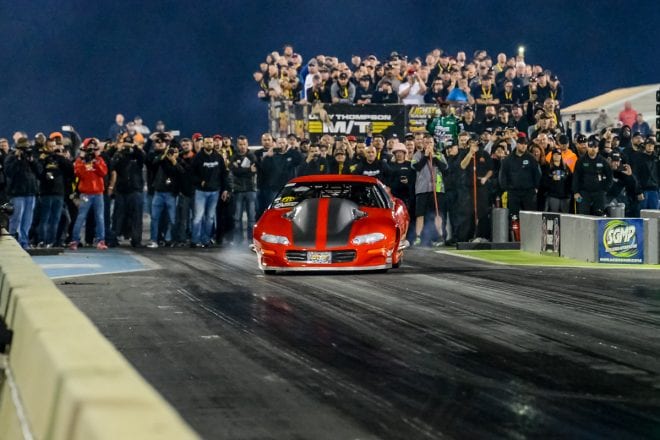 We're wanting to have sort of like an NFL-like scene where there's a table with three commentators, switching back-and-forth between the commentators after someone makes a pass to an interviewer at the top end and guys in the pits, just getting the story out from all angles. We just want to bring more light to the racers and Radial vs. the World and really shine some light on the class; not that it doesn't get a lot of attention now, but I don't want anyone to think it's going anywhere soon, either.
I also want to showcase the diversity because we're always hearing about how this car shouldn't be let in or how we should go back to stock suspension only or whatever, but that's not what Radial vs. the World is all about. We want every combination out there. We want the stock-suspension car, but we also want the full Pro Mod; if the weights are where they can both run together, then that's what we want to see. In fact, I think only one time at our races has an actual Pro Mod won it all and that was Jamie Hancock a year or so ago. We did have the Outlaw 10.5 car of Nova Joe (Albrecht), but there's no real advantage for those kind of cars from what we've seen.
Just to clarify, there will be no other classes on the SGMP grounds for this event? No bracket cars as time fillers, no other drag radial classes, no jet cars, no nothing, right?
Right. There should be 50 Radial vs. the World cars committed, but as long as we get over 32 cars entered, which I'm sure we'll get more than that, we'll be doing a second-chance race, too. If we get the 50 cars, we're probably looking at between $10,000 and $20,000 to win the second-chance race and it'll be for everyone who's not qualified; everyone not qualified will be laddered up.
Will there be trackside vendors at the event?
Very few. We're looking at Mickey Thompson, VP Fuels, probably Mark Menscer with the shocks to keep everyone going, stuff like that. The thing is, we don't want to charge vendors to come because it wouldn't be fair if there's only 50 cars and 500 spectators; it wouldn't be worth it for most of them to be there.
With only 500 spectator tickets available, what are admission prices going to look like?
Well, like I said, this is not about making a lot of money so they'll be right about what VIP tickets cost for our No Mercy and Lights Out races, which I think right now is around $220. They'll be less than $250 each, probably $230, $240, I think. We're not looking to gouge anybody. And normally, let's say you buy a VIP ticket and you do get VIP parking included, but maybe you're bringing a motorhome, too, and you still have to pay extra to park it. But this time it'll cover everything; if you want to bring a golf cart or a four-wheeler, that's okay, too, this will be an all-included ticket. We won't be taking any money at the gate, just scanning pre-sold tickets.
How much will the racer entrance fee cost and how will the 500 spectator tickets be allocated?
Well, until I have a count of who's going to enter just for this race I don't want to take anybody's money, but let's say there's 50 cars coming, that's a hundred grand at $2,000 apiece and that covers the driver and the car. And that's going to include everything, everyone will have an (AC) power spot; we're not charging extra for a power spot; where right now there's about 50 power spots available and they're paying $250 or so for one of those spots.
Then each team will be able to buy a certain amount of tickets, maybe 10 or 15 apiece, we haven't settled on a number yet, and that'll include four crew members per car, but those four will not apply to the 500. So that would mean about 700 people total on the property beyond the drivers. I know it sounds a little confusing, but it'll mean each team should be able to have whoever they really want with them.
It sounds like the teams could potentially buy up every one of the spectator tickets, then, especially if you allowed 15 each.
Yeah, that could happen, but we think there will be a couple of hundred tickets left available and whoever bought VIP tickets to our races before would have first shot at them.
How many VIP tickets do you sell for Lights Out and No Mercy events?
We sold 500 at the last race. But we have VIP people coming from Australia and Brazil and Europe and Iceland and all over the United States, so not everyone is going to be able to or even want to come back right away for this one. I actually did have people call me from Australia and they were asking me, 'Should we reroute our trip from February to March?' and I told them not to do that because there's hundreds of cars over five days of racing in February and this one will be only one class and 50 cars over two days, so it makes more sense to come all that way for the bigger show at Lights Out, I think. Besides which, everybody will have a chance to watch it on the live show online.
I just don't want it to seem like I'm trying to get thousands of people back here just one month later, because that's not the idea at all. Plus, I don't want to do something that's going to negatively affect the February race. If I opened it up just like a regular race, then people would pick and choose which one they wanted to attend. That's not the idea at all.
Obviously I could sell a lot more tickets and make a lot more money, but it's not about the money; we really just want to try something different and keep it an elite thing for both the racers and spectators who are going to be there. I mean, spectators are going to be able to get with the racers, see them up close and talk to them a lot easier than when there's 10,000 other people trying to get their attention. Basically, everybody's going to be VIP, whether they're racers or spectators; they'll all get free food, drinks, all that sort of deal and they'll hang out in the same places and mingle together. It's going to be a neat deal.