Nearly 40 lucky race fans mingled with stars from the NHRA Mello Yello Drag Racing Series Mar. 23, at the 11th annual NHRA Tour de Charity at the Sonoma Raceway Karting Center.
The sold-out event, which teamed race fans with NHRA racers for a day of karting on the raceway's challenging course, raised $12,025 for Speedway Children's Charities, bringing the 11-year total for the event to more than $122,000. Speedway Children's Charities, the charitable arm of Sonoma Raceway, raises funds for distribution to qualified youth organizations in Sonoma County.  The charity has distributed more than $4.3 million since 2001.
NHRA Pro Stock Motorcycle racers, and brothers, Hector Arana Jr. (Lucas Oil Buell, above right) and Adam Arana (ProtectTheHarvest.com Buell, above center), as well as Funny Car driver and Oakdale resident Josh Crawford (above left), traded paint with fans on the challenging course under sunny skies.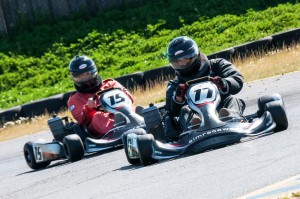 "I've never really done an event like this, and I loved it," said Arana Jr. "It's great interacting with the fans and having the time to really talk to them. Plus, I had a really good time racing with my brother, even though he beat me."
Adam Arana took King of the Track honors among the NHRA racers, turning the best lap over the 16-turn, three-quarter mile circuit at 1 minute, 01.281 seconds.
Funny Car driver Ron Capps holds the record for most King of the Track honors, taking the title six times (2003, 2005-2007, 2010-2011).  Other winners have included Top Fuel drivers Cory McClenathan (2004), David Baca (2009), Pro Stock Motorcycle rider Matt Guidera (2008) and Funny Car racer Jack Beckman (2012).
Race fans also competed in a 10-lap race at the end of the day, with Elk Grove's Milas Mills taking top honors with a time of 56.931.
"I come out for a number of reasons. Partly because it helps support a great cause, but also because it's a really fun day, great people, great location and it helps fulfill my need for speed," said Danville's Roger Hall, a multi-time participant.
The Simraceway Performance Driving Center provided the karts, race suits, classroom instruction and on-track pointers for all competitors. The NHRA racers also signed autographs and donated memorabilia for a raffle.
(Photos courtesy Sonoma Raceway/Mike Finnegan; Click to enlarge)