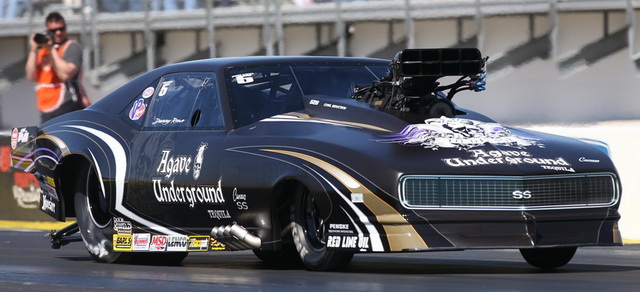 Danny Rowe, driver of the Agave Underground Tequila Pro Mod Camaro, certainly isn't the only driver that has long yearned for a victory at this weekend's 59th annual NHRA U.S. Nationals.
Heralded as the most prestigious drag race in the world, the National Hot Rod Association's annual visit to Lucas Oil Raceway at Indianapolis will pit Rowe against 15 other Pro Mod drivers, all of whom share his desire to score a win at the "Big Go," but only one of which will get to hoist the trophy on Labor Day.
"I think every driver has a list of things they'd like to accomplish before they hang it up," says Rowe. "And one of those things, way up on the list, is winning the U.S. Nationals.
"This is drag racing's Super Bowl and there's nothing quite like it. The atmosphere at this race is different from any other; the fans are passionate and conscious of the history of this place. Even participating in this event is an honor, so winning here in Indy is the ultimate prize for a drag racer – you become part of the legend of the U.S. Nationals."
Rowe, who enters the seventh stop on the NHRA Pro Mod Drag Racing Series tour seventh in the championship points standings, could make a sizable leap with a strong effort in Indianapolis.
"Testing went really well for us and Jimmy [Rector, crew chief] has these Agave Underground hot rods ready to rock and roll, so it's just a matter of going out there and taking care of business," says Rowe.
"This team has been doing a great job all season long. We brought out our second car at the last race in Norwalk with Tim Tindle behind the wheel and he did a phenomenal job. We want to build on the success we had in Norwalk. Maybe we'll see this pair of Pro Mod Camaros one and two in qualifying and then we can run them against each other in the final. That'd make for one memorable trip to Indy."
Adding to the excitement of the U.S. Nationals for Danny Rowe Racing will be the attendance of a number of Agave Underground Tequila's local distributors and retailers.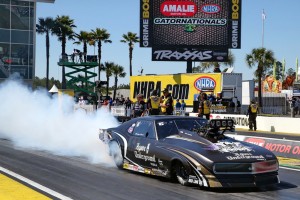 "We'll have the Agave Underground gang with us all weekend and they're bringing out a big crowd to take in a few days at the races," says Rowe.
"We spent all day Wednesday doing meet and greets and samplings at several local Agave Underground retailers and the local response has been great. They couldn't have picked a better or bigger weekend, and we're thrilled to have them join us here in Indy."
Qualifying gets underway for the NHRA Pro Mod Drag Racing Series Friday, August 30th at 5:30 PM. The second and third sessions of qualifying are slated for 2:00 PM and 5:30 PM. A final qualifying session will be held Sunday at 2:00 PM with the opening round of eliminations slated for 5:30 PM. Final eliminations will continue Monday at approximately 2:30PM.
To learn more about Agave Underground Tequila products, sweepstakes and hosted events, visit www.agaveunderground.com, Facebook.com/AgaveUnderground or Follow @AgaveUground on Twitter.
To keep up with the latest news and results from Danny Rowe Racing, log onto www.dannyroweracing.com
(Photos courtesy Danny Rowe Racing; Joe McHugh; Click to enlarge)