The year hasn't gone as planned for Michael Biehle, the Pro Mod standout who finished fourth in points on the NHRA scene a year ago. It's been a different story in 2017, which means this weekend's Drag Illustrated World Series of Pro Mod, and the chance to win $100,000, comes at a perfect time. Whatever ills have plagued Biehle and his turbocharged Mustang could quickly be undone in a hurry with a six-figure paycheck at Bandimere Speedway.
"In Norwalk we kind of got it together and this couldn't fall at a better time," said Biehle, who is currently 12th in NHRA Pro Mod points. "Things started to click (in Norwalk) and things are starting to fall into place. Hopefully we can go out to Denver and keep going."
The chance to land a major payday on the mountain at the world's biggest and richest Pro Mod race in history is clearly a draw for Biehle, but it's not the only one. But being a part of history as a participant in the inaugural event was perhaps an even bigger point for Biehle. He immediately recognized the magnitude of the race and what it could mean to advance the Pro Mod class.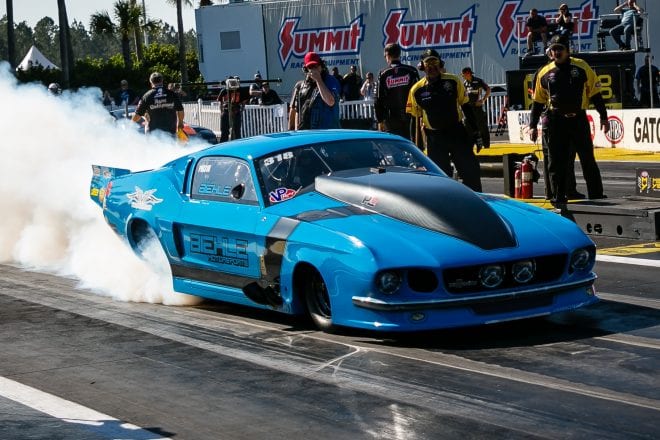 "To me, this is huge," Biehle said. "I'm really looking forward to it. I'm not sure if this is going to be a once a year thing, but this would be awesome. Everybody putting this on, they're really making it about the racers and what we do. It makes you feel really important and I think it's going to be a fun event. There's a lot of money on the line, but it's still going to be fun."
Ending up in the winner's circle would be the most enjoyable part of the weekend, but to do that Biehle will first have to get past first-round opponent Clint Satterfield. The laid-back and quiet Biehle didn't have any extensive trash talk to share about the matchup – only that he was a big fan of Satterfield – but he did admit the announcement of the first-round pairings provided an exciting twist to Saturday's main event.
"I think it's kind of cool, but it also gives you all that time to sit around and think about it," Biehle said. "Every single scenario of what can go right and what can go wrong goes through your head. Racing Satterfield, we're going out and obviously my goal is to send him home early. We just have to go out and do our thing."
Getting Biehle's car to perform well at an altitude of nearly 6,000 feet is the first challenge, which is why the Pro Mod veteran knows Wednesday's test session will be crucial. There are other challenges of the race, including racing with the scoreboards turned off, but Biehle knows he must master racing on the mountain. He has never raced at Bandimere Speedway, but he's confident in a team led by tuner and crew chief Jamie Miller.
"We're kind of hoping we can figure it all out (Wednesday)," Biehle said. "We have to make it work. Jamie, he's raced out there with other people and he's got a good idea of how to make it work. I've got full confidence in my guys. We go into every race with the same mindset and that's to be consistent. We want to go out there and make clean passes, stay consistent and mow our way right to the top."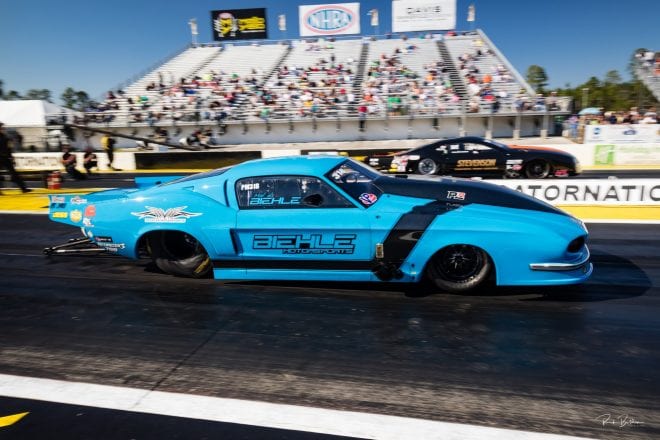 That's the dream scenario, but Biehle insists he's shrugging off any pressure associated with the event. Instead, he's enjoying the energy of what the World Series of Pro Mod has already provided, and Biehle can't wait for Saturday to come.
"It's cool to come to a race like this and Pro Mods are the spotlight," Biehle said. "There's been really good hype building up to this, and me and my guys, we're all excited about it."