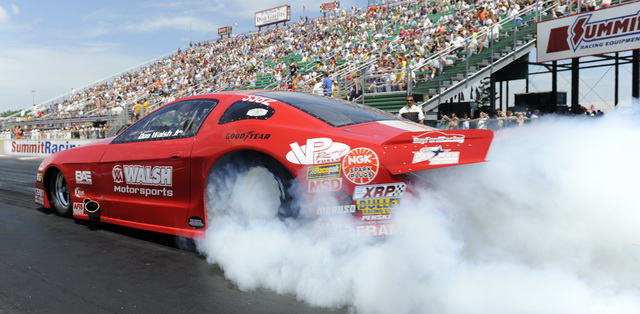 Don Walsh (above) raced to the No. 1 qualifying position and then defeated first-round opponent Doug Winters Saturday at the NHRA Pro Mod Drag Racing Series presented by ProCare Rx portion of the O'Reilly Auto Parts NHRA Nationals presented by Super Start Batteries.
Walsh, who took his second consecutive No. 1 qualifying position with a performance of 5.868 seconds at 254.52 mph in a 2011 Ford Mustang, outran Doug Winters' '57 Chevy Bel-Air in the first round. Walsh powered his Mustang to a 5.884 at 254.81 to take the win over Winters, whose '57 Bel-Air slowed to a 6.499 at 178.26.
In other first round races at zMAX Dragway, Leah Pruett defeated Roger Burgess, Todd Tutterow beat two-time season winner Rickie Smith, points leader Mike Castellana defeated Pete Farber, Danny Rowe outran Rick Stivers and Kevin McCurdy beat Troy Coughlin.
In Sunday's second round, Walsh will meet Pruett, McCurdy will face Tutterow, Don Martin will race Mike Knowles and Rowe will face Castellana.
(File photo courtesy NHRA/National Dragster)
CONCORD, N.C. — First round Pro Mod Series results from the Fifth annual  O'Reilly Auto Parts NHRA Nationals presented by Super Start Batteries at zMax Dragway. The race is the eighth of 10 events in the NHRA Pro Mod Drag Racing Series presented by ProCare Rx:
ROUND ONE — Leah Pruett, Ford Mustang, 5.993, 249.49 def. Roger Burgess, Chevy Corvette, 6.048, 251.34; Kevin McCurdy, Chevy Camaro, 6.093, 235.51 def. Troy Coughlin, Camaro, 11.168, 80.46; Donald Martin, Camaro, 5.889, 247.25 def. Steve Matusek, Mustang, 6.062, 249.63; Mike Knowles, Camaro, 6.073, 237.92 def. Shannon Jenkins, Camaro, foul; Mike Castellana, Camaro, 9.953, 90.86 def. Pete Farber, Dodge Daytona, broke; Todd Tutterow, Plymouth Duster, 5.912, 250.69 def. Rickie Smith, Camaro, 5.969, 244.21; Danny Rowe, Camaro, 5.904, 246.66 def. Rick Stivers, Camaro, 6.025, 236.63; Don Walsh, Mustang, 5.884, 254.81 def. Doug Winters, Chevy Bel Air, 6.499, 178.26;
CONCORD, N.C. – Final qualifying order for the NHRA Pro Mod Drag Racing Series presented by ProCare Rx at the Fifth annual O'Reilly Auto Parts NHRA Nationals presented by Super Start Batteries:
PRO MODIFIED
Psn—Driver, Home Town, Car Type—————Qual-ET–Qual-Spd-Top Spd
Don Walsh, Wixom MI, '11 Mustang               5.868  254.52  254.52
Donald Martin, Lake Forest CA, '68 Camaro      5.878  247.84  247.84
Danny Rowe, Laguna Hills CA, '68 Camaro        5.885  247.66  247.66
Troy Coughlin, Delaware OH, '68 Camaro         5.936  250.88  250.88
Todd Tutterow, Lewisville NC, '70 Duster       5.945  249.63  249.76
Mike Castellana, Muttontown NY, '12 Camaro     5.956  239.27  240.08
Shannon Jenkins, Tuscaloosa AL, '69 Camaro     5.969  241.45  241.45
Roger Burgess, Duluth GA, '53 Corvette         5.987  252.99  252.99
Leah Pruett, Cherry Valley CA, '12 Mustang     5.987  249.76  249.76
Mike Knowles, Grand Junction CO, '68 Camaro    5.989  243.28  243.28
Pete Farber, Baldwinville MA, '69 Daytona      6.009  244.92  245.63
Rickie Smith, King NC, '12 Camaro              6.055  242.98  242.98
Kevin McCurdy, Hamburg PA, '68 Camaro          6.062  233.48  237.88
Rick Stivers, Lexington KY, '69 Camaro         6.072  235.43  236.05
Steve Matusek, Olathe KS, '12 Mustang          6.308  237.75  237.75
Doug Winters, Kernersville NC, '57 Bel Air     6.434  214.01  214.01
 Did not qualify:  17. Kenny Lang, Grande Pointe MB, '69 Camaro       6.776  215.13  215.13