One of the Professional Drag Racers Association's Pro Extreme Stars, Mick Snyder and his Powersource Transportation Team have some big changes coming in 2015. The 2012 Pro Extreme Champions will not be hitting the track at the Texas Nationals during the PDRA season opener in Dallas. The Snyder Motorsports team is in the process of building a new ride for their 6th season with doors. The past dragster, funny car and door slammer champs are trading out their iconic orange, screw blown 1963 Mauney-built Corvette for a new Tommy Mauney 1968 Chevy Camaro. The new wheels will feature the famous Snyder Motorsports' orange and the cherished Powersource Transportation logo, as the team's major sponsor returns for their 8th season with the team.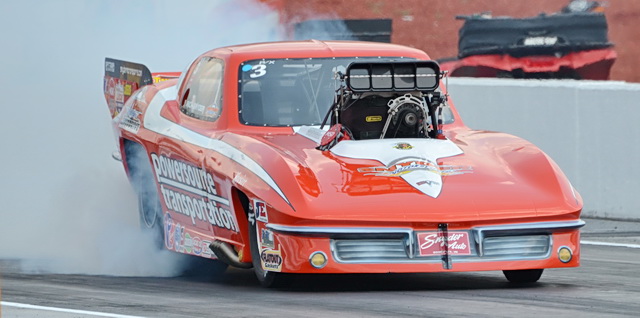 As if a new car was not exciting enough, there are even more changes in store for the DeMotte, Indiana-based Team. Change is something Snyder Motorsports thrives on, both as a race team and a business. The old saying "The Only Thing that is Constant is Change" has worked well for them. It has been the cornerstone of their successful motorsports business that is known for being on the cutting edge and the driving force behind their drag teams multiple championships in multiple classes with multiple organizations and cars.
"It is our quest for knowledge that keeps us changing. We are always pushing the envelope and testing new things. The challenge of new parts and ideas drives us," stated Mick Snyder. "We love to test ideas and perfect new parts. It is what has made us so successful in racing and allowed us to grow our business. From Junior Dragster clutches back in the mid-90's to Lencodrive Transmissions, we have been known for doing what couldn't be done and have been quite successful at it. Let's face it, back when we put the first Lencodrive – Coan Converter combo behind a Snyder Motorsports Hemi Engine the rest of the racers laughed, now it is seen as the standard. Pushing the boundaries is something we enjoy.
"This new Powersource Transportation Camaro will be no different. It will be packed with new Snyder products and new technology. We have worked with Visner Engine Development to create a new billet head, the VED Hemi Head. These new VED Hemi Heads are a bolt-on replacement. It should be a real source of new power for our team and our customers. We are also pushing the envelope with engine management. Our new Snyder Motorsports Camaro will run electronic fuel injection. This joint venture with Mick's Performance will bring supercharged engines to the 21st century. It is a new project that we are excited to be a part of," exclaimed Snyder.
The 2015 season is full of change for Snyder Motorsports Powersource Transportation team. The new car and new products are just the tip of the iceberg. This new car's power adder will be a roots blower. For the first time in 15 seasons, a screw blower will not be between the rails of the Snyder Motorsports house car.
"It just opens up our options and we have had a lot of success with a roots blower over the years, including a championship back in the IHRA days. We want to be able to test a lot of new ideas and products with this new car, and the roots blower gives us that opportunity," explained Snyder. "We can race Pro Boost or Top Sportsman in PDRA. We can race Pro Mod, Top Sportsman and Comp in NHRA. Not to mention, all the Outlaw Quick 8 races around the country. It makes the most sense for where we want to go and what we want to accomplish. Our racing schedule this year will be a combo of PDRA and NHRA events. I personally can't wait to get this new Orange Menace finished and out on the track. It should be a great season for our team and our Snyder Motorsports customers."
The Snyder Motorsports Race Team would like to thank their associate sponsors Lencodrive Racing Transmissions, Coan Converters, R & R Racing Products, JE Pistons, Mick's Performance, NGK Spark Plugs, Lucas Oil, Flatout Gaskets, Aeromotive, VP Racing Fuels, Snyder Auto, Long Printing and Goodson for their continued support over the years.
Please visit the Snyder Motorsports official website at www.snydermotorsports.com.