In the Carolinas during the week of Independence Day, there is a drag racing event that draws the best of the best in outlaw doorslammer competition. That event is simply known as PowerJam. The event has produced the best in competition seen all season and a huge field of cars due in no small part to the increased purse offered by the track, as well as the Extreme Outlaw Pro Mod Association. With funds from track owner Ron Senecal and a couple of anonymous sources, both Big Dog and EOPM purses should have attracted 20 cars in each category. With Big Dog having 13 cars and EOPM having only seven entrants, the event still shaped up to be a very competitive show for both drivers and fans alike. The Big Dog purse was increased to $4,000 to win and the EOPM purse was increased all the way up to $6,000 to win. Qualifying alone offered a good payday with Big Dog getting $750 to qualify and EOPM getting $1,000.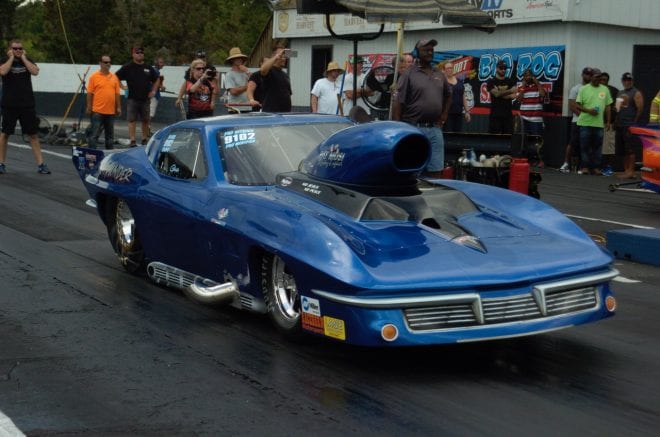 With that said, qualifying started in brutal heat and humidity with the pace slowed by an unfortunate crash that left Jamie and Gina Chappell's beautiful "Blue Thunder" Corvette wounded but possibly repairable. Driver Jamie Chappell took a hard hit to his opposite wall, and only a late leave by Tony Wilson prevented a two-car accident. Chappell was taken to a local hospital and released late Saturday night with a concussion, possible rib damage, and many sore spots where he did not know he even had spots. Jamie and Gina say the car can be repaired and whether or it is or not, thanks to Tommy Mauney for building a car that saved this competitor from much worse injuries.
EOPM featured the cars of Chappell, Tommy Mauney, Tony Wilson and Brandon Hicks. A severe lightning storm cancelled further runs beyond qualifying. Each driver got a split of the purse and did not return on Sunday for the continuation of the event.
Big Dog competitors had a terrific field of cars with qualifying resulting in Brett Nesbitt running a 4.066 to edge out Cam Clark's 4.077. The rest of the field saw Jason Harris third, Tim Lawrence fourth, Sandy Wilkins fifth, Brian Shrader sixth, Ronnie Gardner seventh, and John Lassiter last with a 4.169. Breakage was the theme of the event with Nesbitt and Clark getting bye runs after Lassiter and Gardner broke. Scott Lang got in when Jason Harris broke and lost a pedal fest to the eventual winner, Shrader. The other run featured the "The Sandflea" Wilkins over Tim Lawrence. Second round had Schrader put a holeshot on Clark, and Nesbitt defeated Wilkins. The finals had Shrader's "Lethal" Corvette put another hole shot on the board defeating Nesbitt, who had low et of the event. Shrader, however, had top mph at 179.92.
Four events, four winners; this season has had it all and looks to be even better in the August edition of the Big Dog series. No wonder the 60th season of competition at historic Piedmont Dragway lives up to its billing of being the "DoorSlammer Capital of the World".
Story and photos by Greg Burrow