The 33rd annual NitrOlympX took place August 17-19 at the Hockenheim Ring in Baden, Würtemberg, Germany. Over 250 race teams from all over Europe made their way to the record-holding European racing facility, which only hosts two drag racing events per year on back-to-back weekends. The first of which is a run-what-ya'-brung public race day event, which happens to take place the weekend before the big show, the NitrOlympX.
Since this event is held on a part of the famous Formula 1 course, the track has to be build up from scratch again each year. The track had been ground down and resurfaced for weeks. Dozens of barrels of VHT glue had been emptied on the track in combination with Gold Dust, and used racing slicks were dragged on the asphalt surface to bring the grip level to a new high.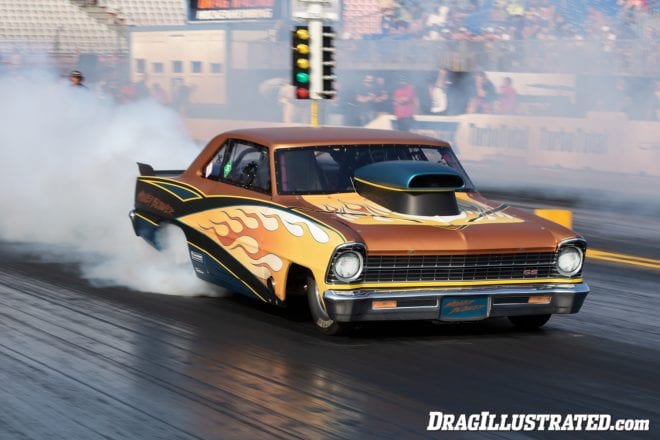 The weekend saw a record crowd of 44,000 people gathering in the Motodrom to see the action in the heat of the three days. During the course of the action-filled qualifying rounds on Friday and Saturday the track already proved its stickiness.
Finland's Antti Horto wrote himself into the history books with a new speed record of 501.17 kph (311.41 mph). The run with an elapsed time of 3.990 put him in the No. 3 spot. Maltese Top Fuel driver and defending event champion Duncan Micallef ran 3.946 to qualify No. 2, just a smidge behind British driver Liam Jones, who secured the top spot with his 3.943 at 500.14 kph (310.77 mph).
The FIA Top Methanol cars were running a Cannonball format this season, which puts the dragsters against the Funny Cars at every race. Three dragsters and four Funny Cars entered the event. Top qualifier went to Timo Habermann with a flawless 5.315-second pass at 425.83 kph (264.59 mph), closely followed by the 5.358 at 434.43 kph (269.94 mph) run by his brother, Dennis. Johny Lagg, fielding the only nitro-injected entry, blasted to a 5.398 at 426.08 (264.75 mph) to qualify No. 3.
The wild and colorful FIA Pro Mod class was as entertaining as ever with 14 entries battling for the top spot. Jimmy Alund showed everyone how it's done, running a best of 5.956 in his '51 Chevy-bodied doorslammer, matched to the thousandth by Andy Robinson in his '69 Camaro, but decided on the higher of the speeds for Alund, Robinson just came up short. Not far behind in the No. 3 spot was Micke Gullqvist with a 5.973 at 387.20 kph (240.59 mph).
The Pro Stock class had only a small, but fine field of four cars. Michael Malmgren dominated the field, which stayed close together within one tenth of a second.
A big highlight in the FIM Top Fuel Bike category happened during qualifying round 4 on Saturday when Rikard Gustafson faced off with Filippos Papafilippou out of Greece. Gustafson covered the quarter-mile in 5.918 seconds at well over 400 kph (248.54 mph) next to Papafilippou's stout 5.980. This happened to be the quickest and fastest side-by-side run ever recorded in Europe.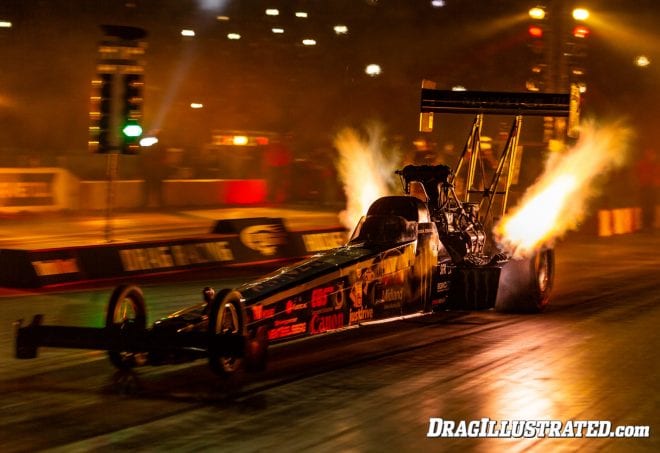 A traditional NitrolympX signature feature is the famous Saturday Nightshow. Two thrilling hours filled with flame-throwing, fire-spitting, wheelstanding cars and bikes, running under colorful lights and the Lola waves from the cheering crowds. This year's edition was as spectacular as ever. From a jet-powered go-kart to a jet-powered school bus, everything with a turbine assaulted the track and lit up the night. Some thrilling moments were provided by the Red Bull FMX riders, who wowed the crowd with their spectacular jumps. Eric Teboul on his rocket bike once again attacked the Rico Anthes quarter-mile in his very own particular fashion. And, of course, a couple of Top Fuel bikes and Top Fuel dragsters showed up to make some exhibition passes under the lights. A couple of nostalgia Funny Cars and dragsters gave a glimpse of drag racing's past with eighth-mile burnouts and dry hops, and Bob Hawkins performed one of his spectacular fire burnouts. After all the action, most of the fans and some teams, which didn't have to fix their engine overnight, met in the pits, where a live concert took place in the middle of the food court.
Race day Sunday provided the race-hungry fans with satisfying action all day long. The sportsman classes saw lots of new personal bests and some repeat winners amongst all participants. The pro categories were in no way inferior to the action the smaller cars provided.
 The first-round highlight in Top Fuel came courtesy of Liam Jones laying down a 3.88 run, very close to the existing European record of 3.87, to move on to second round and later end up in the final against Antti Horto. Jones took home the trophy, beating Horto with a 3.994 at 490 kph (304.47 mph) to Horto's 4.07 at 446.30 kph (277.31 mph).
The Top Methanol final was an all-German affair. Timo Habermann defeated his brother, Dennis, with a 5.401 at 420 (260.97 mph) to a 5.47 at 420 kph (260.97 mph). Dennis showed some nerve and left a bit too early, resulting in a red light. Both brothers seemed to be unbeatable this season. After the last two races on the FIA schedule, the brothers reversed their 1-2 finish in the championship points, with Dennis claiming the title.
FIA Pro Modified was exciting through all of eliminations. After winning first round and luckily surviving the second round when opponent Roger Johansson left too early, Micke Gullqvist went on to the final round against Jan Ericsson. Gullqvist's 5.976 at 392.52 kph (243.90 mph) beat Ericsson's 6.045 at 386.72 kph (240.29 mph) and earned him the trophy.
FIA Pro Stock driver Robin Norén managed to win with a 8.608 at 158.47 (98.46 mph) on a tire-shaking run defeating Bengt Ljungdahl's 7.213 at 253.07 kph (157.25 mph), which was negated by a red-light start.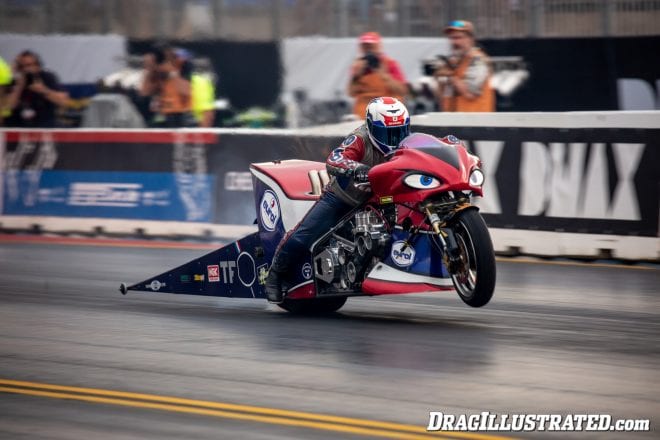 The final rounds in the bike categories weren't less dramatic.
 FIM Europe Top Fuel Bike rider Filippos Papafilippou had a bye run when Eric Richard broke and got pushed back after the burnout. No time was recorded for Papafilippous run, but since he broke the beams under his own power, he won the event. In FIM Europe Supertwin, Marcus Christiansen faced off against the long-distance traveler, Takeshi Shigematsu, who came all the way from Japan just to compete at the NitrOlympX. Christiansen's 6.434 at 358.51 (222.76 mph) defeated Shigematsu's 15.945 at 82 kph (50.95 mph). Takeshi had engine problems on the run, resulting in a clean-up session at the race track. Top Fuel winner Liam Jones was joined in the winner's circle by his CBD Asylum teammate and FIM Europe Pro Stock Bike rider Alex Hope. Hope's 7.452 at 294.15 kph (182.77 mph) beat Karl-Heinz Weikum's 7.429 at 294.31 kph (182.87 mph). FIM Europe Super Street Bike rider Graham Balchin won the event with his 7.949 at 305.39 (189.76 mph) bye run, while his opponent Rick Stubbins was a no-show.
All in all, it was a fantastic weekend with a record crowd, great weather and close racing. Hats off to the organizers, the track prep crew and the Safety Safari, who did a marvelous job all weekend long by keeping the track safe and in perfect shape. We're already counting the days until the next NitrOlympX in Hockenheim.
Story and photos by David Beitler